New Calf in J-Pod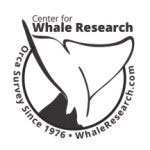 The Center for Whale Research has received photographs taken by the Tofino Whale Centre of a calf accompanying J pod off of Tofino on May 30, 2019.
Researchers at the CWR have confirmed that the calf is a new addition, and based on its coloration and body condition was likely born some time in the last 1 to 3 weeks. The calf was photographed in association with several J pod females, including J31, J46, and J40. More field observations are needed to confirm the identity of the calf's mother.
Prior to 2019, the Southern Resident killer whale population had no documented successful births since 2016. This calf marks the second birth of 2019, following L124 in January.