Letter from Hospital District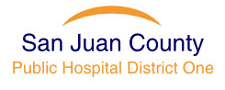 San Juan Healthcare has for many years provided care to island residents as an independent private practice, particularly in the field of geriatrics and pediatrics. As founder Burk Gossom, M.D., approaches retirement this November we hope that a way will be found to replace him. We wish him well as he goes into the next phase of his life and express appreciation for the work he has done. We understand that Mark Fishaut, M.D., and Heather Christensen, P.A., still intend on providing services.
San Juan Healthcare is a private business and determining business decisions must rest with them. We encourage an expeditious final decision on how this matter will proceed so that arrangements may be made by patients and the medical community to handle the outcome. Time is short. We advise patients to consult with their current providers and potential replacements to ensure continuity of care.
We appreciate verbal assurances from PIMC leadership that they are aware of this situation and are willing and capable of serving the additional patient load if necessary and work towards any necessary changes for patients to access services with their current insurance. We appreciate their work on behalf of our community.
Rural health services are struggling across the country. Our community is lucky to have such fine partners.
And for the Spanish speaking members of our community:
San Juan Healthcare ha brindado atención durante muchos años a los residentes de la isla como una práctica privada independiente, particularmente en el campo de la geriatría y la pediatría. A medida que el fundador Burk Gossom, M.D., se acerca a la jubilación en noviembre, esperamos encontrar una manera de reemplazarlo. Le deseamos lo mejor en la próxima fase de su vida y le expresamos nuestro aprecio y agradecimiento por el trabajo que ha realizado. Entendemos que Mark Fishaut, M.D., y Heather Christensen, P.A. todavía tienen la intención de brindar servicios.
San Juan Healthcare es una empresa privada y las decisiones comerciales determinantes deben recaer en ellos. Alentamos una decisión pronta sobre cómo procederá este asunto para que los pacientes y la comunidad médica puedan hacer los arreglos para manejar el resultado. El tiempo es poco. Aconsejamos a los pacientes que consulten con sus proveedores actuales y los posibles reemplazos para garantizar así la continuidad de la atención.
Apreciamos las garantías verbales de los líderes del PIMC que son conscientes de esta situación y están dispuestos y son capaces de atender la carga adicional de pacientes, y si es necesario, trabajar para lograr los cambios necesarios para que los pacientes puedan acceder a los servicios con su seguro actual. Apreciamos su trabajo en nombre de nuestra comunidad.
Los servicios de salud rurales están adolecen en todo el país. Nuestra comunidad tiene la suerte de tener socios tan preclaros.