The Whale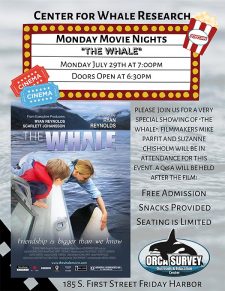 The Orca Survey Outreach & Education Center at 185 S. First Street is doing our Monday Movie Night again on July 29th. Doors open at 6:30 and the film will start at 7:00. We are doing a very special screening of "The Whale" – the touching story of a little orca named L98 Luna.
When Luna became separated from the rest of his L Pod family, he ended up alone in Nootka Sound on the west side of Vancouver Island.
This film beautifully tells the story of this special little whale, the friendships he shared with the people of Nootka Sound, and the controversy that surrounded his presence.
We are very excited to announce that the filmmakers Suzanne Chisholm and Michael Parfit will be attending this event and a Q&A will be held after the film. Please join us!
Free admission and snacks will be provided. Doors open at 6:30pm and the film will begin at 7:00pm.
Seating is limited.