Chamber Featured Member of the Month
Friday Harbor Chocolates was created by owner, Aylene Geringer, a resident of Friday Harbor in February 2017. Her relationship with the island commenced in 1990 when she and her husband first came to visit friends who lived on San Juan Island. Over the years, they bought a vacation home in 1998 with an eye towards settling down someday in their retirement years.
Right after 9/11, they decided to accelerate their retirement, left their professions in Los Angeles (Aylene was a trial lawyer for 20 years & her husband Mark was a garment designer & manufacturer), sold the vacation house and bought an existing Bed and Breakfast, The Trumpeter Inn, which they operated as a post-retirement business.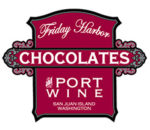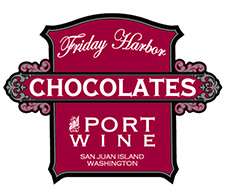 In 2005, they sold the Inn, due to a family emergency back in Los Angeles, and took a 10 year hiatus from the Island, until they had the wherewithal to come back and make their home here. During that time, Aylene created a one of a kind gourmet chocolate and wine shop in a little town called Silverton, Oregon, featuring the finest of chocolates and confections handcrafted in Oregon.
She successfully operated that business until September 2016, when they decided it was time to make their way back up to the San Juans. By December 2016, she found not only a house that was affordable but also an empty retail space which cried out for the creation of a new gourmet chocolate shop! And the rest is history.
​The shop, a former barber shop, was completely gutted and redecorated to present the community with a warm and inviting space filled with antique furnishings to best showcase handcrafted chocolates, made for Friday Harbor Chocolates by renown and accomplished chocolatiers from Washington, Oregon as well as Orcas & Lopez Island. All chocolates and confections are handcrafted and incorporate the finest of natural ingredients, with no preservatives. The selection is vast and ever changing as Aylene's chocolate makers continuously invent new flavors or adapt their confections to the ever changing seasons by introducing new flavors which reflect the change in seasons. In appreciation of some of her customers' special dietary needs, there is always a selection available of dairy free and gluten free confections, and now she is also offering "Keto" friendly, no sugar added, truffles and CBD infused chocolate truffles.
One of Aylene's passions is drinking wine, and drinking it daily! So a good portion of the shop is devoted to presenting Ports and Northwest made drinking and dessert wines, including those featured at San Juan Vineyards and Lopez Island Vineyards, which Aylene adores to drink herself. Through fastidious research and personal tastings, Aylene has discovered and selected some of the best imported Ports on the market, many of which are exclusive to her shop, for her customers' own discovery. Friday Harbor Chocolates is a licensed Wine Shop and, accordingly, can offer tasting of their Ports & dessert wines. So Aylene will make sure that not only will her customers be thoroughly educated about each of the Ports and dessert wines https://www.fridayharborchocolates.com/ but a customer can sample https://www.fridayharborchocolates.com/ them before purchase https://www.fridayharborchocolates.com/ to ensure their confidence in the selection of ports before purchase.
Finally, Aylene prides herself on giving the ultimate of customer service, including assisting the customer to find the perfect gift item and/or creating imaginative, unique & stylish gift boxes filled with confections and wines for special occasions, such as anniversary, birthdays and weddings. During the holidays, Aylene hosts Port and Dessert Tasting Parties for the Community at the shop and offers to hold private parties at customer's homes, by appointment.
255 Spring Street
(360) 370-0050