Letters
In the SJ Update mailbag this morning we find this letter from Amanda Azous…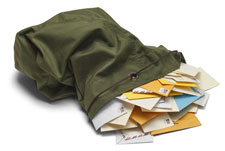 Dear Editor,
Since April 2019 I have volunteered to open and close driving access to Mt Grant every Wednesday. My duties include opening the locked gates, traveling along Geraldine Way and driving to the top of Mt Grant. I inspect the infrastructure including the Port a Potty located at the top of Mt Grant, the picnic tables and the condition of the roads and trailheads. I make sure no one is locked in when the gate closes in the evening and I look for litter, broken fencing, dog feces, poop bags, noxious weeds and anything else that might be of concern to steward Mt Grant.
I rarely find litter of any kind. I have never seen anyone trespassing on neighbor's property, nor have I seen abandoned vehicles, illegal camping, or any of the many transgressions that have been promulgated by the family now suing the County to remove the existing public access to Mt Grant. The only rule I've observed broken at Mt Grant is owners not leashing their dogs and that is, unfortunately, common throughout the county.
I have lived in San Juan County since 1991 and am a major user of Land Bank preserves, state parks and national parks. As a frequent visitor to these places I have found the citizens of San Juan County as well as visitors to be, for the most part, respectful of "leave no trace" principals and, except for the occasional unleashed dog or left poop bag, diligent in following them. I think San Juan County has a culture where respect for the natural world and its beauty is strongly embedded in our psyche. I am grateful to be a part of such a community.
I understand there may have been incidents when Mt Grant first opened that rightly concerned neighbors, but I think it is fair to say that most people visiting Mt Grant do so with respect and care. Preserves such as Mt Grant provide places of solitude and access to nature that people unable to afford large woodlands, farms or estates can enjoy. From where I sit, the Land Bank is a gift that keeps on giving to us and future community members. I hope the neighboring family, still pretty new to our community, can see their way to appreciating that the Land Bank's ownership of Mt Grant is significantly less impact than the 12 houses that could have been constructed there, a number of which would likely have overlooked their farm.
I hope they will drop this lawsuit which costs all of us and stop the divisive rhetoric that has damaged our community spirit. I also suggest anyone who is concerned about the impact of public access to Mt Grant to go look for yourself. Let the Land Bank know if you see any issues of concern. Together we can make sure Mt Grant stays beautiful and a welcoming place for all.
Amanda Azous