Home Trust Awarded 2K Grant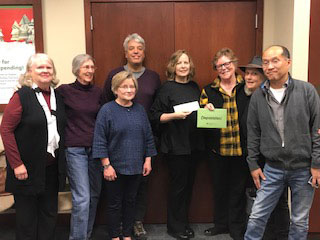 The San Juan Community Home Trust has been awarded a $2000 Grant for its Operations!
Jamie Cier, Branch Manager of Washington Federal Bank (soon to be known as WaFD) on Orcas, notified Home Trust Executive Director, David Gow of the award in late September. Coincidentally, Jamie was on San Juan Island on the date of the Home Trust monthly board meeting and was able to present the check to the board personally.
For a non-profit it is always more difficult to find grants and donations for day to day operations than for its signature programs. And yet, keeping the doors open, the lights on and the employees paid are all essential in bringing the programs to the community.
This money from Washington Federal is therefore especially appreciated by the Home Trust, as you can see from the grins on the faces of board members and staff. Thank you Washington Federal Bank!