SJISS Celebrates 20 Years of Funding Post-Secondary Possibilities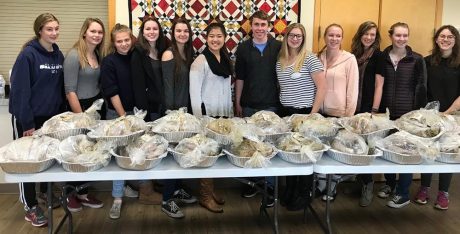 Submitted by the San Juan Island Service Scholarship
Since 1999, San Juan Island Service Scholarship (formerly known as Dollars for Scholars) has awarded almost $300,000 in scholarships to San Juan Island high school graduates. SJISS is a unique scholarship program: Rather than focusing on grades, students have an opportunity to earn a $1,000 scholarship toward higher education by completing a minimum of 80 hours of qualifying volunteer work for various San Juan Island community organizations. Students may enroll in the program as early as eighth grade.
This past June, SJISS awarded $15,000 in scholarships to the Class of 2019: 13 graduates from Friday Harbor High School and 2 from Spring Street International School. There are 66 students presently enrolled in the SJISS program, with an anticipated 12-17 seniors completing program requirements for the 2019-2020 school year.
SJISS hosts various fundraising campaigns throughout the year, including our longstanding Dining for Scholars spring fundraiser and our newly-added Fill the Fund event, which is generously underwritten by Island Petroleum Services.
Carol Holman, president of SJISS states, "On behalf of the SJISS board and students who have received awards, we cannot thank the island community enough for their generous support of this scholarship program."
We hope Islanders will continue to participate in these fundraisers each year by filling your belly or filling your tank! If you don't want to wait until spring to make your fully tax deductible donation to SJISS, you can mail it to: SJI Service Scholarship, P.O. Box 3366, Friday Harbor, WA 98250.
Visit us online for more information and to learn if your non-profit qualifies for program participation. SJISS is a registered 501(c)(3), EIN 47-1335899.
Thank you, again, for your support!