Master Gardeners Annual Workshop
Debra Prinzing of the "Slow Flowers" Movement Highlights the Master Gardeners Annual Gardening Workshop
"Seasonal, Local and Sustainable Flowers, from the Field to your Vase," is the keynote address by Debra Prinzing, accomplished garden writer and advocate for American-grown flowers.
Debra's talk addresses the renaissance of domestic flower farming and the emerging eco-floral design movement. As many cut flowers for market are laden with chemicals and imported thousands of miles, Debra will share her ideas about healthier alternatives for you, your home, and the planet.
During each month of the year, the garden has something wonderful to offer those who want to enjoy cut floral arrangements indoors. Expand the way you view your own backyard, the flowers sold by vendors at your local farmer's market and even the "weeds" in wild places. Debra's presentation will feature her beautiful season-by-season bouquets and many useful tips for DIY floral design.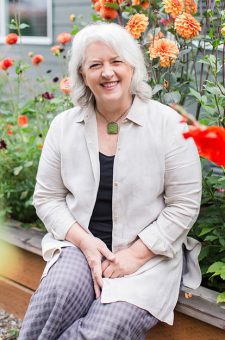 Debra Prinzing is a Seattle-based writer, speaker and leading advocate for American-grown flowers. Through her many Slow Flowers-branded projects, she has convened a national conversation that stimulates consumers and professionals alike to make conscious choices about their floral purchases. She is the producer of SlowFlowers.com, the online directory to American grown farms, florists, shops and studios who supply domestic and local flowers. Each Wednesday, there is a new Slow Flowers Podcast on her web site, debraprinzing.com, or on iTunes and other podcast services.
Debra is a 2016 inductee to the Garden Writers Association Hall of Fame and is the author of ten books, including Slow Flowers and The 50 Mile Bouquet. Debra is a contributing garden editor for Better Homes & Gardens and she writes for Country Gardens, Sunset, Garden Design, Organic Gardening, Horticulture, Fine Gardening, Cottages & Bungalows, Metropolitan Home, Landscape Architecture, Alaska Airlines Magazine, Old House Interiors, GRAY and Romantic Homes, among others.
The Annual Gardening Workshop is a day-long event, with noted authorities speaking on a wide variety of topics of interest to PNW coastal gardeners. Multiple choices allow you to plan your day to attend sessions of interest to you.
This year topics include:
Planning, planting and protecting a winter kitchen garden
Managing deer and other mammals
Good, bad, beautiful and ugly insects in your garden
Care and pruning of caneberries
Color in the winter garden
Care and pruning of grapes and kiwi vines
Exploring new and old British gardens
Forest and tree health in San Juan county
Take care of your landscape
Visit GardenWorkshop.org for complete descriptions of each session and our speaker's biographies.
Purchase tickets here. Tickets are $40 online, $45 at the door. Advance purchase strongly recommended.
Coffee and tea are complimentary; Café Demeter pastries are available for purchase.
October 19th
8:30 – 4:30
Friday Harbor Middle School
85 Blair Ave.
Friday Harbor, San Juan Island
Are you interested in becoming a Master Gardener volunteer?
Our next training session begins in January 2021, in Friday Harbor. For more information, please contact Caitlin Blethen at mg.sanjuancounty@wsu.edu or 360-370-7663. Information about the program and what volunteers do is located here.
The Annual Gardening Workshop is presented by the Master Gardener Foundation of San Juan County in Cooperation with the San Juan County Washington State University Extension.
Reasonable accommodations will be made for persons with disabilities and special needs who contact the WSU San Juan County Extension office at 360-370-7663 or ma.sanjuancounty@wsu.edu at least two weeks prior to the event.