Master Gardeners Annual Workshop
Posted October 16, 2019 at 12:21 pm by Tim Dustrude
Debra Prinz­ing of the "Slow Flow­ers" Move­ment High­lights the Mas­ter Gar­den­ers Annu­al Gar­den­ing Workshop
"Sea­son­al, Local and Sus­tain­able Flow­ers, from the Field to your Vase," is the keynote address by Debra Prinz­ing, accom­plished gar­den writer and advo­cate for Amer­i­can-grown flowers.
Debra's talk address­es the renais­sance of domes­tic flower farm­ing and the emerg­ing eco-flo­ral design move­ment. As many cut flow­ers for mar­ket are laden with chem­i­cals and import­ed thou­sands of miles, Debra will share her ideas about health­i­er alter­na­tives for you, your home, and the planet.
Dur­ing each month of the year, the gar­den has some­thing won­der­ful to offer those who want to enjoy cut flo­ral arrange­ments indoors. Expand the way you view your own back­yard, the flow­ers sold by ven­dors at your local farmer's mar­ket and even the "weeds" in wild places. Debra's pre­sen­ta­tion will fea­ture her beau­ti­ful sea­son-by-sea­son bou­quets and many use­ful tips for DIY flo­ral design.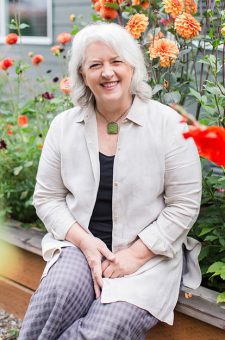 Debra Prinz­ing is a Seat­tle-based writer, speak­er and lead­ing advo­cate for Amer­i­can-grown flow­ers. Through her many Slow Flow­ers-brand­ed projects, she has con­vened a nation­al con­ver­sa­tion that stim­u­lates con­sumers and pro­fes­sion­als alike to make con­scious choic­es about their flo­ral pur­chas­es. She is the pro­duc­er of SlowFlowers.com, the online direc­to­ry to Amer­i­can grown farms, florists, shops and stu­dios who sup­ply domes­tic and local flow­ers. Each Wednes­day, there is a new Slow Flow­ers Pod­cast on her web site, debraprinzing.com, or on iTunes and oth­er pod­cast services.
Debra is a 2016 inductee to the Gar­den Writ­ers Asso­ci­a­tion Hall of Fame and is the author of ten books, includ­ing Slow Flow­ers and The 50 Mile Bou­quet. Debra is a con­tribut­ing gar­den edi­tor for Bet­ter Homes & Gar­dens and she writes for Coun­try Gar­dens, Sun­set, Gar­den Design, Organ­ic Gar­den­ing, Hor­ti­cul­ture, Fine Gar­den­ing, Cot­tages & Bun­ga­lows, Met­ro­pol­i­tan Home, Land­scape Archi­tec­ture, Alas­ka Air­lines Mag­a­zine, Old House Inte­ri­ors, GRAY and Roman­tic Homes, among others.
The Annu­al Gar­den­ing Work­shop is a day-long event, with not­ed author­i­ties speak­ing on a wide vari­ety of top­ics of inter­est to PNW coastal gar­den­ers. Mul­ti­ple choic­es allow you to plan your day to attend ses­sions of inter­est to you.
This year top­ics include:
Plan­ning, plant­i­ng and pro­tect­ing a win­ter kitchen garden
Man­ag­ing deer and oth­er mammals
Good, bad, beau­ti­ful and ugly insects in your garden
Care and prun­ing of caneberries
Col­or in the win­ter garden
Care and prun­ing of grapes and kiwi vines
Explor­ing new and old British gardens
For­est and tree health in San Juan county
Take care of your landscape
Vis­it GardenWorkshop.org for com­plete descrip­tions of each ses­sion and our speaker's biographies.
Pur­chase tick­ets here. Tick­ets are $40 online, $45 at the door. Advance pur­chase strong­ly recommended.
Cof­fee and tea are com­pli­men­ta­ry; Café Deme­ter pas­tries are avail­able for purchase.
Octo­ber 19th
8:30 – 4:30
Fri­day Har­bor Mid­dle School
85 Blair Ave.
Fri­day Har­bor, San Juan Island
Are you inter­est­ed in becom­ing a Mas­ter Gar­den­er volunteer?
Our next train­ing ses­sion begins in Jan­u­ary 2021, in Fri­day Har­bor. For more infor­ma­tion, please con­tact Caitlin Blethen at mg.sanjuancounty@wsu.edu or 360–370-7663. Infor­ma­tion about the pro­gram and what vol­un­teers do is locat­ed here.
The Annu­al Gar­den­ing Work­shop is pre­sent­ed by the Mas­ter Gar­den­er Foun­da­tion of San Juan Coun­ty in Coop­er­a­tion with the San Juan Coun­ty Wash­ing­ton State Uni­ver­si­ty Extension.
Rea­son­able accom­mo­da­tions will be made for per­sons with dis­abil­i­ties and spe­cial needs who con­tact the WSU San Juan Coun­ty Exten­sion office at 360–370-7663 or ma.sanjuancounty@wsu.edu at least two weeks pri­or to the event.
You can support the San Juan Update by doing business with our loyal advertisers, and by making a one-time contribution or a recurring donation.