Neighborhood Toy Store Day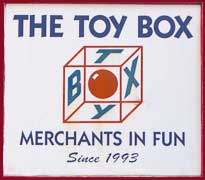 Friday Harbor's Own Toy Box Joins The American Specialty Toy Retailing Association (Astra) In Tenth Annual Celebration Of Small Businesses Nationwide
On November 9, 2019 Friday Harbor's own Toy Box will be one of hundreds of retailers across the country celebrating Neighborhood Toy Store Day on November 9, 2019.
Spearheaded by the ASTRA, the annual observance asks shoppers to remember the neighborhood toy stores in their communities as they kick off the holiday shopping season. Scheduled ahead of Black Friday, Small Business Saturday and Cyber Monday, the day offers shoppers discounts, special events and hands-on experiences with children's toys.
"ASTRA initiated Neighborhood Toy Store Day a decade ago to celebrate community, showcase the value of shopping local, and celebrate the joy of play," said Kimberly Mosley, president of ASTRA. "These retailers are how the toy industry began and where customers can create special memories with their families. In neighborhood toy stores, shoppers can find a high quality, carefully curated selection of the best toys and games along with an exceptional and personal customer shopping experience."
The Toy Box will be offering free cookies, surprise discounts and fun craft activity. For more information, customers and media can contact the store directly at 360-378-8889
Included in the selection at many participating stores are the toys and games that made ASTRA's Best Toys for Kids Award list earlier this year. The list featured toys that expert toy retailers across the country consider to be the highest quality and most sought-after items to have on 2019 holiday shopping lists.
"The Toy Box is proud to be a member of the Friday Harbor community. We have had our store here for 26 and have put together family-friendly activities and product discounts we think residents will enjoy for Neighborhood Toy Store Day," says Nancy Buechner, owner of The Toy Box. "We look forward to celebrating our local business and helping everyone find the perfect gift for the children in their lives. Hope to see you there!"