Rodney Mulvaney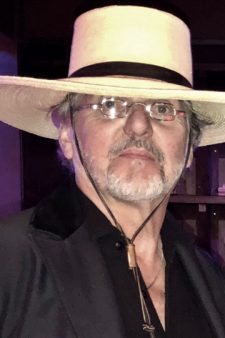 One of Friday Harbor's most memorable characters, Rodney Mulvaney, passed away unexpectedly on November 28. If you didn't know him personally, you most likely would recognize him for his love of elegant, old-time Western-style attire – from his ever-present top hats and his vests, down to his high boots.
He first came to San Juan Island as a young man, on a boat trip with his brother. He was so taken by the beauty and peace of the island that he decided to make it his home.
He had studied history as a graduate student, and had always dreamed of teaching. But he became a gardener instead, and over the years spent many happy hours digging in the dirt, trimming bushes and trees, and mowing lawns…always wearing one of his signature hats!
Rod was an avid reader and loved going to our community theatre productions and watching movies. The walls, table tops, and window sills of his home were filled to the brim with his vast collection of artifacts from the old West and elsewhere. He was a talented artist. He loved animals, and was prone to adopting cats who just showed up at his front door asking to become part of his life.
But most of all, Rod was simply a good, kind, sensitive soul who always had time for a smile and a warm greeting to those passing by as he worked or walked around town. His presence will be missed by those who were his friends as well as by those who just knew him as the guy who looked as if he had time-traveled to us from the days of the Civil War.
Rod is survived by his partner Zee Hogan, as well as his sister Marlys True of Ellensburg