Letters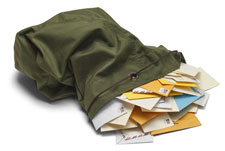 In the SJ Update mailbag this morning we find this letter from Dwight Ware of Community Treasures…
Greetings CT supporters,
For all of you CT supporters who were unable to attend our "Crossroads" meeting at the Grange on December 19th, here is a summary of the issues at hand and the goals of that meeting.
I'll begin, as I did the meeting, by starting with the 3 MAIN OBJECTIVES – to seek your commitment to one, two or all 3 of the following:
Write a letter to the SJC commissioners voicing your support of CT and seeking their action to secure a permanent zoning appropriate to CT's activities. We have a list of suggested points to make to help you if you make this commitment.
Gather signatures on the current petition to the SJC commissioners to change the land use designation to Rural General Use, and to further designate the property as an Essential Public Facility.
Contribute $100 per year to the ongoing operation of CT, particularly as it can assist in the purchase of the property 6739 RH Road.
The property owners of 6739 RH Rd have long contributed time, money, and property use for the CT cause and sought to provide CT with the zoning changes needed for the permanent establishment of CT services to the community. After 15 years of these efforts, they have reached an end of trying to bring these efforts to completion. The property is to be put on the market in the spring unless there is substantial moves on the part of the county to change zoning & use designation and/or there is a substantial response on the part of CT supporters to assist in this process – and so,… the 3 commitments we are seeking.
In years past there was some substantial progress made with the county's action in behalf of CT as a result of letters and petition signatures. But that progress declined and never reached fulfillment. SO, it is thought that repeating the same effort again will help jump start a renewed county response.
A year ago at a nicely attended meeting of CT supporters at the senior center, a question was asked, "How many here would be willing to support CT @ $100 per year ?" Nearly every hand went up but unfortunately we lacked any method to solidify and follow up on that show of support.

So, at this critical crossroads, we are seeking these 3 commitments and asking you to sign up… you can now call CT or send an email with your name, contact info and which of the three (or all three) committments you are willing to make.
You ARE CT. Only your efforts will ensure the continuation of this valuable & needed service to the community.
Sincerely,
Dwight Ware
CT founding member and President of Board of Directors