Economy, Environment and Health Benefit from Trails, Two New Studies Show
Posted January 10, 2020 at 5:49 am by Tim Dustrude

This just in from the Wash­ing­ton State Recre­ation & Con­ser­va­tion Office…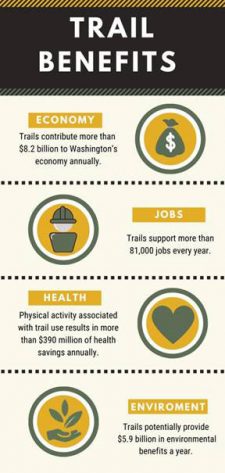 OLYMPIA–Trails con­tribute more than $8.2 bil­lion to the state's econ­o­my, accord­ing to com­pan­ion stud­ies released today by the Wash­ing­ton State Recre­ation and Con­ser­va­tion Office.
Done in col­lab­o­ra­tion with Wash­ing­ton Trails Asso­ci­a­tion, Wash­ing­ton Bikes, and the Uni­ver­si­ty of Wash­ing­ton, the stud­ies look at the eco­nom­ic, envi­ron­men­tal, social and health ben­e­fits of trails and rec­om­mend that state lead­ers devel­op more trails and use them as a way to improve the health of Washingtonians.
One study, Eco­nom­ic, Envi­ron­men­tal, & Social Ben­e­fits of Recre­ation­al Trails in Wash­ing­ton State, esti­mates that trail-based activ­i­ties improve health and reduce med­ical costs by more than $390 mil­lion a year for Wash­ing­ton res­i­dents. In addi­tion, trails sup­port 81,000 jobs annually.
"We know that trails pro­vide a lot of ben­e­fits. Peo­ple are health­i­er when they use trails, trails are good for local busi­ness­es and trails are bet­ter for the envi­ron­ment," said Kaleen Cot­ting­ham, direc­tor of the state Recre­ation and Con­ser­va­tion Office. "It just makes sense that state and local lead­ers should invest in this valu­able com­mod­i­ty. Not only will peo­ple ben­e­fit, but so will the state overall."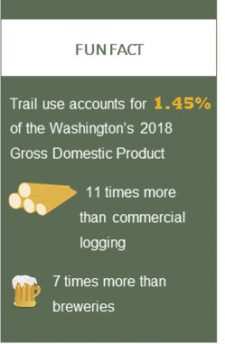 A com­pan­ion report, Health Ben­e­fits of Con­tact with Nature, looks at the health ben­e­fits asso­ci­at­ed with trails and oth­er out­door activ­i­ties. It notes an abun­dance of ben­e­fits from hik­ing, bik­ing and walk­ing such as improved heart and lung fit­ness, few­er car­dio­vas­cu­lar risk fac­tors, few­er deaths and less coro­nary heart dis­ease, can­cer risk and obe­si­ty. It also notes that out­door exer­cise, such as on trails, can improve mood, restore atten­tion and decrease anger, depres­sion and stress.
"This is crit­i­cal because Wash­ing­ton has more adults suf­fer­ing from depres­sion and men­tal ill­ness, and chil­dren report­ing more major depres­sive episodes each year than the nation­al aver­age," Cot­ting­ham said. "Chil­dren espe­cial­ly can ben­e­fit from being out­doors because it is more con­ducive to social play, emo­tion­al devel­op­ment and improved think­ing than indoor activity."
"These stud­ies show what hik­ers already know–getting out in nature is more than a hob­by," said Jill Sim­mons, chief exec­u­tive offi­cer of Wash­ing­ton Trails Asso­ci­a­tion. "It is good for our minds and bod­ies. When you con­sid­er both the eco­nom­ic and health ben­e­fits, it is clear that we need to invest more in our trails and pub­lic lands."
"Bikes mean busi­ness. We've known this for a long time, but the find­ings of this study now paint a detailed pic­ture of how com­mu­ni­ties across Wash­ing­ton State ben­e­fit from bik­ing," said Richard Smith, exec­u­tive direc­tor of Wash­ing­ton Bikes. "In addi­tion to boost­ing our state's bot­tom line through indus­try, tourism and more, bik­ing brings major ben­e­fits for our men­tal and phys­i­cal health. By build­ing more con­nect­ed trails statewide, we'll ensure that every Wash­ing­ton­ian has the oppor­tu­ni­ty to ped­al into a health­i­er future–and Wash­ing­ton will con­tin­ue to prosper."
Com­mis­sioned by the Leg­is­la­ture, the twin reports note that poor com­mu­ni­ties face more sig­nif­i­cant health chal­lenges and more bar­ri­ers to access­ing trails than more afflu­ent areas. The reports rec­om­mend using trails as a health inter­ven­tion strat­e­gy by improv­ing access and decreas­ing bar­ri­ers to trails for poor communities.
The reports also rec­om­mend improv­ing the state's trail sys­tem by encour­ag­ing new trail devel­op­ment in strate­gic areas, such as where there are too few trails or over­crowd­ed trails, and by encour­ag­ing trail devel­op­ment that pro­motes overnight trips, which gen­er­ate more mon­ey because peo­ple are spend­ing mul­ti­ple days on trails. The reports also rec­om­mend improv­ing trail ameni­ties, such as park­ing and bath­rooms, to attract more users.
In addi­tion, the reports rec­om­mend con­duct­ing com­pre­hen­sive plan­ning for trails in antic­i­pa­tion of more peo­ple liv­ing in Wash­ing­ton, improv­ing col­lec­tion of data on trail use and devel­op­ing a stan­dard per­mit­ting process statewide to make it eas­i­er to build trails.
"Peo­ple are get­ting out­side more than ever, but decades of under­in­vest­ment have put Washington's trail sys­tem under sig­nif­i­cant strain," Sim­mons said. "Wash­ing­ton Trails Asso­ci­a­tion is work­ing to ensure trails can meet the grow­ing demands of hik­ers today, tomor­row and for­ev­er. We believe these stud­ies are a good first step in rec­og­niz­ing the val­ue of trails and the need to invest in them at the lev­el they deserve."
Cre­at­ed in 1964, the Recre­ation and Con­ser­va­tion Office pro­vides statewide lead­er­ship and fund­ing to pro­tect and improve the best of Washington's nat­ur­al and out­door recre­ation resources.
Wash­ing­ton Trails Asso­ci­a­tion is a non­prof­it that mobi­lizes hik­ers and every­one who loves the out­doors, to explore, stew­ard and cham­pi­on pub­lic lands and trails.
Wash­ing­ton Bikes advo­cates for bicy­clists and a more bicy­cle-friend­ly Washington.
You can support the San Juan Update by doing business with our loyal advertisers, and by making a one-time contribution or a recurring donation.