Town Seeks Applicants for Scholarship Fund
Posted January 6, 2020 at 5:45 am by Tim Dustrude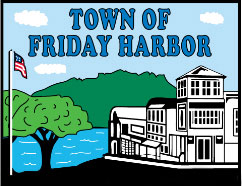 The Town is now accept­ing appli­ca­tions for the AWC Cen­ter for Qual­i­ty Com­mu­ni­ties Schol­ar­ship Fund.
The schol­ar­ship is avail­able through a statewide com­pet­i­tive process for stu­dents who are active­ly engaged in their city gov­ern­ment and/or com­mu­ni­ty and plan to attend post-sec­ondary school in fall 2020.
Up to six $1500 schol­ar­ships will be award­ed. As a mem­ber of the Asso­ci­a­tion of Wash­ing­ton Cities (AWC), the Town may nom­i­nate one stu­dent each year. Two Fri­day Har­bor stu­dents have received this schol­ar­ship in the past five years.
To be eli­gi­ble, a stu­dent must be a Wash­ing­ton res­i­dent grad­u­at­ing from high school or home school, or receiv­ing a GED in spring/summer 2020. The stu­dent must plan to con­tin­ue their edu­ca­tion at an accred­it­ed col­lege or trade school in the 2020–2021 aca­d­e­m­ic year on a half-time or more basis and have been involved with a city gov­ern­ment or with a community/school lead­er­ship activity.
Infor­ma­tion and appli­ca­tion mate­ri­als can be obtained at the Town's web­site www.fridayharbor.org or at cfqc.org. Com­plet­ed appli­ca­tions are due at Town Hall no lat­er than 4:30 pm Fri­day, Feb­ru­ary 28, 2020. Sub­mit com­plet­ed mate­ri­als to:
Town of Fri­day Harbor
Atten­tion: Julie Greene
60 Sec­ond Street S.
PO Box 219, Fri­day Har­bor, WA 98250
The Cen­ter for Qual­i­ty Com­mu­ni­ties pro­motes munic­i­pal lead­er­ship devel­op­ment and civic engage­ment. The Center's goal is to devel­op a broad pub­lic under­stand­ing of the impor­tant role of cities and towns play in Wash­ing­ton. The Cen­ter is a 501(c)(3) organization.
You can support the San Juan Update by doing business with our loyal advertisers, and by making a one-time contribution or a recurring donation.