Girlfriends' 8th Anniversary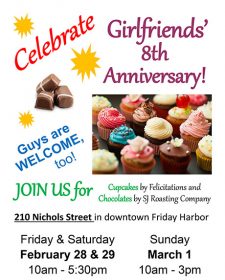 Celebrate Girlfriends' 8th Anniversary this weekend!
Enjoy cupcakes by Felicitations and chocolates by SJ Roasting Company as you help Debbie D and the girls celebrate.
We can't wait for you to leap into Girlfriends Friday and Saturday, February 28 & 29, 10am to 5:30pm, or march in Sunday, March 1, 10am to 3pm.
New inventory arrives daily with top name brands, vintage, and lots of great sale items. Guys are always welcome to shop our Man Cave.