SJICF Helps Build Sustainable Nonprofits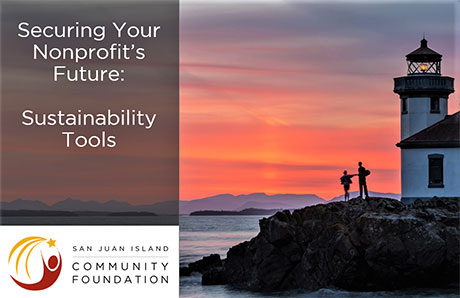 The San Juan Island Community Foundation is more than just a local grant maker. It's a nonprofit dedicated to bringing together the financial resources of individuals and families to support the missions of local nonprofits. In turn, these organizations fill the many needs of our community through programs that nourish, enrich and inspire the lives of all San Juan islanders.
In late 2019, SJICF launched a new brown bag luncheon series for local nonprofit staff and board members. This season's focus: building a sustainable nonprofit.
Representatives from 22 local nonprofits from a wide variety of interest areas joined SJICF at the Grange Hall to learn the basics of planning for and building an endowment fund.
Part 2 of the series will be held March 19th at the Grange Hall from 11:30am to 1pm. A brief overview of Part 1 will be reviewed as well as information about other ways to build sustainability. These include marketing tools for legacy gifts and case studies for successful endowment campaigns. As always, the session will include time to network with nonprofit peers.
If you wish to join the series, please email Amy Saxe-Eyler at amy@sjicf.org to be added to the upcoming session. Nonprofit board members are welcome and encouraged to attend.
SJICF – Your Partner in Philanthropy
SJICF is part of a larger group of more than 750 community foundations operating in every state in the USA. Nonprofit education and grants are just a few of a long menu of services offered to the San Juan Island community, including:
Charitable fund management for donors and nonprofits
Grants to sustain and enhance nonprofits
Scholarships for local students
Nonprofit campaign fundraising and general support
Legacy and "living legacy" donor options tailored to personal philanthropic goals
For more information, call Carrie Unpingco at 360-378-1001 or visit sjicf.org.