From San Juan County – Hot Topic #4: Creativity and Art in Difficult Times
Posted March 21, 2020 at 5:50 am by Peggy Sue McRae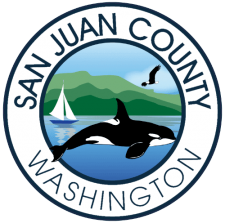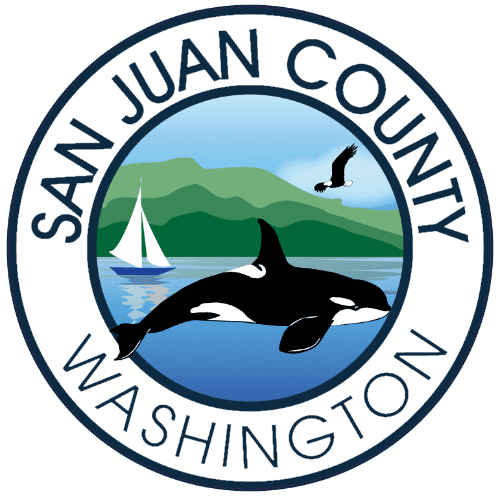 COVID-19 updates from San Juan Coun­ty around sub­jects on the minds of islanders.
Note: in an effort to diver­si­ty and strength­en San Juan County's COVID-19 response, we've added some peo­ple to the team from the broad­er com­mu­ni­ty. The arti­cle below is from Nathan Kessler-Jef­frey, the Exec­u­tive Artis­tic Direc­tor at the San Juan Com­mu­ni­ty The­ater. Thanks to Nathan and every­one else who are putting aside so much to help the islands through this.
Turn Fear Into Beau­ty. Turn Fear Into Hope.
For San Juan Coun­ty, March 20, 2020
I'm brand new to the San Juan Coun­ty Emer­gency Oper­a­tions Center's com­mu­ni­ca­tions team, and I'm so grate­ful for the chance to get involved in the good work this group is doing to try to keep the islands informed. For my first assign­ment, I was asked to write a guest col­umn on "How Can Artists Help?" This is what came out:
Court­ney (the amaz­ing woman I have the priv­i­lege of being mar­ried to) is a pro­fes­sion­al the­atre artist. So am I. Last week, Courtney's next sev­er­al months of work were abrupt­ly can­celled. We have eas­i­ly over a hun­dred friends in Seat­tle who were laid off from shows—actors, singers, instru­men­tal­ists, direc­tors, chore­o­g­ra­phers, tech­ni­cians etc.
It's easy to do two things dur­ing this time. First, it's easy to feel use­less. I can't diag­nose an ill­ness, build a ven­ti­la­tor, or mirac­u­lous­ly restock breath­ing masks, toi­let paper, and hand san­i­tiz­er. (Or chick­en! Wow, there was a run on chick­en!) Sec­ond, it's easy to jump into the idea that as artists, we MUST do some­thing imme­di­ate­ly! Let's pick a theme, do a piece, find a medi­um where we can still cre­ate art but at a dis­tance! I've seen posts from dozens of friends attempt­ing to col­lab­o­rate on social media with pieces about quar­an­tine, stock­ing up, etc.
I was think­ing about what I would do—with a key­board for a paint­brush and the imper­fect pig­ments of words on a page. Then I asked myself the big ques­tion, "What is my respon­si­bil­i­ty?" Because artists don't heal the body, per se. Our work, when we're for­tu­nate enough to do it well, address­es the spir­i­tu­al and emo­tion­al health of our community.
And right now, I'm fear­ful. My com­mu­ni­ty is fear­ful. So my next big ques­tion was, "What does my heart want to say about that unease and uncer­tain­ty and anx­i­ety that we're all wrestling with?"
Turn Fear Into Beau­ty. Turn Fear Into Hope.
In all the artis­tic dis­ci­plines, we deal with the idea of con­trast. What is the con­trast to dark­ness? To qui­et? To lone­li­ness? How do we truth­ful­ly address fear, while pro­vid­ing con­trast? I have a musi­cian friend in Seat­tle who's cap­tured this idea beau­ti­ful­ly with his new song Make It Through Tonight in which he offers his heart­felt hopes for us all. (aaronjshay.bandcamp.com)
Heart­felt is a use­ful word right now. It implies sin­cer­i­ty and a sense of connection—and fear is often alle­vi­at­ed when we know we aren't alone.
Back to the orig­i­nal ques­tion: "How can artists help?" I rec­om­mend we cre­ate from the heart—what we do has the poten­tial to pro­vide a con­trast to the fear and uncer­tain­ty we face.
And here's one poten­tial prompt for us—if it's help­ful. We're deal­ing with a lot of social distancing—giving space to those around us—friends, fam­i­ly, etc. We're keep­ing our dis­tance FROM, which can be lone­ly and iso­lat­ing. Who are we keep­ing our dis­tance FOR? Who are the peo­ple whose lives will be impact­ed or even saved by the iso­la­tion we self-impose?
For my next guest col­umn, I'll be writ­ing an arti­cle about 'Becky' (not her real name), who is one of the peo­ple that I keep my dis­tance FOR.
If you cre­ate something—a sto­ry, a paint­ing, a poem, a dance, a song, anything—about a per­son you keep your dis­tance FOR, please let me know.
And please remem­ber to give your love and sup­port to all our lead­ers, schools, med­ical pro­fes­sion­als, artists, and whole com­mu­ni­ty. We'll get through this as we weath­er all things: togeth­er.
All the best,
Nathan Kessler-Jef­frey
Exec­u­tive Artis­tic Director
San Juan Com­mu­ni­ty Theatre
ead@sjctheatre.org
You can support the San Juan Update by doing business with our loyal advertisers, and by making a one-time contribution or a recurring donation.