OPALCO Cancels Annual Member Meetings; Election Continues As Planned
Posted March 4, 2020 at 12:57 pm by Peggy Sue McRae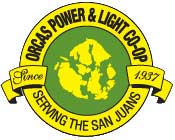 The OPALCO Board of Direc­tors announced today that the upcom­ing annu­al mem­ber meet­ing and all OPALCO gath­er­ings are can­celed until fur­ther notice in order to err on the side of cau­tion in the face of tremen­dous uncer­tain­ty with the cur­rent out­break of Covid-19 in the state of Wash­ing­ton. The announce­ment fol­lows Gov­er­nor Inslee's procla­ma­tion of a state of emer­gency. OPALCO is sim­ply doing its part to help con­tain the spread of the virus and encour­ages oth­er orga­ni­za­tions to do the same.
While the elec­tion (online or by mail) will con­tin­ue as planned, the can­di­date forums will be scaled back to one remote (via video con­fer­enc­ing) event on March 12th, made avail­able to mem­bers via Face­book live stream­ing. The oth­er can­di­date forums on Orcas and Lopez islands are can­celed. The annu­al mem­ber meet­ing on the fer­ry, sched­uled for Sat­ur­day, April 18th, is can­celed. Board meet­ings will be con­duct­ed via remote video con­fer­enc­ing until fur­ther notice. Mem­bers can sub­mit any com­ments and ques­tions in advance of each meet­ing to: communications@opalco.com.
"We con­sid­ered the risk to our mem­ber­ship and staff," said Gen­er­al Man­ag­er Fos­ter Hil­dreth, "and decid­ed it's best to err on the side of cau­tion and fol­low the CDC guide­lines for social distancing—at least until the threat of the virus has passed. We look for­ward to get­ting out to meet with mem­bers this sum­mer."
Hil­dreth urges mem­bers to vote when their bal­lots arrive by mail or email begin­ning March 13th. Mem­ber vot­ing is essen­tial to a coop­er­a­tive democ­ra­cy and a quo­rum of at least 10% of the mem­bers cast­ing a bal­lot is required for a valid elec­tion. Please vote!
OPALCO strong­ly encour­ages mem­bers to sign up for Auto­Pay and/or to pay their bills through SmartHub (online) to lim­it unnec­es­sary per­son-to-per­son con­tact. Beyond the health and safe­ty ben­e­fits, Auto­Pay brings sig­nif­i­cant sav­ings to OPALCO's billing expense, which helps keep rates down for everyone.
At press time, there are cur­rent­ly no known cas­es of Covid-19 in San Juan Coun­ty, and OPALCO wants to keep it that way. OPALCO's pri­ma­ry goal is safe­ty: the safe­ty of its mem­bers, board, staff and their fam­i­lies. OPALCO staff will miss see­ing you on the fer­ry for the beloved tra­di­tion of lunch and live­ly discussion—but please look for ways to stay engaged by par­tic­i­pat­ing in the save now, pay lat­er "Switch it Up" pro­gram, sign­ing up for the next Com­mu­ni­ty Solar project (to be announced lat­er this Spring) and by engag­ing with your co-op on social media. Staff wel­come your co-op com­ments, ques­tions and ideas at communications@opalco.com.
If you have ques­tions about the Covid-19 virus, we rec­om­mend the CDC web­site: https://www.cdc.gov/coronavirus/2019-ncov/community/index.html. San Juan Coun­ty Health Depart­ment is reg­u­lar­ly updat­ing their infor­ma­tion: https://www.sanjuanco.com/1668/2019-Novel-Coronavirus.
Orcas Pow­er & Light Coop­er­a­tive (OPALCO) is our mem­ber-owned coop­er­a­tive elec­tric util­i­ty, serv­ing more than 11,000 mem­bers on 20 islands in San Juan Coun­ty. OPALCO pro­vides elec­tric­i­ty that is 95% green­house-gas free and is gen­er­at­ed pre­dom­i­nant­ly by hydro­elec­tric plants. OPALCO was found­ed in 1937. Fol­low OPALCO @OrcasPower on Face­book and Twitter.
You can support the San Juan Update by doing business with our loyal advertisers, and by making a one-time contribution or a recurring donation.