San Juan Island Fire & Rescue Temporarily Implements 24/7 On-Duty Staffing
Posted March 28, 2020 at 5:13 am by Peggy Sue McRae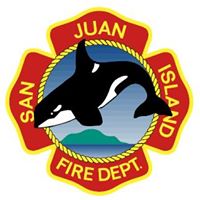 FRIDAY HARBOR, WA – San Juan Island Fire and Res­cue (SJIF&R) con­tin­ues to adjust emer­gency oper­a­tions and prepa­ra­tions need­ed dur­ing the glob­al COVID-19 pan­dem­ic. "Dur­ing the cur­rent health cri­sis emer­gency SJIF&R con­tin­ues adapt­ing our emer­gency response capa­bil­i­ties to meet the needs of our res­i­dents and respon­ders," said SJIF&R Chief Norvin Collins.
With­in less than 24-hours of Wash­ing­ton Gov­er­nor Inslee's "Stay at Home" order, SJIF&R imple­ment­ed an on-duty, 24/7 emer­gency response capa­bil­i­ty with a rotat­ing 3 or 4‑person crew. The on-duty crew is housed in SJF&R's main fire sta­tion. The crew con­sists of 1 Offi­cer, 1 Appa­ra­tus Oper­a­tor, and 2 Fire­fight­er and/or Emer­gency Med­ical Tech­ni­cians (EMTs).
Chief Collins said, "The respond­ing on-duty crew is respond­ing to the full-spec­trum of emer­gency calls includ­ing advanced and basic life sup­port calls (ALS and BLS), fire and oth­er haz­ard inci­dents. Work­ing with San Juan EMS, SJIF&R's on-duty crew expands the num­ber of EMTs avail­able for imme­di­ate emer­gency dis­patch and response."
SJIF&R's on-duty 24/7 response plan reduces the num­ber of our vol­un­teer fire­fight­ers' expo­sure to COVID-19 while pro­vid­ing effi­cient and safe response for our com­mu­ni­ties. In the event of a high-vol­ume of emer­gency calls, struc­tur­al fire calls, com­plex res­cues and fire­boat oper­a­tions, SJIF&R's trained vol­un­teers con­tin­ue to respond as needed.
"As expect­ed, our vol­un­teer and paid staff have risen to the chal­lenge of pro­vid­ing emer­gency response dur­ing this health cri­sis. I am proud that we have more vol­un­teer fire­fight­ers for 24/7 shifts than we have slots avail­able. We are focused on the islands we serve, and we con­tin­ue work­ing with our neigh­bor­ing islands to pro­tect San Juan Coun­ty as a whole," said Chief Collins.
You can support the San Juan Update by doing business with our loyal advertisers, and by making a one-time contribution or a recurring donation.