San Juan Island Fire & Rescue Temporarily Implements 24/7 On-Duty Staffing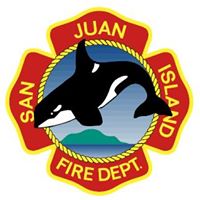 FRIDAY HARBOR, WA – San Juan Island Fire and Rescue (SJIF&R) continues to adjust emergency operations and preparations needed during the global COVID-19 pandemic. "During the current health crisis emergency SJIF&R continues adapting our emergency response capabilities to meet the needs of our residents and responders," said SJIF&R Chief Norvin Collins.
Within less than 24-hours of Washington Governor Inslee's "Stay at Home" order, SJIF&R implemented an on-duty, 24/7 emergency response capability with a rotating 3 or 4-person crew. The on-duty crew is housed in SJF&R's main fire station. The crew consists of 1 Officer, 1 Apparatus Operator, and 2 Firefighter and/or Emergency Medical Technicians (EMTs).
Chief Collins said, "The responding on-duty crew is responding to the full-spectrum of emergency calls including advanced and basic life support calls (ALS and BLS), fire and other hazard incidents. Working with San Juan EMS, SJIF&R's on-duty crew expands the number of EMTs available for immediate emergency dispatch and response."
SJIF&R's on-duty 24/7 response plan reduces the number of our volunteer firefighters' exposure to COVID-19 while providing efficient and safe response for our communities. In the event of a high-volume of emergency calls, structural fire calls, complex rescues and fireboat operations, SJIF&R's trained volunteers continue to respond as needed.
"As expected, our volunteer and paid staff have risen to the challenge of providing emergency response during this health crisis. I am proud that we have more volunteer firefighters for 24/7 shifts than we have slots available. We are focused on the islands we serve, and we continue working with our neighboring islands to protect San Juan County as a whole," said Chief Collins.