Governor Allows Some Low-Risk Construction to Resume
Governor Inslee Allows Some Low-Risk Construction to Resume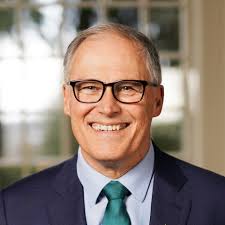 As of Friday April 24, Washington State Governor Jay Inslee has allowed some construction activities to resume across the state, including in San Juan County. The Governor's announcement of the decision is available HERE.
Specific requirements established to ensure the safety of both workers and the community are posted HERE on the Governor's website (PDF).
This move was expected and welcomed by the San Juan County Council, who have been communicating with the Governor and his staff over the last two weeks to ensure this vital part of the local economy can begin to safely get back to work.
San Juan County Council Chair Rick Hughes highlights the importance of this step and the decision making that went into it, "Everything that the Governor and the County Council have been doing is driven by science and puts the health of our residents first. That is why the majority of the Governor's Stay Home Stay Healthy order remains in effect until at least May 4th. Reopening some construction is something that we felt could be done in a thoughtful and safe way, and we welcome the opportunity to help a portion of our economy resume work."
County Health Officer Dr. Frank James shares the importance of building and construction businesses following the requirements, "In order for this to work, contractors need to really embrace the effort to operate safely. Worker and community health need to be the first priority, always. This means following social distancing requirements, covering of faces, staying home when sick, and not taking any shortcuts that jeopardize safety. At the first sign of disease transmission on job sites, the entire industry risks being shut down once again."
Council Chair Hughes emphasizes that this does not mean things are back to normal, "While this is a welcome step, it doesn't mean that we're out of the woods. Indeed, cases in Washington are not dropping as quickly as we had hoped, and there are still outbreaks occurring across the state. We've done well here in the islands at limiting spread, but need to remain vigilant."
Please note that workplace safety and health complaints may be submitted to the WA State Labor & Industries (L&I) Call Center: 1-800-423-7233 or via e-mail to adag235@lni.wa.gov. General questions about how to comply with construction safety practices can be submitted to the state's Business Response Center at https://app.smartsheet.com/b/form/2562f1caf5814c46a6bf163762263aa5.
Additional Info… (Word Doc)