4-H Talent Show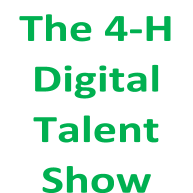 Hello There! please join the NW Regional 4-Hers for a virtual 4-H Talent Show!
Our teen leaders want to let people know that we are thinking of them and that they are not alone!
Join via a smartphone or computer. Participants will need to register with a ZOOM account (you may need to create one) by going to https://zoom.us/
Log in before 1 PM on Sunday, May 3 and click on this link to see and be seen!
https://wsu.zoom.us/j/96279613356
Our Agenda includes:
Trivia Icebreakers by Moose
Introductions: Meet the Teens
Danaya presents Dog Tricks,
Theo presents Classical Piano,
Brianna presents Painting,
Claire presents Romping Rabbits,
Moose the M.V. provides a Musical Interlude
For more information about teen tech tutoring please contact The Digital Ambassadors : Brenda.dunford@wsu.edu