Griffin Bay Bookstore Update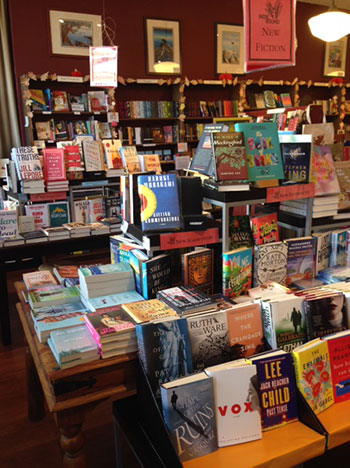 To our loyal customers:
Your outpouring of support, along with your heartfelt messages of encouragement, has given us the steam to keep on as booksellers during this fraught time of the pandemic and consequent shutdown of community and economic life. Our doors may be closed, but we are still open for business, albeit only through ordering and curbside pick-up or deliveries.
We are tremendously thankful for your orders, for your words of support; our appreciation knows no bounds. We are grateful to have such good people continuing to order books and making purchases on our website (no easy task), through e-mail, and by phone.
We extend an enormous thanks to all of you who have come forth to keep us in business. We've also been warmed to hear kind and thoughtful messages on our recorder, and best of all, to have a chat with you. Keep on calling! Without you, we simply cannot go on.
Make It Easier on Yourself: Order by Phone
In order to streamline ordering and to make it easier for you to continue shopping for books, puzzles, journals, stationery, cards, and for all the odds and ends in the bookstore, we encourage you to make direct contact with us by phone or email. Our website is part of a system devised by American Booksellers Association and we admit it is not user-friendly. We've come to the conclusion that it may be easier for some of you to call us and talk directly to a real person when placing an order. We can then process your payment at the same time, as well as let you know if the books you want are available and when to expect them.
New Hours for the Bookstore
Griffin Bay Bookstore staff will be available on Mondays, Wednesdays, Fridays, 11:00 am—2:00 pm. Call the bookstore, 360-378-5511 to reach staff and place an order.
Simply call the bookstore to reach a real person, a staff member who will be there to take your order and answer your questions. You can count on someone being there on the above days, during our new hours. If the line is busy, keep trying. E-mail is always a good choice, too: info@griffinbaybook.com.
Consider Griffin Bay Staff as Your Personal Shopper
Reach out for a cheerful voice! You can have fun chatting with Natalie or Ryanne by phone. With phone in hand, they will browse the store with/for you. They can help you find just the right cards, gifts, offer recommendations and/or substitutions. And then make arrangements for your payment and pick-up or delivery time. This is an opportunity for you to keep informed about what's new in fiction and non-fiction as well as to ask questions, to jabber a bit. Call 360-378-5511 Mondays, Wednesdays, Fridays, 11:00 am—2:00 pm. You can also leave a message anytime on our recorder.
E-Mail is Efficient Too
If you prefer e-mail, send one with your ordering requests as well as your phone number, but please do not include your credit card information! Don't forget to give us your phone number so we can call you back. Our email is: info@griffinbaybook.com Laura or Natalie will respond to your requests quickly.
Website Ordering is Quick
Some of you have placed orders that have been executed smoothly and were sent out without any problems. However, this hasn't always been the case. If you encounter any problems placing an order, we urge you to let us know asap. Please call or e-mail so we can help you and make it easier for you to get what you want. Call, 360-378-5511, and leave a message if you're calling when no staff member is in the bookstore. E-mail: info@griffinbaybook.com to let us know if you're experiencing difficulties with ordering on our website. We are checking both the phone recorder and emails several times a day so it shouldn't take too long for us to get back to you.
If you have been successful in ordering on our website, just keep at it!
Our Goal for Now
Our immediate goal is to stay open for ordering, curbside pick-up, and deliveries by keeping our practices as simple and functioning until we know more about Covid-19's spread, testing, Governor Jay Inslee's plans, and a host of other federal, state, and local directives and/or recommendations. There's no getting around it though: We need you–our island community—in order to stay open now—and when the time comes, to again open our doors to greet and welcome in our wonderful customers.
Until then, we extend our heartfelt thanks to all of you for your continuing support—your patronage, your efforts, your contributions—to make sure Griffin Bay Bookstore will survive to be a part of Friday Harbor's economic and cultural life. Please know that we miss seeing you. We send our best wishes to you and hope you are healthy and safe, and finding beauty and happiness where you can in your daily lives.
In thanks,
Your friends at Griffin Bay Bookstore