Griffin Bay Bookstore Phone Ordering Update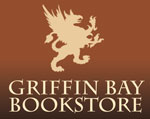 Call the Bookstore Anytime, 24/7 to Place Your Order: (360) 378-5511
New Hours for the Bookstore
The bookstore is open Monday thru Friday, 11:00 am to 2:00 pm but you don't have to wait until then to call and place your order. Call anytime, day or night, and leave a message.
A real person will call you back—a staff member who will confirm your order, answer your questions, give you pick up details, and process your payment. You can count on someone returning your call on the above days, during our new hours. If you call during open hours, you may encounter a busy signal, but don't give up—just try calling the bookstore when it is convenient for you and leave your message and order on our recorder. If the line is busy during our new hours, you may have to keep trying. E-mail, though, is always a good choice, too: info@griffinbaybook.com.
Thank you for your patience as we are trying to streamline ordering, pick-ups, and deliveries.
Consider Griffin Bay Staff as Your Personal Shopper:
Reach out for a cheerful voice! You can have fun chatting with Natalie or Ryanne by phone. With phone in hand, they will browse the store with/for you. They can help you find just the right cards, gifts, offer recommendations and/or substitutions. And then make arrangements for your payment and pick-up or delivery time. This is an opportunity for you to keep informed about what's new in fiction and non-fiction as well as to ask questions, to jabber a bit. Call 360-378-5511 Mondays, Wednesdays, Fridays, 11:00 am—2:00 pm. You can also leave a message anytime on our recorder.
E-Mail is Efficient Too
If you prefer e-mail, send one with your ordering requests as well as your phone number, but please do not include your credit card information! Don't forget to give us your phone number so we can call you back. Our email is: info@griffinbaybook.com Laura or Natalie will respond to your requests quickly.
Website Ordering is Quick
Some of you have placed orders that have been executed smoothly and were sent out without any problems. However, this hasn't always been the case. If you encounter any problems placing an order, we urge you to let us know asap. Please call or e-mail so we can help you and make it easier for you to get what you want. Call, 360-378-5511, and leave a message if you're calling when no staff member is in the bookstore. E-mail: info@griffinbaybook.com to let us know if you're experiencing difficulties with ordering on our website. We are checking both the phone recorder and emails several times a day so it shouldn't take too long for us to get back to you.
If you have been successful in ordering on our website, just keep at it!