Griffin Bay Bookstore Phone Ordering Update
Posted May 13, 2020 at 8:52 am by Tim Dustrude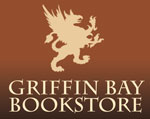 Call the Book­store Any­time, 24/7 to Place Your Order: (360) 378‑5511
New Hours for the Bookstore
The book­store is open Mon­day thru Fri­day, 11:00 am to 2:00 pm but you don't have to wait until then to call and place your order. Call any­time, day or night, and leave a message.
A real per­son will call you back—a staff mem­ber who will con­firm your order, answer your ques­tions, give you pick up details, and process your pay­ment. You can count on some­one return­ing your call on the above days, dur­ing our new hours. If you call dur­ing open hours, you may encounter a busy sig­nal, but don't give up—just try call­ing the book­store when it is con­ve­nient for you and leave your mes­sage and order on our recorder. If the line is busy dur­ing our new hours, you may have to keep try­ing. E‑mail, though, is always a good choice, too: info@griffinbaybook.com.
Thank you for your patience as we are try­ing to stream­line order­ing, pick-ups, and deliveries.
Con­sid­er Grif­fin Bay Staff as Your Per­son­al Shopper:
Reach out for a cheer­ful voice! You can have fun chat­ting with Natal­ie or Ryanne by phone. With phone in hand, they will browse the store with/for you. They can help you find just the right cards, gifts, offer rec­om­men­da­tions and/or sub­sti­tu­tions. And then make arrange­ments for your pay­ment and pick-up or deliv­ery time. This is an oppor­tu­ni­ty for you to keep informed about what's new in fic­tion and non-fic­tion as well as to ask ques­tions, to jab­ber a bit. Call 360–378-5511 Mon­days, Wednes­days, Fri­days, 11:00 am—2:00 pm. You can also leave a mes­sage any­time on our recorder.
E‑Mail is Effi­cient Too
If you pre­fer e‑mail, send one with your order­ing requests as well as your phone num­ber, but please do not include your cred­it card infor­ma­tion! Don't for­get to give us your phone num­ber so we can call you back. Our email is: info@griffinbaybook.com Lau­ra or Natal­ie will respond to your requests quickly.
Web­site Order­ing is Quick
Some of you have placed orders that have been exe­cut­ed smooth­ly and were sent out with­out any prob­lems. How­ev­er, this hasn't always been the case. If you encounter any prob­lems plac­ing an order, we urge you to let us know asap. Please call or e‑mail so we can help you and make it eas­i­er for you to get what you want. Call, 360–378-5511, and leave a mes­sage if you're call­ing when no staff mem­ber is in the book­store. E‑mail: info@griffinbaybook.com to let us know if you're expe­ri­enc­ing dif­fi­cul­ties with order­ing on our web­site. We are check­ing both the phone recorder and emails sev­er­al times a day so it shouldn't take too long for us to get back to you.
If you have been suc­cess­ful in order­ing on our web­site, just keep at it!
You can support the San Juan Update by doing business with our loyal advertisers, and by making a one-time contribution or a recurring donation.