"Just a Minute"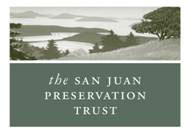 60-Second Videos from the Preservation Trust
The San Juan Preservation Trust has developed a series of quick, easy-to-watch videos featuring the wonder-filled nature in our own backyards as spring unfolds around us.
If you could use some vicarious doses of nature's medicine, click to watch the video above and then look for more of the Preservation Trust's "Just a Minute" videos here: https://sjpt.org/just-a-minute
Check back every so often as the series continues to expand. Hope you enjoy them!