Second Street Chip Sealing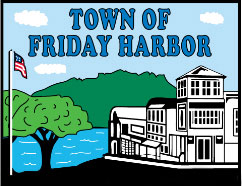 Thursday, June 11, 2020 – Drivers and pedestrians are urged to exercise patience and safety.
San Juan County Public Works (SJCPW) will chip seal Second Street in the Town of Friday Harbor starting the week of June 8th. The exact date for resurfacing depends on the County's ability to complete other sections of roadway on San Juan Island that week. Currently, the target date for resurfacing is Thursday, June 11, 2020.
Work is estimated to last one day. Second Street will then be re-striped with fresh paint and crosswalk markings as soon as practical. Questions and comments can be forwarded to Town Public Works at (360) 378-2154 or (360) 378-2810.
What to Expect:
NO PARKING – "No Parking" signs will be placed on the sidewalks next to the street 24-to-48 hours in advance of the work. Once the process begins, all vehicles must be removed from the project area. Vehicles remaining on the street will be towed at the owner's expense.
ROAD CLOSED TO TRAFFIC– No thru traffic will be permitted on Second Street from the intersection of Spring Street to the intersection of Blair Avenue. This includes the intersections at West, Court & Reed Streets.
LOCAL ACCESS ONLY – Pedestrian access will be maintained. When feasible, flaggers will direct vehicles for local access to private parking. Drivers should expect delays and, if possible, plan alternate parking.
DETOUR – The public is asked to use alternate routes such as Blair Avenue.
Due to continued threat of COVID-19, Town construction work will be assessed on a day-by-day basis. As always, drive carefully and thank you in advance for proceeding with caution in areas where Crews are working in the roadway. Please continue to follow the Governor's Start Safe Plan, pay attention to Health Department recommendations and travel with care.
What is the Chip Sealing Process?
Motorists should take care when driving through chip seal zones on the island. It is very important to respect and adhere to posted speed limits and other instructions to help prevent oil and chips from damaging vehicles.
The process begins when crews prep roads by street sweeping, crack sealing and cleaning gutters of debris. Trees are often pruned to help aid chip seal equipment navigate the roadways. Next is the actual chip seal application. Liquid asphalt is applied to each lane. This is immediately followed by a chip spreader applying chips (rocks). A roller then sets the chips into the fresh oil.
Once the asphalt has fully set (5-10 days later), a sweeper truck will remove the excess chips. The final step, the fog seal, is a second application of oil that controls loose rocks and dust and provides a fresh surface for pavement markings. The road is safe for motorists to drive on shortly after the initial chip seal or fog seal has been placed.