Canine Champion Donates Winnings to APS-FH Pet Food Pantry Program
Posted June 24, 2020 at 8:03 am by Tim Dustrude
"Canaan," a Fri­day Har­bor local, is Bob Anderson's cham­pi­on agili­ty dog. Canaan has been in approx­i­mate­ly 120 agili­ty tri­als and 1500 indi­vid­ual agili­ty runs. He has come in 1st place over 400 times and placed 2nd or 3rd in as many events.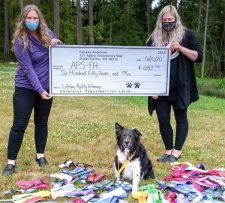 Canaan is seen in the pho­to at right with only a frac­tion of the rib­bons and met­als he has earned over his years of com­pet­ing. Canaan, now nine and a half years old, will be run­ning in just a few vet­er­an events at each tri­al as "Zeke," the newest mem­ber of Bob's pack, steps into the arena.
When an agili­ty dog wins at a big event, they receive their win­nings in the form of a check but, at small­er events, they win a few dol­lars in cash. Bob stuffed Canaan's small­er win­nings into an enve­lope over the years and nev­er count­ed the mon­ey. When Canaan "retired," Bob and Canaan brought Canaan's cash win­nings into APS-FH to donate it to the Pet Food Pantry. We gath­ered to count the cash and found that Canaan's gen­er­ous dona­tion added up to $657 for the APS-FH Pet Food Pantry.
The Pet Food Pantry is a com­mu­ni­ty pet food bank to help keep pets in their homes by pro­vid­ing pet food for fam­i­lies in need. The Pet Food Pantry is locat­ed at the Trea­sure Hounds store at 365‑C Spring Street in Fri­day Har­bor. Hours for pet food dis­tri­b­u­tion are every oth­er Wednes­day from 10am to 1pm. Both cat and dog food are available.
Thank you, Canaan and Bob, for sup­port­ing this impor­tant program!
APS-FH Mis­sion
Our mis­sion is to pro­vide com­pas­sion­ate care and brighter futures for home­less animals.
We com­mit to the following:
Pro­vide a safe haven for home­less and lost animals
Reunite lost pets with their owners
Place ani­mals in our care in qual­i­fied, lov­ing homes
Reduce pet over­pop­u­la­tion with spay/neuter edu­ca­tion and assistance
Advise and advo­cate for the pro­tec­tion of animals
Net­work with oth­er shel­ters and pet res­cue groups impact­ed by over­crowd­ing or nat­ur­al dis­as­ters to decrease euthana­sia rates and ulti­mate­ly save lives
Advance ani­mal wel­fare through edu­ca­tion, out­reach and assistance
Pro­mote a stronger sense of the animal/human bond
Always adhere to our no-kill phi­los­o­phy for adopt­able animals
Con­nect with us on Face­book, Twit­ter, Pin­ter­est and Insta­gram or vis­it apsfh.com for more information.
You can support the San Juan Update by doing business with our loyal advertisers, and by making a one-time contribution or a recurring donation.