Letters
In the SJ Update Mailbag today we have this letter from Alice Hurd, Former Trustee of the San Juan Preservation Trust…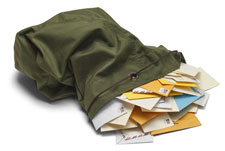 I am writing to share my concern about an initiative petition being circulated in San Juan County for the purpose of putting a measure on the November ballot to close down the San Juan County Land Bank at the end of 2020.
This is 6 years before it is due to expire if not renewed for another 12 years by the voters. I hope that people receiving a request to sign this petition will think hard about it and consider these three things:
The wording on the petition is deceptive! It looks at first to be a chance for you to vote against the petition (a "yes" and a "no" box to check) but it is not. In fact every signature submitted, whether you check the "yes" or "no" box or neither, will be counted among the 1600 + signatures required to bring the initiative to a countywide vote in November.
Passage of this measure will eliminate both the Land Bank and the Affordable Housing REET! The Land Bank is funded by a 1% real estate excise tax (REET) that is paid by a buyer of real estate at the time of the purchase. The same legislation that allows this program also allows additional REETs to be levied for the benefit of affordable housing programs. Both need to be approved by the voters to begin with, then renewed by the voters every 12 years. By "retiring the REET" voters would be closing both the Land Bank and the recently approved REET to benefit affordable housing.
Consider what we have from the Land Bank! The work of the Land Bank is guided by seven volunteer citizen commissioners from various islands (meetings are monthly and open to the public). The staff maintains the properties owned, manages the conservation easements, directs volunteer "work parties" and provides events and outings on these special properties. The properties under the protection of the Land Bank add up to 7100 acres, including 10 miles of shoreline and more than 40 miles of trails. 70% of the acres within the preserves are open to the public for our enjoyment (exercise, rest, relaxation, plein aire painting, education, meditation, bird watching, cycling, whale watching, beach walking, horseback riding — for a start!)
Please inform local friends and family about this measure. There is already a mechanism in place to end the Land Bank in that it needs voter approval every 12 years. Do not sign this petition! Do not let it go to a countywide vote in the fall!
I believe the Land Bank is an innovative, unique and successful program, and is one of the best benefits of living in the San Juan Islands! Please…
Let's keep our Land Bank!
Thank you –
Alice Hurd
Friday Harbor resident since 2003
Former Trustee of the San Juan Preservation Trust