Letters
Posted June 1, 2020 at 6:11 pm by Tim Dustrude
In the SJ Update Mail­bag today we have this let­ter from Alice Hurd, For­mer Trustee of the San Juan Preser­va­tion Trust…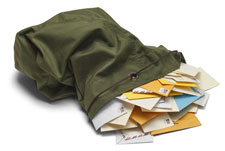 I am writ­ing to share my con­cern about an ini­tia­tive peti­tion being cir­cu­lat­ed in San Juan Coun­ty for the pur­pose of putting a mea­sure on the Novem­ber bal­lot to close down the San Juan Coun­ty Land Bank at the end of 2020.
This is 6 years before it is due to expire if not renewed for anoth­er 12 years by the vot­ers. I hope that peo­ple receiv­ing a request to sign this peti­tion will think hard about it and con­sid­er these three things:
The word­ing on the peti­tion is decep­tive! It looks at first to be a chance for you to vote against the peti­tion (a "yes" and a "no" box to check) but it is not. In fact every sig­na­ture sub­mit­ted, whether you check the "yes" or "no" box or nei­ther, will be count­ed among the 1600 + sig­na­tures required to bring the ini­tia­tive to a coun­ty­wide vote in November.
Pas­sage of this mea­sure will elim­i­nate both the Land Bank and the Afford­able Hous­ing REET! The Land Bank is fund­ed by a 1% real estate excise tax (REET) that is paid by a buy­er of real estate at the time of the pur­chase. The same leg­is­la­tion that allows this pro­gram also allows addi­tion­al REETs to be levied for the ben­e­fit of afford­able hous­ing pro­grams. Both need to be approved by the vot­ers to begin with, then renewed by the vot­ers every 12 years. By "retir­ing the REET" vot­ers would be clos­ing both the Land Bank and the recent­ly approved REET to ben­e­fit afford­able housing.
Con­sid­er what we have from the Land Bank! The work of the Land Bank is guid­ed by sev­en vol­un­teer cit­i­zen com­mis­sion­ers from var­i­ous islands (meet­ings are month­ly and open to the pub­lic). The staff main­tains the prop­er­ties owned, man­ages the con­ser­va­tion ease­ments, directs vol­un­teer "work par­ties" and pro­vides events and out­ings on these spe­cial prop­er­ties. The prop­er­ties under the pro­tec­tion of the Land Bank add up to 7100 acres, includ­ing 10 miles of shore­line and more than 40 miles of trails. 70% of the acres with­in the pre­serves are open to the pub­lic for our enjoy­ment (exer­cise, rest, relax­ation, plein aire paint­ing, edu­ca­tion, med­i­ta­tion, bird watch­ing, cycling, whale watch­ing, beach walk­ing, horse­back rid­ing — for a start!)
Please inform local friends and fam­i­ly about this mea­sure. There is already a mech­a­nism in place to end the Land Bank in that it needs vot­er approval every 12 years. Do not sign this peti­tion! Do not let it go to a coun­ty­wide vote in the fall!
I believe the Land Bank is an inno­v­a­tive, unique and suc­cess­ful pro­gram, and is one of the best ben­e­fits of liv­ing in the San Juan Islands! Please…
Let's keep our Land Bank!
Thank you -
Alice Hurd
Fri­day Har­bor res­i­dent since 2003
For­mer Trustee of the San Juan Preser­va­tion Trust
You can support the San Juan Update by doing business with our loyal advertisers, and by making a one-time contribution or a recurring donation.