New Positive Test Result Reported on San Juan Island
Posted June 15, 2020 at 6:17 pm by Tim Dustrude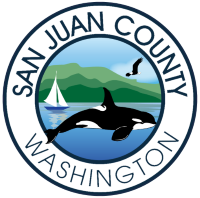 June 15, 2020: San Juan Coun­ty Health and Com­mu­ni­ty Ser­vices staff have been noti­fied of a new pos­i­tive COVID-19 test result in San Juan Coun­ty, on San Juan Island. This brings the total num­ber of cas­es in San Juan Coun­ty to 16.
This is the first pos­i­tive case of COVID-19 in near­ly six weeks and involves an employ­ee of Roche Har­bor Resort on San Juan Island. The employ­ee is new­ly arrived to the island, and was test­ed via Roche Harbor's test­ing pro­gram that tests all of their new employ­ees pri­or to working.
The Coun­ty Health & Com­mu­ni­ty Ser­vice Department's sur­veil­lance team is active­ly con­tact trac­ing this case. The close house­hold con­tacts of the indi­vid­ual who test­ed pos­i­tive are quar­an­ti­ning until they can be test­ed or oth­er­wise found to be free of risk.
The patient's employ­er, Roche Har­bor, has been active­ly sup­port­ing the effort to iden­ti­fy all poten­tial expo­sures, and to min­i­mize any chance of fur­ther transmission.
Coun­ty Health Offi­cer Dr. Frank James details the sit­u­a­tion, "While remain­ing free of fur­ther cas­es in San Juan Coun­ty would have been nice, our chances of doing so were always slim. This exact sit­u­a­tion is some­thing we have been prepar­ing for. The employ­er did every­thing right. They're test­ing their employ­ees before being allowed to start work and have been extreme­ly respon­sive and coop­er­a­tive with pub­lic health staff. With robust con­tact trac­ing we hope to able to con­tain this case and pre­vent fur­ther spread. We will only know if we are suc­cess­ful after test­ing and close ongo­ing mon­i­tor­ing, but at the moment I'm opti­mistic. That opti­mism is due to very strong proac­tive approach by the employ­er and a quick response from the pub­lic health team."
Case inves­ti­ga­tion and con­tact trac­ing are the foun­da­tion of an effec­tive pub­lic health response. It is labor inten­sive and chal­leng­ing, with a goal of rapid­ly achiev­ing containment.
Dr. James high­lights the impor­tance of remain­ing vig­i­lant, "We know that peo­ple can be asymp­to­matic and still trans­mit the dis­ease. Clear­ly many in our com­mu­ni­ties are relax­ing habits and feel­ing more com­fort­able with a slow reopen­ing. If we want to avoid com­mu­ni­ty trans­mis­sion and keep our busi­ness­es and islands open, we need to stay focused on fre­quent hand wash­ing, social dis­tanc­ing, and cov­er­ing our faces in pub­lic. Those are our very best tools to avoid com­mu­ni­ty spread."
San Juan Coun­ty health offi­cials remind every­one that if you have symp­toms of COVID (includ­ing a fever or chills, cough, short­ness of breath, new loss of taste or smell, nau­sea, sort throat, or diar­rhea), please con­tact your med­ical provider imme­di­ate­ly to dis­cuss being tested.
You can support the San Juan Update by doing business with our loyal advertisers, and by making a one-time contribution or a recurring donation.