Fireworks!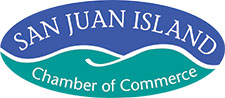 The San Juan Island Chamber of Commerce is partnering again with the Town of Friday Harbor, Kings Market and the Port of Friday Harbor to sponsor the fireworks display for the 4th of July. We have made the determination that the 2020 Fourth of July fireworks display over the harbor adjacent to the Town of Friday Harbor can be produced and attended by the public in a safe fashion.
San Juan County is now in Phase 2 of the "Washington Phased Approach to Reopen"; relaxing some of the restrictions and orders of the state's Governor and the San Juan County Health Officer, Dr. Frank James. However, to maintain the safest of conditions, certain rules should be adopted and followed to ensure the utmost in safety. Dr. James is aware of the plan to have a fireworks display and thinks it is an excellent idea, so long as everyone follows the simple, courteous rules to protect themselves and others.
It is important to note that the Governor's restrictions on non-essential travel are still in place and the Chamber, Town and County are discouraging any travel to the island to observe the fireworks that are not consistent with the Phase 2 limited non-essential travel that is authorized.
Those that choose to view the fireworks this year should note that wearing of masks before, during and after the show are STRONGLY ENCOURAGED. Social Distancing Ambassadors will be stationed throughout the waterfront area and the Port of Friday Harbor docks to remind people to maintain an appropriate distance from those around you. The County Health Officer recommends that the minimum distance between people should be six feet with the exception of those that reside with you. However, even if appropriately distanced you are still expected to wear face coverings to reduce the possibility of virus transmissions.
Town property and the Port of Friday Harbor docks will be posting signage reminding attendees to wear their masks and maintain social distancing. There are large open areas available where the fireworks display can be viewed, and the Chamber is encouraging people to avoid the direct waterfront or Port docks as these locations will have a higher volume of guests.
Please remember the following:
WEAR YOUR MASK BEFORE, DURING AND AFTER THE FIREWORKS DISPLAY!
Maintain 6-foot social distancing from all fellow attendees not in your immediate residential family group.
Please obey all signs and requests from Social Distancing Ambassadors who may contact you. They are there to help keep everyone safe.
Remember why we are doing this—July 4th is our nation's Independence Day and one of the most important holidays we celebrate as American citizens.
We hope this brings back some "normalcy" to our otherwise disrupted lives.
Remember, personal fireworks are banned in San Juan County, so this display is our opportunity to celebrate this important day, Independence Day. Be safe for yourself and for others, it is the kindest thing you can do.