Trail Times: Spring Discoveries
Posted June 2, 2020 at 10:19 am by Tim Dustrude
The fol­low­ing is shared from the Old Mil­i­tary Road Trail Committee…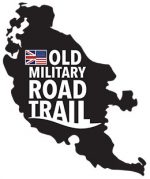 Hel­lo Fel­low Islanders and Hikers,
It seems that for many of us, 'hun­ker­ing down' on San Juan Island has involved enjoy­ing our mul­ti­tude of trails and even choos­ing some new trails to explore. If you've not yet expe­ri­enced the Amer­i­can Camp Trail, spring­time is a won­der­ful time to see it.
We ven­tured onto and were awed by the first mile of The Amer­i­can Camp Trail, begin­ning at the south­ern end, off Cat­tle Point Road near the school bus cross­ing sign. (Note that when the new Amer­i­can Camp Inter­pre­ta­tive Cen­ter is com­plete there will be for­mal park­ing in their new lots and anoth­er his­toric ¼ mile of the trail to enjoy.)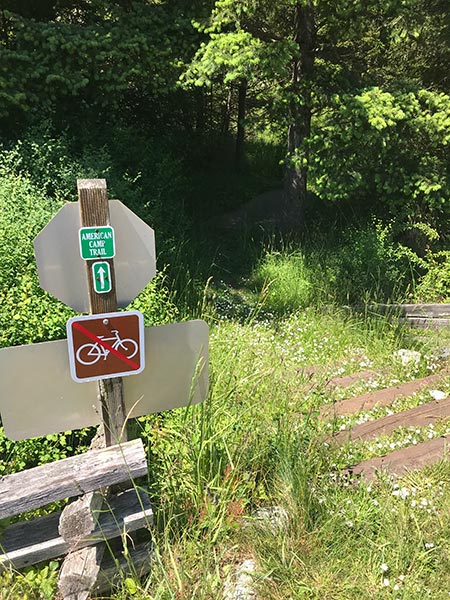 If you haven't been on this first mile of trail, or even are a con­stant trav­el­er, you're in for a spring treat. As you step down the daisy cov­ered stairs you will be walk­ing into his­to­ry and onto the south­ern part of the Old Mil­i­tary Road.
Just a bit up the trail, this road joined the old Hud­son Bay Company's road, estab­lish­ing a vital com­mu­ni­ca­tion route between Amer­i­can and Eng­lish Camps dur­ing the 1859–1872 con­flict that became known as "The Pig War." The lev­el-head­ed Eng­lish and Amer­i­can military's abil­i­ty to com­mu­ni­cate in a time before tele­graph helped main­tain the peace. Their pres­ence pro­vid­ed an infra­struc­ture which encour­aged set­tle­ment from both nations and oth­er countries.
Enter into a shady glen of Shore Pines plant­ed after the area was logged for agri­cul­ture and build­ing materials.
The thick stands of trees are sun­light deprived but have live growth up on top. About a half a mile into the trail look for the shelf fun­gus, lichen and moss attached to an unhealthy tree.
Fun­gus and lichen ful­fill impor­tant nich­es in our ecosys­tems, sup­ply­ing nutri­ents in dif­fer­ent ways. Lichen also absorbs pol­lu­tants so is an envi­ron­men­tal indi­ca­tor as they can't exist in pol­lut­ed environments.
In Spring the two mead­ows are a good place to see wild flow­ers such as Camas, But­ter­cup, Field Chick­weed, Vetch, Orange Hon­ey­suck­le, Wild Mus­tard and Sheep Sor­rel. Look for the rab­bit holes and fox scat as you mean­der along.
When the Hudson's Bay Com­pa­ny began near­by Belle Vue Sheep Farm in 1853, they ran herds of sheep here and Amer­i­cans like Lyman Cut­lar 'squat­ted' near­by and raised pota­toes, con­tin­u­ing the replace­ment of Camas fields that First Nations cul­ti­vat­ed for their nutri­tious bulbs. Even­tu­al­ly pota­toes began to replace the dimin­ish­ing Camas in the native diet.
After the more north­ern mead­ow and before you merge back into the fern-rich for­est note the dif­fer­ence sun­light makes to the health of trees west of the trail. A healthy Dou­glas Fir and Shore Pine flank a white flow­ered Hawthorn Tree. A few more steps finds you among the shade-lov­ing for­est veg­e­ta­tion and bird chat­ter so pause awhile before you con­tin­ue to the north end of the forest.
Here look for hor­i­zon­tal rows of holes pecked by the Sap­suck­er Wood­peck­er on a beau­ti­ful old Pacif­ic Crabap­ple Tree, our only native North­west crabapple.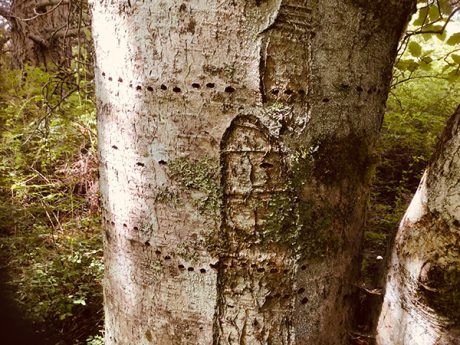 Near­by are a cou­ple very old Dou­glas Firs, huge gnarly limbs reach­ing for the sky. Per­haps they were left when the rest were tak­en down long ago.
When you leave the for­est you are flanked by Noot­ka Rose and Snow­ber­ry bush­es with an occa­sion­al Hawthorn Tree and climb­ing vines. This screen­ing veg­e­ta­tion is a good exam­ple of trail plan­ning, lend­ing a sense of wel­come sep­a­ra­tion from the road and pri­va­cy to both walk­ers and land owners.
Note the beau­ti­ful green and white rare Island Mar­ble But­ter­fly pre­serve on the east. They rely on wild mus­tard plants, fenced off to pre­vent ani­mal brows­ing. Most of the 68-acre Fraz­er Pre­serve is to the east, and their home is still stand­ing, and occu­pied, on the west side of the road. The large farm­house and barns east of the Fraz­er Pre­serve are part of the old Rosler estate. Mt. Bak­er makes a majes­tic backdrop.
Com­ing upon Rosler Road ends your first mile of The Amer­i­can Camp Trail. There are sev­er­al places to park on the Land Bank prop­er­ty. Please be respect­ful of Pri­vate property.
The 6‑mile Amer­i­can Camp trail con­tin­ues all the way to Fri­day Har­bor and was made pos­si­ble thru the efforts of the San Juan Trails Com­mit­tee of Island Rec, the San Juan Coun­ty Land Bank, San Juan Coun­ty Pub­lic Works, and the Port of Fri­day Har­bor (air­port sec­tion) and the vol­un­tary ease­ments giv­en by gen­er­ous mem­bers of our community.
It is the vision of The Old Mil­i­tary Road Com­mit­tee to work with these enti­ties and pri­vate cit­i­zens to con­nect with and cre­ate oth­er trails hon­or­ing the Old Mil­i­tary Road. With your help, one day a mul­ti-use trail may stretch 18–21 miles from Amer­i­can Camp to Eng­lish camp.
# # #
For more infor­ma­tion vis­it our web­site: OldMilitaryRoadTrail.org.
For maps to oth­er hikes on San Juan Island vis­it SanJuanIslandTrails.org.
You can support the San Juan Update by doing business with our loyal advertisers, and by making a one-time contribution or a recurring donation.