Update on Community Outreach Programs
Posted June 19, 2020 at 8:09 am by Tim Dustrude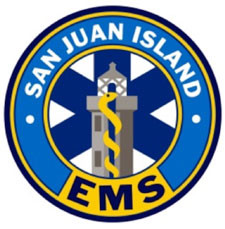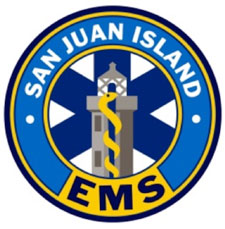 Here at San Juan Island EMS we have long had a robust pub­lic out­reach and para­med­i­cine pro­gram. Dur­ing the COVID-19 out­break it con­tin­ues to be a pri­or­i­ty, though how we do things has by neces­si­ty changed. The office is cur­rent­ly closed to the pub­lic, but you can call us at 360–378-5152.
Some years ago, frus­trat­ed by bik­ing injuries that were at least part­ly pre­ventable with a good qual­i­ty hel­met, San Juan Island EMS began a free bike hel­met pro­gram and give one to you. All you need to do is call, and we will make arrange­ments to fit you or your loved ones for a helmet.
There are few things more dis­cour­ag­ing for our EMS respon­ders than show­ing up at a bicy­cle acci­dent know­ing that the injuries would have been far less seri­ous with a good hel­met. Please don't be shy – it's not just for those that can't afford it, and we do accept donations.
Many mem­bers of the pub­lic main­tain Amer­i­can Heart Asso­ci­a­tion (AHA) cer­ti­fi­ca­tions. Due to the restric­tions in place thru Phase 2, we are ask­ing that any­one who has a renew­al date com­ing up, please go to 30TUhttps://elearning.heart.org/U30T. and com­plete the online course. Then, you may con­tact Peg­gy Long at 30Tplong@sanjuanems.org30T to sched­ule an appoint­ment for your skills testing.
Begin­ning in ear­ly March, to pro­vide addi­tion­al flex­i­bil­i­ty for providers the AHA issued exten­sions for AHA Instruc­tor and Provider cards beyond their rec­om­mend­ed renew­al date for 120 days.
Rec­om­mend­ed Renew­al Date on Card

(end of month)

New Renew­al Due Date with 120day Exten­sion (end of month)
March 2020
July 2020
April 2020
August 2020
May 2020
Sep­tem­ber 2020
June 2020
Octo­ber 2020
Addi­tion­al­ly, San Juan Island EMS con­tin­ues to do its Com­mu­ni­ty Para­med­i­cine vis­its. These vis­its help ensure that patients who need extra help are tak­ing their med­ica­tions appro­pri­ate­ly and that their homes are safe. As much as pos­si­ble we are mak­ing phone calls to check on peo­ple, but vis­its are being made along with nec­es­sary pre­cau­tions. If you have ques­tions, please call our offices and press "3" for Out­reach Pro­grams Direc­tor Lainey Volk.
You can support the San Juan Update by doing business with our loyal advertisers, and by making a one-time contribution or a recurring donation.