FHHS Aerospace Team's International Space Settlement Design Competition, 2020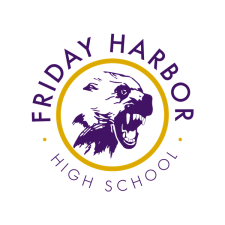 The Friday Harbor High School Aerospace Team is at it again! The 2020 International Space Settlement Design Competition just finished, though without travelling to NASA as in the last two years. The Aerospace Team's name this year is "Grumbo" (think Grumman mixed with Boeing) and the Friday Harbor High School Team joined with teams from Australia, India, Uruguay, and Arizona for a total of 50 people on the combined presentation team. It is significant to note that out of 50 team members, four of the eight leadership positions were held by Friday Harbor High School students.
Sunday was a big day. Team Grumbo ran through a design review at 1 p.m., and then had until 4 a.m. to turn in final designs for a 50-page slide design of a growing settlement on Mars. Locally, the team was working at the FHHS STEM building all night long. The team designed everything from construction processes to power needs, to habitations to computer systems.
Arlo Harold was elected as President. Together with his Australian VP, they covered the design work around the clock. According to Teacher/Coach Dan Garner, "The leadership Arlo has shown has been nothing short of brilliant."
Hank Erickson took the reins of the Automations design department, in charge of robotic and computer systems for construction and continued operations of the settlement. He and Tyler Fleming determined how to create and use continuous mining robots to excavate tunnels and build cliff-side residences, among many other things.
Will Leeming was the head of Structural Design and in conjunction with Dylan Roberson and Islay Ross, oversaw the entire community plan and layout of this city in space.
Emma Mughal, as Systems Engineer, had the vital job of making sure everyone on the worldwide team designed units that work together and made sure that the design was 100% compliant to the RFP. To make this happen, Emma created a "Compliance Matrix", a 100-row spreadsheet identifying every single item the team needed to design.
Garner said, "Simply put, if Emma had not made this compliance matrix, we would have no chance at completion." Darcy Ayers assisted Emma between work shifts and was available for the final push Sunday night.
In addition, Sander VanHamersfeld and Ayana Berube were working in "Human Factors", creating house designs, spacesuit designs, and conceptual drawings of the interior of the settlement. Keegan Bailey cranked out technical illustrations and then, in the last 12-hour restructuring deadline, merged the illustrations, images and drawings to provide for the final presentation that included Islay, Ayana, Dylan, Sander, Tyler, and Darcy.
The team worked straight through the night to turn in the design proposal at 4:30 a.m. and then turned their efforts toward preparing for their design brief to the judges at 6 a.m. At that point, the team had worked a total of 540 hours over two and a half days. They took a quick break around midnight Sunday to view Jupiter, Saturn, and the comet Neowise through the Meade lx200 telescope refurbished by the club over the last school year, but then went right back to work.
Even though the team's design proposal was well received by the judges, it was not enough to bring in a consecutive world championship. However, the feedback from the judges and the technical experts emphasized that Friday Harbor and its Australian, Indian and Arizonan teammates has produced a design and presentation that was more polished than many undergraduate efforts. Furthermore, and perhaps most impressively, it was noted that the team communicated with a clarity, kindness, and patience that was far beyond many professional engineering teams that the judges had worked with.
Garner exclaimed, "I am extremely proud of the Friday Harbor team, which, after its first three years has defined itself as a wonderful and innovative group of collaborators. I am so grateful for my graduated seniors who have now passed on a legacy of excellence to the next generation. These island kids are nothing short of exceptional.
I would also like to send a huge thank you to the parents who spent so much time making individually packed snacks for the team to keep them going this weekend. Special thanks goes out to Katy Duran, Andrea Ross, Amanda Zee, Tracy Roberson, and Travis Ayers. I would also like to thank David Harold who helped chaperone this event and helped set up the telescope and presentation spaces as well as run numerous sustenance missions. And as always, many thanks to the SJI School District for supporting this effort."