FHHS Aerospace Team's International Space Settlement Design Competition, 2020
Posted July 30, 2020 at 5:45 am by Peggy Sue McRae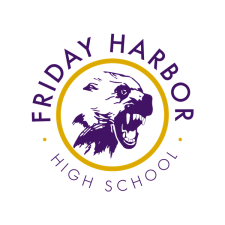 The Fri­day Har­bor High School Aero­space Team is at it again! The 2020 Inter­na­tion­al Space Set­tle­ment Design Com­pe­ti­tion just fin­ished, though with­out trav­el­ling to NASA as in the last two years. The Aero­space Team's name this year is "Grum­bo" (think Grum­man mixed with Boe­ing) and the Fri­day Har­bor High School Team joined with teams from Aus­tralia, India, Uruguay, and Ari­zona for a total of 50 peo­ple on the com­bined pre­sen­ta­tion team. It is sig­nif­i­cant to note that out of 50 team mem­bers, four of the eight lead­er­ship posi­tions were held by Fri­day Har­bor High School students.
Sun­day was a big day. Team Grum­bo ran through a design review at 1 p.m., and then had until 4 a.m. to turn in final designs for a 50-page slide design of a grow­ing set­tle­ment on Mars. Local­ly, the team was work­ing at the FHHS STEM build­ing all night long. The team designed every­thing from con­struc­tion process­es to pow­er needs, to habi­ta­tions to com­put­er systems.
Arlo Harold was elect­ed as Pres­i­dent. Togeth­er with his Aus­tralian VP, they cov­ered the design work around the clock. Accord­ing to Teacher/Coach Dan Gar­ner, "The lead­er­ship Arlo has shown has been noth­ing short of bril­liant."
Hank Erick­son took the reins of the Automa­tions design depart­ment, in charge of robot­ic and com­put­er sys­tems for con­struc­tion and con­tin­ued oper­a­tions of the set­tle­ment. He and Tyler Flem­ing deter­mined how to cre­ate and use con­tin­u­ous min­ing robots to exca­vate tun­nels and build cliff-side res­i­dences, among many oth­er things.
Will Leem­ing was the head of Struc­tur­al Design and in con­junc­tion with Dylan Rober­son and Islay Ross, over­saw the entire com­mu­ni­ty plan and lay­out of this city in space.
Emma Mughal, as Sys­tems Engi­neer, had the vital job of mak­ing sure every­one on the world­wide team designed units that work togeth­er and made sure that the design was 100% com­pli­ant to the RFP. To make this hap­pen, Emma cre­at­ed a "Com­pli­ance Matrix", a 100-row spread­sheet iden­ti­fy­ing every sin­gle item the team need­ed to design.
Gar­ner said, "Sim­ply put, if Emma had not made this com­pli­ance matrix, we would have no chance at com­ple­tion." Dar­cy Ayers assist­ed Emma between work shifts and was avail­able for the final push Sun­day night.
In addi­tion, Sander Van­Hamers­feld and Ayana Berube were work­ing in "Human Fac­tors", cre­at­ing house designs, space­suit designs, and con­cep­tu­al draw­ings of the inte­ri­or of the set­tle­ment. Kee­gan Bai­ley cranked out tech­ni­cal illus­tra­tions and then, in the last 12-hour restruc­tur­ing dead­line, merged the illus­tra­tions, images and draw­ings to pro­vide for the final pre­sen­ta­tion that includ­ed Islay, Ayana, Dylan, Sander, Tyler, and Darcy.
The team worked straight through the night to turn in the design pro­pos­al at 4:30 a.m. and then turned their efforts toward prepar­ing for their design brief to the judges at 6 a.m. At that point, the team had worked a total of 540 hours over two and a half days. They took a quick break around mid­night Sun­day to view Jupiter, Sat­urn, and the comet Neo­wise through the Meade lx200 tele­scope refur­bished by the club over the last school year, but then went right back to work.
Even though the team's design pro­pos­al was well received by the judges, it was not enough to bring in a con­sec­u­tive world cham­pi­onship. How­ev­er, the feed­back from the judges and the tech­ni­cal experts empha­sized that Fri­day Har­bor and its Aus­tralian, Indi­an and Ari­zo­nan team­mates has pro­duced a design and pre­sen­ta­tion that was more pol­ished than many under­grad­u­ate efforts. Fur­ther­more, and per­haps most impres­sive­ly, it was not­ed that the team com­mu­ni­cat­ed with a clar­i­ty, kind­ness, and patience that was far beyond many pro­fes­sion­al engi­neer­ing teams that the judges had worked with.
Gar­ner exclaimed, "I am extreme­ly proud of the Fri­day Har­bor team, which, after its first three years has defined itself as a won­der­ful and inno­v­a­tive group of col­lab­o­ra­tors. I am so grate­ful for my grad­u­at­ed seniors who have now passed on a lega­cy of excel­lence to the next gen­er­a­tion. These island kids are noth­ing short of exceptional.
I would also like to send a huge thank you to the par­ents who spent so much time mak­ing indi­vid­u­al­ly packed snacks for the team to keep them going this week­end. Spe­cial thanks goes out to Katy Duran, Andrea Ross, Aman­da Zee, Tra­cy Rober­son, and Travis Ayers. I would also like to thank David Harold who helped chap­er­one this event and helped set up the tele­scope and pre­sen­ta­tion spaces as well as run numer­ous sus­te­nance mis­sions. And as always, many thanks to the SJI School Dis­trict for sup­port­ing this effort."
You can support the San Juan Update by doing business with our loyal advertisers, and by making a one-time contribution or a recurring donation.