Governor Inslee Puts Hold on All Phase Advancing
Posted July 2, 2020 at 7:30 pm by Tim Dustrude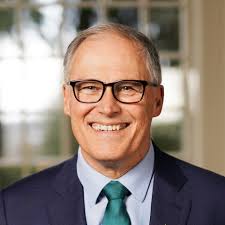 July 2, 2020: Today Gov­er­nor Inslee announced that a min­i­mum of a two week hold will be placed on all cur­rent appli­ca­tions to advance through the Governor's four phase plan. This deci­sion applies to San Juan County's appli­ca­tion to Phase 3 sub­mit­ted to the State on June 25th, in addi­tion to cur­rent appli­ca­tions from a num­ber of oth­er counties.
Once post­ed, details on the Governor's announce­ment are avail­able at this link.
While this deci­sion pro­longs ongo­ing eco­nom­ic chal­lenges for employ­ers and employ­ees of many local busi­ness­es, it is based on increas­ing case vol­umes across WA and the coun­try, and the need to ensure that reopen­ing is safe, thought­ful, and based on cur­rent data on dis­ease transmission.
San Juan Coun­ty Health Offi­cer Dr. Frank James shares his thoughts on the Governor's deci­sion, "When we sub­mit­ted our appli­ca­tion to move to Phase 3 last week, we gen­uine­ly felt that San Juan Coun­ty was pre­pared to respond effec­tive­ly to cas­es in the islands. We also under­stand that this is a fast mov­ing sit­u­a­tion and that the Gov­er­nor pri­or­i­tiz­ing a safe reopen­ing for the entire state is a log­i­cal choice at this time. Like so much in this cri­sis, these deci­sions are dif­fi­cult and find­ing the right path is an enor­mous challenge."
As Dr. James explains, "We can't under­es­ti­mate this dis­ease. It has the abil­i­ty to over­whelm our health­care infra­struc­ture in weeks, as we're cur­rent­ly see­ing in oth­er states. Our very best tool to avoid that out­come is cov­er­ing our faces in pub­lic- we know for a fact that this works and is a proven way to dras­ti­cal­ly reduce dis­ease spread. In addi­tion, we need to be thought­ful about our plans to trav­el, social­ize, and in par­tic­u­lar inter­act indoors with those from out­side our house­holds. And of course hand wash­ing and stay­ing home when sick mat­ter as well. We all have a role to play."
San Juan Coun­ty Coun­cil Chair Rick Hugh­es high­lights the dif­fi­cul­ty of the sit­u­a­tion, "I am sym­pa­thet­ic to those in our com­mu­ni­ty whose liveli­hoods are threat­ened by the eco­nom­ic impacts of COVID. At the same time, we always want to put the health and safe­ty of the islands first and fore­most. Clear­ly safe­ly mov­ing to Phase 3 would have been a pos­i­tive step for­ward, but I also under­stand and sup­port the log­ic of the Governor's decision."
In addi­tion to the Governor's deci­sion about Phase sta­tus, he also strength­ened require­ments around face cov­er­ing which in many ways mir­ror require­ments that had already been in place in San Juan County.
All exist­ing Phase 2 restric­tions and lim­its placed on busi­ness­es and indi­vid­u­als by both WA State and San Juan Coun­ty will remain in place at this time.
You can support the San Juan Update by doing business with our loyal advertisers, and by making a one-time contribution or a recurring donation.