Paying It Forward
Posted July 2, 2020 at 9:28 am by Tim Dustrude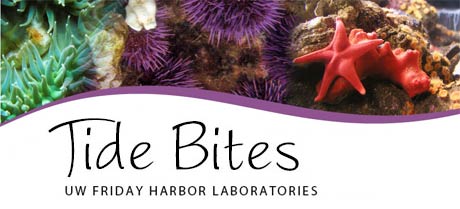 This FHL Tide Bite was writ­ten by Jen Burnaford…
My first trip to UW Fri­day Har­bor Labs was in 1995. After com­plet­ing my under­grad­u­ate the­sis on fresh­wa­ter zoo­plank­ton and spend­ing a post-bac year chas­ing pri­mates through the jun­gles of Bor­neo, I had been accept­ed into the PhD pro­gram at Ore­gon State Uni­ver­si­ty in the Menge/Lubchenco rocky inter­tidal ecol­o­gy lab.
My new advi­sors were aware that I had nev­er actu­al­ly been to the rocky inter­tidal zone before I got to OSU, and they encour­aged me to head up to FHL for sum­mer cours­es at the end of my first year. A coin toss led to my appli­ca­tion for the Marine Phy­col­o­gy course dur­ing A term (tails would have equalled Inver­te­brate Zool­o­gy), and to pro­mote intel­lec­tu­al breadth I applied for the Marine Fish­es course for B term.
As has hap­pened to thou­sands of stu­dents before and since, I learned more in those 10 weeks than I had in any oth­er 10-week peri­od of my life.
You can support the San Juan Update by doing business with our loyal advertisers, and by making a one-time contribution or a recurring donation.