Town to provide rent relief grant money to Friday Harbor businesses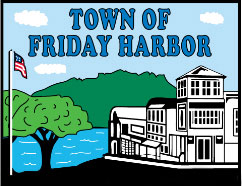 Friday Harbor business owners are encouraged to apply to the Town for assistance with business rent and mortgage payments to be awarded through the Friday Harbor Business Rent Relief Grant Program. Grant requests of up to $2000 per business will be funded with monies received from the state under the Coronavirus Aid, Relief, and Economic Security Act (CARES Act).
Applicants with brick and mortar businesses within the town may seek reimbursement or direct payment of business rent or mortgage expenses incurred beginning March 1, 2020. Applications must be received at Town Hall by July 29, 2020.
"Business owners should have easy access to COVID assistance," said Town Administrator Duncan Wilson. He explained, "Eligible businesses have been overwhelmed with the number of complicated applications needed to get any financial help with COVID-related expenses, so we set out to create an application that was as simple as possible."
The Town has designated $35,000 for this grant program from the $72,600 allocation they received from the state's Coronavirus Relief Fund. The state is providing these funds to local governments that did not receive a direct distribution through the federal CARES Act. In addition to the rent relief grants, the Town is using these monies to cover their costs incurred in response to the COVID-19 emergency and will be looking into other ways to provide economic support to small businesses. The state Department of Commerce determined the local allocations based on population data and COVID-19 impact figures.
Business owners can access the grant application on the Town's website at www.fridayharbor.org. Applications may be submitted by mail, email, or delivery to Town Hall. All applications must be received at Town Hall no later than 4:30 pm Wednesday, July 29, 2020. Applications will be reviewed by a Town committee. Grant funds will be awarded by August 7, 2020. Questions should be directed to Julie Greene at (360) 378-2810.