Visitors Bureau Suspends Advertising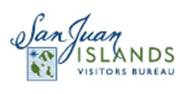 The San Juan Islands Visitors Bureau resumed its regional advertising campaign when County officials anticipated that we would be moving to Phase 3 within a day or two.
Many were surprised when the County Health officer postponed the original application to Phase 3, and then when the Governor paused all requests for phase changes, including ours, on July 2nd. This morning, we initiated the suspension of all advertising. All ads should be down by mid-week.
We've been doing our best to balance a soft opening with community concerns for safety. To this end, we've created a "Stay Safe" page and checklist to partner with our visitors to keep our community safe.