OPALCO Extends COVID-19 Bill Pay Assistance
Posted August 19, 2020 at 6:02 pm by Peggy Sue McRae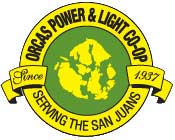 Mem­bers who are strug­gling to pay their pow­er bills dur­ing COVID-19 can apply for assis­tance to keep their OPALCO accounts up to date. The Board vot­ed to con­tin­ue COVID-19 Relief Mea­sures for as long as the approved fund­ing lasts. Mem­bers can apply for assis­tance online at www.opalco.com or through their Family/Community Resource Cen­ter. The mea­sures avail­able include:
No fees or dis­con­nects for late bills and pay­ment plans to meet any bud­get. No appli­ca­tion nec­es­sary, but a pay­ment plan must be in place if the account is in arrears.
Ener­gy Assist (EAP) bill cred­it pro­gram – just check the COVID-19 box on the online form to receive a month­lybill cred­it of $31.41–61.41 for two months – based on house­hold size.
Com­mer­cial mem­bers can apply for the EAP‑C pro­gram, which will waive the ser­vice access charge (fixed charge) of $67.57/mo for two billing cycles.
Any­one in the Ener­gy Assist pro­grams can also get a $25 month­ly bill cred­it from Rock Island for their inter­net ser­vice – just show them your OPALCO bill with the cred­it line item.
Full details avail­able online: opalco.com/covid-19-relief-measures/.
The Co-op will not dis­con­nect mem­bers for non-pay­ment dur­ing this peri­od of pan­dem­ic mit­i­ga­tion mea­sures, how­ev­er mem­bers are still respon­si­ble for pay­ing their bills and any accu­mu­lat­ed bal­ances. OPALCO will be reach­ing out to mem­bers whose accounts are in arrears to set up pay­ment plans and help man­age account bal­ances that will even­tu­al­ly come due. You may get a let­ter, door tag or auto­mat­ed call from OPALCO to dis­cuss your past-due bal­ances, but OPALCO will nev­er call you to dis­con­nect your ser­vice. If we call you over the phone, a live rep­re­sen­ta­tive will advise you of pay­ment options. Beware of oppor­tunis­tic scam callers who are pos­ing as elec­tric providers across the nation. Be proac­tive and call 360–376-3500 to check on your account sta­tus, and set up a pay­ment plan if necessary.
With the heat­ing sea­son around the cor­ner, mem­bers who are already strug­gling will face fur­ther hard­ship and OPALCO is con­cerned about meet­ing the grow­ing need. Please help spread the word that help is avail­able – and donate to Project PAL if you are able. Mem­bers can round up their bill each month, make one-time or month­ly dona­tions, donate their Com­mu­ni­ty Solar cred­its and/or pur­chase a "gift of pow­er" cer­tifi­cate to be applied to a co-op neighbor's account. Please call 360–376-3500 to make a dona­tion or gift – or you can make a char­i­titable gift to the Project PAL Fund held at the Orcas Island Com­mu­ni­ty Foundation.
Orcas Pow­er & Light Coop­er­a­tive (OPALCO) is our mem­ber-owned coop­er­a­tive elec­tric util­i­ty, serv­ing about 11,500 mem­bers on 20 islands in San Juan Coun­ty. OPALCO pro­vides elec­tric­i­ty that is 97% green­house-gas free and is gen­er­at­ed pre­dom­i­nant­ly by hydro­elec­tric plants. OPALCO was found­ed in 1937. Fol­low OPALCO @OrcasPower on Face­book and Twitter.
You can support the San Juan Update by doing business with our loyal advertisers, and by making a one-time contribution or a recurring donation.