Salish Sea Ballet Reopening For Classes September 8
Posted August 27, 2020 at 10:55 am by Peggy Sue McRae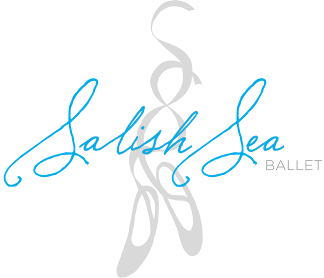 It's time to reg­is­ter for fall dance class­es! Sal­ish Sea Bal­let is offer­ing small group in-per­son class­es as well as vir­tu­al class­es on Zoom. Our stu­dio is spa­cious, well-ven­ti­lat­ed, and fol­lows COVID-19 pro­to­cols for safe­ty and san­i­ti­za­tion. We are excit­ed to offer class­es for dancers ages 3 and up. Check out our class sched­ule online, Link to: Sal­ish Sea Bal­let Class Sched­ule.
If you don't see the class that fits your sched­ule, let us know. We also offer cus­tom pri­vate class­es. If you have a pod of 5 or few­er, we can cre­ate a class just for you. We offer dif­fer­ent styles of dance as well as super­vised home­work or cre­ative time for chil­dren. Our stu­dio is equipped with Wifi!
The reg­is­tra­tion dead­line for fall class­es is Sep­tem­ber 7. Class­es are fill­ing quick­ly, so don't delay! Reg­is­ter today on our web­site or call/text (360) 298‑1720.
New for 2020: the Fri­day Har­bor Nut­crack­er is going vir­tu­al! This year we have an inter­ac­tive, vir­tu­al rehearsal process that keeps dancers safe and healthy while chal­leng­ing them to move in new and inno­v­a­tive ways. Cre­at­ing and study­ing chore­og­ra­phy over Zoom builds coor­di­na­tion, spa­tial aware­ness, and teamwork.
The Fri­day Har­bor Nut­crack­er per­for­mances will be pre­sent­ed on video this year due to COVID-19 restric­tions on live gath­er­ings. Join us for this unique oppor­tu­ni­ty! Link to: Sal­ish Sea Bal­let Nut­crak­er for more infor­ma­tion.
About Sal­ish Sea Bal­let: Sal­ish Sea Bal­let is the pre-pro­fes­sion­al bal­let school of the San Juan Islands. Our stu­dio is locat­ed at 689 Air­port Cen­ter Road, Suite F in Fri­day Har­bor. Our mis­sion is to engage and inspire dancers of all ages while pro­vid­ing high qual­i­ty tech­ni­cal and artis­tic instruc­tion in clas­si­cal and con­tem­po­rary bal­let for ages 3‑adult.
Sal­ish Sea Bal­let wel­comes dancers of all back­grounds and abil­i­ties. Our stu­dio is state of the art and our train­ing is top notch. We pride our­selves on our fam­i­ly atmos­phere and the qual­i­ty of our train­ing. We love to dance — let us inspire you! Vis­it us online, Link to: Sal­ish Sea Bal­let or call/text us at (360) 298‑1720 to get start­ed.
You can support the San Juan Update by doing business with our loyal advertisers, and by making a one-time contribution or a recurring donation.