A Smokey Morning on San Juan Island
Posted September 8, 2020 at 10:08 am by Peggy Sue McRae
From San Juan Island Fire and Rescue…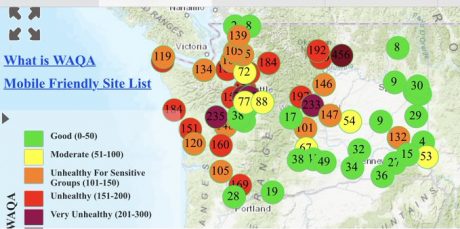 As you have seen already, it is a poor day for air qual­i­ty through­out the San Juan Islands and West­ern Wash­ing­ton State.
There is no wild­land fire in San Juan Coun­ty at this time. 9–1‑1 Dis­patch received sev­er­al calls from con­cerned res­i­dents overnight due to the strong smell and haze of smoke in the air. A com­bi­na­tion of smoke from fires in east­ern Wash­ing­ton and south in Pierce Coun­ty has shift­ed our way due to chang­ing winds.
Please refrain from call­ing 9–1‑1 or the non-emer­gency num­ber unless you wit­ness active fire, columns of smoke, or have an actu­al emergency.
The smoke from dis­tant fires is expect­ed to linger in the air for sev­er­al days, low­er­ing the air qual­i­ty. Reduce your expo­sure by keep­ing your win­dows and doors closed, use fans and air con­di­tion­ing to stay cool, use a portable air clean­er or HE-fil­ter to remove fine par­ti­cles from the air, and avoid stren­u­ous out­door activities.
As a reminder, San Juan Coun­ty is cur­rent­ly under a full burn ban. No out­door com­mer­cial, res­i­den­tial, or recre­ation­al burn­ing is allowed dur­ing this time.
Stay safe and thank you for your support.
You can support the San Juan Update by doing business with our loyal advertisers, and by making a one-time contribution or a recurring donation.