Letters
Posted September 29, 2020 at 10:45 am by Tim Dustrude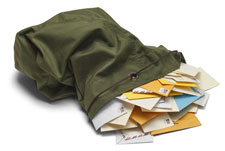 In the mail­bag this morn­ing we find this let­ter from Anna Maria de Freitas…
As I lis­ten to the rain bounce off my sky light and feel the fall chill set­tle in the air, I know that the days of out­door din­ing for me and my restau­rant indus­try col­leagues are quick­ly com­ing to an end. What will the din­ing scene look like in the San Juan Islands this spring if restau­rants are not able to increase indoor din­ing capac­i­ty this fall and win­ter? The grim real­i­ty is that many will not make it through winter.
I own Coho Restau­rant, a farm to fork restau­rant in the heart of Fri­day Har­bor on San Juan Island. For 13 years pri­or to Covid-19, we had nine tables in our inti­mate din­ing room. We now have only five phys­i­cal­ly dis­tanced tables indoors, lim­it­ed to serve a max­i­mum of five guests per table from the same house­hold. The four out­door tables added dur­ing sum­mer will soon be a thing of the past.
All these lim­it­ing fac­tors have a sig­nif­i­cant impact not only on our restau­rant busi­ness but the many sup­pli­ers we and oth­er island restau­rants sup­port. This year we hired few­er team mem­bers and pur­chased less prod­uct from local farm­ers, cheese­mak­ers, wine­mak­ers, and distillers.
I worked tire­less­ly dur­ing quar­an­tine despite being closed for 90 days. And, as with many small busi­ness­es, the stress of uncer­tain­ty has tak­en its toll but we've lived up to the chal­lenge. Coho restau­rant insti­tut­ed new pro­ce­dures and pro­to­cols for the safe­ty of our team and patrons. Dur­ing the height of sum­mer we opened our doors to our local com­mu­ni­ty and vis­i­tors and have oper­at­ed safe­ly. I am proud of our hos­pi­tal­i­ty indus­try for their hard work and dili­gence, and grate­ful to our com­mu­ni­ty for keep­ing the virus at bay.
In order to open up more indoor din­ing capac­i­ty, every­one needs to con­tin­ue their vig­i­lance of wear­ing masks, phys­i­cal­ly dis­tanc­ing and wash­ing their hands. We know these mea­sures help stop the spread of COVID. I am not ask­ing this on behalf of my restau­rant, but on behalf of our local com­mu­ni­ty and our inter­re­lat­ed small busi­ness web. Restau­rants put 96 cents of every dol­lar back into the local econ­o­my. That goes to wages, farm­ers, and sup­pli­ers. The health and wel­fare and the fab­ric of our local econ­o­my is close­ly tied to the health of our restaurants.
Those of us in the hos­pi­tal­i­ty indus­try choose this lifestyle. We work to serve and get plea­sure out of what we do. Please sup­port me, my team and col­leagues in doing what we love, while keep­ing our com­mu­ni­ty safe.
– Anna Maria de Freitas
You can support the San Juan Update by doing business with our loyal advertisers, and by making a one-time contribution or a recurring donation.