The Wild Charley River (part II)
FREEZER BURNED: Tales of Interior Alaska is a regular column on the San Juan Update written by Steve Ulvi…
(Author's note: This campfire story is mostly fiction in terms of characters and events. Historic, ecological and political themes will always be sculpted factually. The wonders of the subarctic natural world are as I understand them and need no embellishment. I hope that you can find some entertainment in a wider stylistic spectrum of Interior Alaska short stories).
Three brightly colored tents huddled under the grey-green spruce canopy where Crescent Creek and Charley River waters mixed in a bottle-green pool. The summer light rose well before anyone stirred. Ravens roosting in the thick spruce boughs, hiding from Great Horned Owls hunting the night hours, noisily began their capers. The three rafters had slept fitfully after the adrenaline dump of turning away the confused young brown bear the evening before.
Butch shook a wooden match from a film canister, lit it under his thumbnail like the farm boy that he was, to touch small branches tented over birch bark in the fire ring. A gas single burner on the sand hissed urgently under a blackened pot of water. To the uniformed ranger hunched over the small fire the sky downriver appeared gauzy while the morning light had an orange tint. The sun scattered diamonds on the rippling water coursing by. Butch's callused hands warmed as he squinted up at jittering red squirrels busily cutting spruce cones to bounce on the needled forest floor. He was reminded that the glorious hustle of autumn was nearing for him, too.
Low voices preceded the rustling of a tent and nylon un-zippering emergence of a tanned younger man pulling on rubber boots and making his way over to the underbrush to relieve himself. Returning to the water's edge Jake nodded to Butch with a subdued "mornin' boss" and stooped to drink dipped river water. At well over six feet, his knees were nearly at his ears as he squatted down. "Soon we'll filter all our water, Jake. Unless you like the notion of 'beaver fever'? Where's you cup, I'm pourin'."
Twenty minutes later Barb crawled out of Jake's tent, stooped and brushed her blonde hair for braiding. She met Butch's curious glance with a hard look from swollen eyes, as he asked if "everyone slept OK?" "Not hardly", Barb spit out. "I was shivering bundled in all my clothes. I know that bear was hanging around". Butch sipped his coffee and offered "that bear came in with the up-creek breeze likely thinking we were caribou until he caught a few molecules of our alarming stench. I'd guarandamntee he's miles from here." Barb finished her braid with a rubber band in silence looking downriver.
After spooning down doctored oatmeal and packing the raft, the equipment that needed to be accessible, but secure if the boat somehow flipped or was pinned to a boulder, was carefully tied in. Butch coiled the bow line and shoved out with Jake eagerly dipping the oars. The experienced trip leader casually watched Jake choosing a line in negotiating the maize of boulders and shallow riffle drops. "Gotta think two or three moves ahead". He stood and pointed the way when Jake seemed undecided. The challenges on the Charley are technical, requiring strength and creative oar handling, not much picking a line and riding out wave trains. Butch settled on a front tube across from Barb, river maps in hand.
After stopping to reconfirm the nest ledges being used at several traditional cliffs, Butch geared-up, slathered on some bug dope and climbed unstable slopes to band young birds, collect unhatched eggs and bag-up prey remains. On a short rappel into the last one, a chunk of rotten rock loosed by the rope, struck him hard on the point of his shoulder with a dull thud, releasing a string of expletives. Back on shore he washed the mix of dust, sweat and bug dope from his face and flexed his bruised shoulder telling of the remains of a large Short-Eared Owl on the grassy ledge.
White Dall sheep ewes, lambs and immature rams fed and rested on cliffs that had ancient forested summer trails connecting to high peaks far off the river. Wolf bait. The trio pulled in and spent a few minutes at two cabin ruins. Barb complained despite Butch's reminder that "all we want is a photo or two. These sites are unimportant and studied up the yin-yang" while readying to push off. Her head shakes and body language disagreed.
By afternoon a hot breeze carried pungent smoke up canyon and began to obscure distant ridges. Everything looked a bit surreal. Lolling along, the park radio came to life about the same time they heard the whop-whop-whop approach of a turbine helicopter. The bone colored cliffs of the canyon were a known radio dead zone. The crew was looking for Butch to brief him on the fire location and pass on a note in a zip lock with three apples from the park super. They rowed over to the Jet Ranger that had settled on a gravel bar, doors open, as the rotors slowed and drooped to a stop.
Pulling off her bulbous flight helmet and stepping out, Annie, the animated helicopter manager clad in a green nomex flight suit, frowned as Butch took her aside, quietly chastising her for allowing the ex-'Nam pilot to fly low up the river in the narrow canyon. Deflated and defensive, she coldly described the fire a few miles downstream. "This one is blowing up. Henderson's shacks might be threatened". She added "there's a party in inflatable canoes a few miles behind you guys". Butch rubbed his sore shoulder, nodded and hoped to make up for his initial agitation saying "alright Annie, we'll be on the local channel. See you guys down the way. Fly safe".
Butch was painfully aware that Pete Henderson hated helicopters as much as he did the IRS, and had threatened to shoot any "blood-sucking Parkies" who dared to set foot on his extensive gold claims. A few years back, a couple of Montana guys floating the river had innocently stopped at the creek mouth to slosh their gold pans and were met by the business end of a rifle in the hands of a guy looking like Charles Manson nursing a week long binge. He forced them to strip buck naked and raise their pans over their heads. To put a finer point on his message, good old Pete put a bullet through each pan. He laughed uproariously as they pulled back onto the river, clothes in hand not daring to look away, and badly shaken.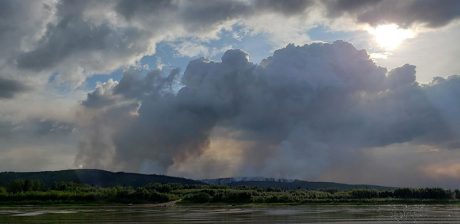 The peregrine banding trio would have to continue to try to band chicks and deal with smoke, displaced wildlife and fire in the days to come. And then there was that dangerous nut job, Henderson. As the turbine engine spun up, pilot busily flicking toggle switches, and blades blurred, Butch pondered the flirty relationship between Annie and the pilot, who was twice her age. He could imagine smelling pheromones over the odor of jet fuel. An incredibly expensive contract and machine, regularly transporting staff into the field in changing weather, succeeded on pilot skill and judgement but only if properly overseen by the manager. Camp canoodling simply wouldn't cut the mustard.
Jake rowed as Butch mulled things over and contemplated what might be developing a few miles down. Thickening smoke ebbed and flowed, sometimes stinging their eyes. They beached the raft at the base of a long slope beneath a crenulated ridge line. Stunted quaking aspen hid the familiar eyrie well above them. Hearing peregrines, Butch checked over his wet daypack while coming up with a strategy that would increase safety and the chance for success given the conditions. Barb would stay with the raft, Jake would hike half way up to an outcropping from which he could see both the eyrie ledge and the raft.
Butch could just make out Jake below him in the haze as he worked to band two fat and fuzzy chicks as quickly as possible. The adult falcons were perched above in an agitated state. Barb nervously sat on a drift log overhung by leafy alders. Far from relaxed, her eyes nervously swept the shorelines. Minutes passes languidly, then she leaped to her feet as a black bear and cub emerged out of the smoke on the shore coming rapidly toward her. Screaming, she waved her arms, then panicked and yanked the line, pushing the raft out and scrambling aboard to grab the shotgun. Hollering just a few yards from shore, she fumbled trying to chamber a round, as the bears hurried past, low and determined. She fired into the air as the raft spun out into the forceful current sluicing downstream.
Barely hearing the screams, but startled by the shotgun blast, Butch saw Jake frantically waving toward the river. But neither man could see the bears. Barb struggled to unship the long oars as she bobbed downstream. Jake shouted advice through cupped hands as she thrashed the water and spun around the sharp bend into the haze. They slalomed down between the slim aspen. Butch followed Jake hopping boulder to boulder, both cussing in confused stress, until they were stopped by a sheer cliff. Panting, they could just make out the beached raft and Barb at the head of a small island.
Splashing to the other shore, striding down the low bank and again wading up to their chests, Butch clapped Jake on the back as they emerged from the water near the raft where Barb stood cradling the gun. "I thought I'd seen about everything. What the heck came over her?". Jake, taller by a head, strode out first and went straight to Barb to gently relieve her of the weapon and console her. Butch dropped his daypack near the raft and collected himself. Taking a few deep breaths, he first asked Barb if she was alright. She nodded but wouldn't meet his gaze. "WHAT THE HECK just happened, Barb? Her teary and defiant explanation did little but tangle the concerns in Butch's head.
As they floated silently, each trying to collect their thoughts, Butch tucked the oar handles behind his bent knees, and pulled his waterproof notebook from a shirt pocket to discover the unread note from his boss. After reading it slowly, twice, he refolded it. Both Barb and Jake were eying him so he shrugged and said "when it rains, it pours".
They camped a bit early after a trying day. Butch hoped that the party behind them would catch up before they paddled into the fire area unaware. In a moment of grace, the evening downriver breeze cleared the smoke. They were all subdued until Jake shared some rum around the fire. Butch and Barb relaxed and laughed at Jake's self-effacing country humor, then Butch stood and flicked on his headlamp, bidding them good night. "Take it easy in the mornin'. Piss out past your tents on tree trunks. Well, you anyway Jake. It'll help to ward off distracted wildlife. Get some rest. Seems like we'll be smoked out of the next few nest sites anyhow".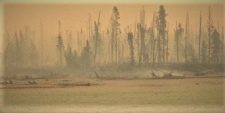 The night passed quietly except for Butch momentarily waking to hear heavy breathing and muffled sounds not associated with slumber. Up early as usual, Butch sipped coffee and watched the river slide by as it had for unpeopled millennia. As they broke camp slowly, a young couple from Anchorage, rounded the bend and paddled in. Butch met them at the water to apprise them of the likely situation ahead. Relieved to be in the company of a ranger with a radio, they travelled together, bypassing all but the easiest walk-in eyries. Smoke billowed above visible flames on opposite forested slopes as they emerged from the canyon. Fallen trees smoldered along both shores and char swirled in eddies. They pressed on.
Butch changed out of his uniform just above Gold Creek after a radio update from Annie aerial mapping the fire. Some of Henderson's outbuildings were threatened and a State fire crew was on its way with a pump and hose show to protect them. As the note had foretold, the wildfire was running amok and Butch was ordered to walk in to inform Old Pete of the efforts underway. Butch tied a white rag to a staff, snugged his tattered Feed and Grain ball cap and walked into the brush, with the radio in hand, but turned off. The shotgun would stay with Jake and crew. The mid-day dusk and orange sepia tone of the sky concerned him as he firmly instructed Jake "if you hear shots and I don't come bashing out, call in the friggin'cavalry".