The Wild Charley River (part II)
Posted September 14, 2020 at 9:33 am by Tim Dustrude
FREEZER BURNED: Tales of Inte­ri­or Alas­ka is a reg­u­lar col­umn on the San Juan Update writ­ten by Steve Ulvi…
(Author's note: This camp­fire sto­ry is most­ly fic­tion in terms of char­ac­ters and events. His­toric, eco­log­i­cal and polit­i­cal themes will always be sculpt­ed fac­tu­al­ly. The won­ders of the sub­arc­tic nat­ur­al world are as I under­stand them and need no embell­ish­ment. I hope that you can find some enter­tain­ment in a wider styl­is­tic spec­trum of Inte­ri­or Alas­ka short stories).
Three bright­ly col­ored tents hud­dled under the grey-green spruce canopy where Cres­cent Creek and Charley Riv­er waters mixed in a bot­tle-green pool. The sum­mer light rose well before any­one stirred. Ravens roost­ing in the thick spruce boughs, hid­ing from Great Horned Owls hunt­ing the night hours, nois­i­ly began their capers. The three rafters had slept fit­ful­ly after the adren­a­line dump of turn­ing away the con­fused young brown bear the evening before.
Butch shook a wood­en match from a film can­is­ter, lit it under his thumb­nail like the farm boy that he was, to touch small branch­es tent­ed over birch bark in the fire ring. A gas sin­gle burn­er on the sand hissed urgent­ly under a black­ened pot of water. To the uni­formed ranger hunched over the small fire the sky down­riv­er appeared gauzy while the morn­ing light had an orange tint. The sun scat­tered dia­monds on the rip­pling water cours­ing by. Butch's cal­lused hands warmed as he squint­ed up at jit­ter­ing red squir­rels busi­ly cut­ting spruce cones to bounce on the nee­dled for­est floor. He was remind­ed that the glo­ri­ous hus­tle of autumn was near­ing for him, too.
Low voic­es pre­ced­ed the rustling of a tent and nylon un-zip­per­ing emer­gence of a tanned younger man pulling on rub­ber boots and mak­ing his way over to the under­brush to relieve him­self. Return­ing to the water's edge Jake nod­ded to Butch with a sub­dued "mornin' boss" and stooped to drink dipped riv­er water. At well over six feet, his knees were near­ly at his ears as he squat­ted down. "Soon we'll fil­ter all our water, Jake. Unless you like the notion of 'beaver fever'? Where's you cup, I'm pourin'."
Twen­ty min­utes lat­er Barb crawled out of Jake's tent, stooped and brushed her blonde hair for braid­ing. She met Butch's curi­ous glance with a hard look from swollen eyes, as he asked if "every­one slept OK?" "Not hard­ly", Barb spit out. "I was shiv­er­ing bun­dled in all my clothes. I know that bear was hang­ing around". Butch sipped his cof­fee and offered "that bear came in with the up-creek breeze like­ly think­ing we were cari­bou until he caught a few mol­e­cules of our alarm­ing stench. I'd guaran­damn­tee he's miles from here." Barb fin­ished her braid with a rub­ber band in silence look­ing downriver.
After spoon­ing down doc­tored oat­meal and pack­ing the raft, the equip­ment that need­ed to be acces­si­ble, but secure if the boat some­how flipped or was pinned to a boul­der, was care­ful­ly tied in. Butch coiled the bow line and shoved out with Jake eager­ly dip­ping the oars. The expe­ri­enced trip leader casu­al­ly watched Jake choos­ing a line in nego­ti­at­ing the maize of boul­ders and shal­low rif­fle drops. "Got­ta think two or three moves ahead". He stood and point­ed the way when Jake seemed unde­cid­ed. The chal­lenges on the Charley are tech­ni­cal, requir­ing strength and cre­ative oar han­dling, not much pick­ing a line and rid­ing out wave trains. Butch set­tled on a front tube across from Barb, riv­er maps in hand.
After stop­ping to recon­firm the nest ledges being used at sev­er­al tra­di­tion­al cliffs, Butch geared-up, slathered on some bug dope and climbed unsta­ble slopes to band young birds, col­lect unhatched eggs and bag-up prey remains. On a short rap­pel into the last one, a chunk of rot­ten rock loosed by the rope, struck him hard on the point of his shoul­der with a dull thud, releas­ing a string of exple­tives. Back on shore he washed the mix of dust, sweat and bug dope from his face and flexed his bruised shoul­der telling of the remains of a large Short-Eared Owl on the grassy ledge.
White Dall sheep ewes, lambs and imma­ture rams fed and rest­ed on cliffs that had ancient forest­ed sum­mer trails con­nect­ing to high peaks far off the riv­er. Wolf bait. The trio pulled in and spent a few min­utes at two cab­in ruins. Barb com­plained despite Butch's reminder that "all we want is a pho­to or two. These sites are unim­por­tant and stud­ied up the yin-yang" while ready­ing to push off. Her head shakes and body lan­guage disagreed.
By after­noon a hot breeze car­ried pun­gent smoke up canyon and began to obscure dis­tant ridges. Every­thing looked a bit sur­re­al. Lolling along, the park radio came to life about the same time they heard the whop-whop-whop approach of a tur­bine heli­copter. The bone col­ored cliffs of the canyon were a known radio dead zone. The crew was look­ing for Butch to brief him on the fire loca­tion and pass on a note in a zip lock with three apples from the park super. They rowed over to the Jet Ranger that had set­tled on a grav­el bar, doors open, as the rotors slowed and drooped to a stop.
Pulling off her bul­bous flight hel­met and step­ping out, Annie, the ani­mat­ed heli­copter man­ag­er clad in a green nomex flight suit, frowned as Butch took her aside, qui­et­ly chastis­ing her for allow­ing the ex-'Nam pilot to fly low up the riv­er in the nar­row canyon. Deflat­ed and defen­sive, she cold­ly described the fire a few miles down­stream. "This one is blow­ing up. Henderson's shacks might be threat­ened". She added "there's a par­ty in inflat­able canoes a few miles behind you guys". Butch rubbed his sore shoul­der, nod­ded and hoped to make up for his ini­tial agi­ta­tion say­ing "alright Annie, we'll be on the local chan­nel. See you guys down the way. Fly safe".
Butch was painful­ly aware that Pete Hen­der­son hat­ed heli­copters as much as he did the IRS, and had threat­ened to shoot any "blood-suck­ing Parkies" who dared to set foot on his exten­sive gold claims. A few years back, a cou­ple of Mon­tana guys float­ing the riv­er had inno­cent­ly stopped at the creek mouth to slosh their gold pans and were met by the busi­ness end of a rifle in the hands of a guy look­ing like Charles Man­son nurs­ing a week long binge. He forced them to strip buck naked and raise their pans over their heads. To put a fin­er point on his mes­sage, good old Pete put a bul­let through each pan. He laughed uproar­i­ous­ly as they pulled back onto the riv­er, clothes in hand not dar­ing to look away, and bad­ly shaken.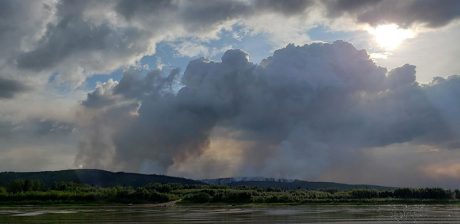 The pere­grine band­ing trio would have to con­tin­ue to try to band chicks and deal with smoke, dis­placed wildlife and fire in the days to come. And then there was that dan­ger­ous nut job, Hen­der­son. As the tur­bine engine spun up, pilot busi­ly flick­ing tog­gle switch­es, and blades blurred, Butch pon­dered the flir­ty rela­tion­ship between Annie and the pilot, who was twice her age. He could imag­ine smelling pheromones over the odor of jet fuel. An incred­i­bly expen­sive con­tract and machine, reg­u­lar­ly trans­port­ing staff into the field in chang­ing weath­er, suc­ceed­ed on pilot skill and judge­ment but only if prop­er­ly over­seen by the man­ag­er. Camp canoodling sim­ply wouldn't cut the mustard.
Jake rowed as Butch mulled things over and con­tem­plat­ed what might be devel­op­ing a few miles down. Thick­en­ing smoke ebbed and flowed, some­times sting­ing their eyes. They beached the raft at the base of a long slope beneath a crenu­lat­ed ridge line. Stunt­ed quak­ing aspen hid the famil­iar eyrie well above them. Hear­ing pere­grines, Butch checked over his wet day­pack while com­ing up with a strat­e­gy that would increase safe­ty and the chance for suc­cess giv­en the con­di­tions. Barb would stay with the raft, Jake would hike half way up to an out­crop­ping from which he could see both the eyrie ledge and the raft.
Butch could just make out Jake below him in the haze as he worked to band two fat and fuzzy chicks as quick­ly as pos­si­ble. The adult fal­cons were perched above in an agi­tat­ed state. Barb ner­vous­ly sat on a drift log over­hung by leafy alders. Far from relaxed, her eyes ner­vous­ly swept the shore­lines. Min­utes pass­es lan­guid­ly, then she leaped to her feet as a black bear and cub emerged out of the smoke on the shore com­ing rapid­ly toward her. Scream­ing, she waved her arms, then pan­icked and yanked the line, push­ing the raft out and scram­bling aboard to grab the shot­gun. Hol­ler­ing just a few yards from shore, she fum­bled try­ing to cham­ber a round, as the bears hur­ried past, low and deter­mined. She fired into the air as the raft spun out into the force­ful cur­rent sluic­ing downstream.
Bare­ly hear­ing the screams, but star­tled by the shot­gun blast, Butch saw Jake fran­ti­cal­ly wav­ing toward the riv­er. But nei­ther man could see the bears. Barb strug­gled to unship the long oars as she bobbed down­stream. Jake shout­ed advice through cupped hands as she thrashed the water and spun around the sharp bend into the haze. They slalomed down between the slim aspen. Butch fol­lowed Jake hop­ping boul­der to boul­der, both cussing in con­fused stress, until they were stopped by a sheer cliff. Pant­i­ng, they could just make out the beached raft and Barb at the head of a small island.
Splash­ing to the oth­er shore, strid­ing down the low bank and again wad­ing up to their chests, Butch clapped Jake on the back as they emerged from the water near the raft where Barb stood cradling the gun. "I thought I'd seen about every­thing. What the heck came over her?". Jake, taller by a head, strode out first and went straight to Barb to gen­tly relieve her of the weapon and con­sole her. Butch dropped his day­pack near the raft and col­lect­ed him­self. Tak­ing a few deep breaths, he first asked Barb if she was alright. She nod­ded but wouldn't meet his gaze. "WHAT THE HECK just hap­pened, Barb? Her teary and defi­ant expla­na­tion did lit­tle but tan­gle the con­cerns in Butch's head.
As they float­ed silent­ly, each try­ing to col­lect their thoughts, Butch tucked the oar han­dles behind his bent knees, and pulled his water­proof note­book from a shirt pock­et to dis­cov­er the unread note from his boss. After read­ing it slow­ly, twice, he refold­ed it. Both Barb and Jake were eying him so he shrugged and said "when it rains, it pours".
They camped a bit ear­ly after a try­ing day. Butch hoped that the par­ty behind them would catch up before they pad­dled into the fire area unaware. In a moment of grace, the evening down­riv­er breeze cleared the smoke. They were all sub­dued until Jake shared some rum around the fire. Butch and Barb relaxed and laughed at Jake's self-effac­ing coun­try humor, then Butch stood and flicked on his head­lamp, bid­ding them good night. "Take it easy in the mornin'. Piss out past your tents on tree trunks. Well, you any­way Jake. It'll help to ward off dis­tract­ed wildlife. Get some rest. Seems like we'll be smoked out of the next few nest sites anyhow".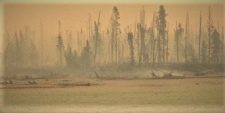 The night passed qui­et­ly except for Butch momen­tar­i­ly wak­ing to hear heavy breath­ing and muf­fled sounds not asso­ci­at­ed with slum­ber. Up ear­ly as usu­al, Butch sipped cof­fee and watched the riv­er slide by as it had for unpeo­pled mil­len­nia. As they broke camp slow­ly, a young cou­ple from Anchor­age, round­ed the bend and pad­dled in. Butch met them at the water to apprise them of the like­ly sit­u­a­tion ahead. Relieved to be in the com­pa­ny of a ranger with a radio, they trav­elled togeth­er, bypass­ing all but the eas­i­est walk-in eyries. Smoke bil­lowed above vis­i­ble flames on oppo­site forest­ed slopes as they emerged from the canyon. Fall­en trees smol­dered along both shores and char swirled in eddies. They pressed on.
Butch changed out of his uni­form just above Gold Creek after a radio update from Annie aer­i­al map­ping the fire. Some of Henderson's out­build­ings were threat­ened and a State fire crew was on its way with a pump and hose show to pro­tect them. As the note had fore­told, the wild­fire was run­ning amok and Butch was ordered to walk in to inform Old Pete of the efforts under­way. Butch tied a white rag to a staff, snugged his tat­tered Feed and Grain ball cap and walked into the brush, with the radio in hand, but turned off. The shot­gun would stay with Jake and crew. The mid-day dusk and orange sepia tone of the sky con­cerned him as he firm­ly instruct­ed Jake "if you hear shots and I don't come bash­ing out, call in the friggin'cavalry".
You can support the San Juan Update by doing business with our loyal advertisers, and by making a one-time contribution or a recurring donation.