Utility Assistance During Covid-19 Recovery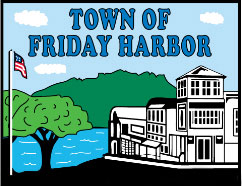 The Town of Friday Harbor is adjusting its policies relating to utility billing and collection in response to Governor Jay Inslee's Recovery Plan for the State of Washington. We ask you to call the Town as soon as possible if you are having difficulties making payments on your Town utility bill. Staff can walk you through options for assistance and, if necessary, establish a payment plan.
We want our residents and customers to have reliable and accurate information about assistance that may be available as we all get through the pandemic. As of August 1, 2020, the Governor has restricted utility providers from disconnecting services because of non-payment and barred late fees for those that have fallen behind on payments. Currently, these directives will be in place until the termination of the Governor's emergency directive or October 15, 2020, whichever occurs first.
As written, the law would require all back-due payments to be made on October 16, 2020. That said, the Town is aware that everyone's recovery may stretch longer. While Friday Harbor also needs revenue to continue providing water, sewer and refuse services, the Town is generally in a better position to be delayed on receiving payments.
For these reasons, the Town will not be disconnecting water or halting refuse pick-up for failure to pay monthly bills through at least October 15, 2020, nor charging late fees on any past-due amounts from any billing cycle. In fairness to all customers, although water and sewer will continue to be provided, even for customers delinquent on their bill, individual meters will continue to record usage, and bills will continue to be generated and delivered to customers.
If you find yourself behind on payments, we encourage you to make contact with the Family Resource Center (FRC) in Friday Harbor to see if you are eligible for a utility assistance grant. Their office is located at 476 Market Street or you may call them at (360) 378-5246. In addition to utility grants, the FRC has many services available and is a great community resource in times of need.
If you find yourself seriously delinquent, the Town has instituted a program where you can repay past due account balances over a six-month period. The form to request an extension and instructions for remaining on the repayment program are available at www.fridayharbor.org or by contacting Town Staff.
IMPORTANT: The deadline to apply for this repayment program is October 15, 2020. The whole of your debt will become immediately due and payable beginning October 16, 2020 if you have not signed up for the program.
It is challenging time for our community, but we will move forward and get through this together. Take care of yourself and each other and if you need support, please ask for help.
Be well.
Mayor Farhad Ghatan
Town of Friday Harbor