Purple Lights Honor Domestic Violence Victims
Posted October 21, 2020 at 5:00 am by Hayley Day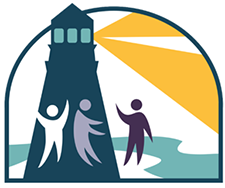 By SAFE San Juans
For the month of Octo­ber, SAFE San Juans hopes to make the islands glow pur­ple in hon­or of the vic­tims of domes­tic violence.
The tra­di­tion of using Pur­ple Night Lights to hon­or those who have (or are) suf­fer­ing from domes­tic vio­lence began in Cov­ing­ton, Wash­ing­ton in 2006.
Since pur­ple is the cause col­or for domes­tic vio­lence, the Cov­ing­ton Domes­tic Vio­lence Task Force devised this sub­tle yet col­or­ful way to bring recog­ni­tion of the prob­lem to its community.
SAFE San Juans heard of the ini­tia­tive a few years back, and now the SAFE staff are work­ing to estab­lish Pur­ple Night Lights as an annu­al event in the San Juans. Trees and build­ings around San Juan Coun­ty will fea­ture pur­ple-hued lights to bring aware­ness of the issue.
"Octo­ber is Domes­tic Vio­lence Aware­ness Month. We are always look­ing for cre­ative ways to call atten­tion to this issue and find ways for com­mu­ni­ty mem­bers to get more involved," said SAFE San Juans Exec­u­tive Direc­tor Dave Dun­away. "We try to do things in the com­mu­ni­ty that will start the con­ver­sa­tion, break the silence, and engage peo­ple in seek­ing solu­tions. These lights will obvi­ous­ly draw a lot of atten­tion and get peo­ple ask­ing questions."
"Hav­ing these on the trees and in var­i­ous promi­nent places on all three islands will help us shed light on the issue of domes­tic vio­lence," he said. "We would love to see com­mu­ni­ty mem­bers and busi­ness­es put pur­ple light bulbs in their porch lights or in their win­dows as a show of sol­i­dar­i­ty and con­cern," Dun­away said. "Even­tu­al­ly, we'd
love to see all the islands glow pur­ple through­out the whole month of October."
"The lights are there to remind every­one to remem­ber those who died from domes­tic abuse, sup­port those who sur­vived, and pro­vide hope for those still liv­ing with abuse," Dun­away explained. "Those who are suf­fer­ing, and those who have suf­fered are our fam­i­ly, friends and neigh­bors. This issue doesn't dis­crim­i­nate: It impacts poor and rich, young and old, every race, nation­al­i­ty and gen­der. Domes­tic vio­lence is an atti­tude of dis­re­spect and dis­re­gard expressed through an abuse of per­son­al pow­er. It stops when each per­son learns to treat oth­ers with the same dig­ni­ty and respect they desire for themself."
The agency is also doing a sto­ry-telling cam­paign in local print and online news­pa­pers through­out Octo­ber, invit­ing peo­ple to share who or what gave them hope and helped them break free of domes­tic violence.
"Sad­ly, we know there are homes in our com­mu­ni­ties that are still liv­ing with this issue," Dun­away said, "but there is life beyond vio­lence, and we are here to help."
For more infor­ma­tion about domes­tic vio­lence sup­port ser­vices in San Juan Coun­ty, vis­it http://safesj.org/about.
SAFE San Juans is a non­prof­it agency whose mis­sion is the pre­ven­tion and elim­i­na­tion of domes­tic vio­lence and sex­u­al assault through vic­tim ser­vices, edu­ca­tion, com­mu­ni­ty aware­ness and cul­tur­al and social change.
You can support the San Juan Update by doing business with our loyal advertisers, and by making a one-time contribution or a recurring donation.