Zylstra Lake: Fall Trail Times 2020
Posted October 29, 2020 at 5:45 am by Tim Dustrude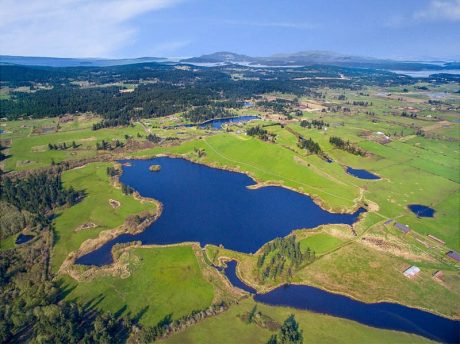 Thanks to the coop­er­a­tion of the Land Bank and the San Juan Preser­va­tion Trust we now have a beau­ti­ful new and his­toric pub­lic land to explore.
On Sep­tem­ber 26th, Nation­al Pub­lic Lands Day, 5 years of nego­ti­a­tions and plan­ning came to fruition when the 285-acre Zyl­stra Lake Pre­serve on San Juan Island offi­cial­ly opened part of its rough­ly three mile loop to the public.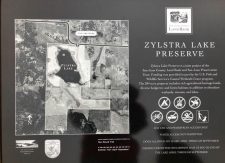 The trail which runs approx­i­mate­ly one mile along the east­ern side of the lake is closed from Octo­ber to April to pro­tect migrat­ing water­fowl. Dogs on leash­es are allowed on the 1.6 mile trail illus­trat­ed below (3 mile total out and back) until Novem­ber 1 and allowed again in April for the full loop. Leave no Trace, pack in and pack out.
Fall, even at this crisp crust of the sea­son, is a great time to hike. As leaves col­or­ful­ly flair and drop, a whole new land­scape appears. On a gor­geous sun­ny Fall Sun­day we enjoyed the Zyl­stra Lake trail open­ing along with many oth­er eager walk­ers. Begin at the park­ing just off San Juan Val­ley Road. A trail map there gives a good overview of the area you will be traveling.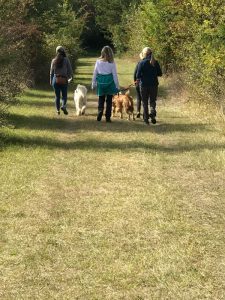 Con­tin­ue west down the old farm road's grassy slope bor­dered with black­ber­ry, snow berry, red cur­rent, wild grape and hawthorn trees fes­tooned with bright red berries. These orna­men­tal inva­sive trees were intro­duced to the island in the 1850's by the Dou­glas fam­i­ly. James Dou­glas was head of the Hud­son Bay Company's Belle Vue set­tle­ment and sheep farm which was run by Charles Griffin.
Stop here for an over­look of the lake. Hawthorns nat­u­ral­ized eas­i­ly. Native tribes used their thorns as spikes on the prongs of rakes to catch her­ring, or for fish hooks or ear piercing.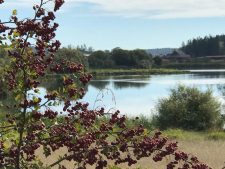 As you con­tin­ue down the road you will see red barked Madrona tow­er­ing over a diverse under­sto­ry. Weighed down in Fall with clus­ters of red­dish fruit these Madrona treats are cov­et­ed by our bird res­i­dents, includ­ing robins and var­ied thrushes.
The Zyl­stra Lake area has a fas­ci­nat­ing his­to­ry. In the 1850s the Old Mil­i­tary Road, the vital link between Amer­i­can and Eng­lish camps, fol­lowed False Bay creek and trav­eled right through what is now Zyl­stra Lake. Back then you would have seen horse­back rid­ers from both Eng­lish and Amer­i­can camps trot­ting past you here, relay­ing impor­tant mes­sages or on the way to horse races and social activities.
False Bay Creek helped make this valley's fer­tile soil a place where Sal­ish tribe natives col­lect­ed nutri­tious camas bulbs and hunt­ed for deer. In his­toric times wolves and an occa­sion­al bear were still found on the island.
These rich lands, eas­i­ly acces­si­ble from the Mil­i­tary Road and it's off­shoots, also appealed to ear­ly home­stead­ers for rais­ing grains, plant­i­ng orchards or graz­ing cat­tle, hogs and sheep. One such home­stead­er was James Archam­bault. James, on whose 160 acres you are now tread­ing, mar­ried Mary Delau­nais, a Cowlich native in 1863. They had 14 chil­dren. Native wives of ear­ly set­tlers played an essen­tial role in the set­tling of the islands and for the sur­vival of these ear­ly families.
In his­toric reports of settlement…"not memo­ri­al­ized were the young indige­nous women who lived where forts were built and set­tlers staked claims that dis­placed native communities…Indigenous wives occu­pied a mid­dle ground between peo­ple of alien cultures…White women praised their moth­er­ing, home­mak­ing skills, and knowl­edge of nat­ur­al med­i­cines. Indige­nous mid­wives deliv­ered settler's babies and taught them how to cook local food stuffs…" and were often medi­a­tors when dis­putes arose. (Peace Weavers/Candace Wellman)
To home­stead, set­tlers need­ed to 'prove up' their land. They had to live on their claim with­in six months and set­tle and cul­ti­vate it for four­teen months before they could qual­i­fy to pur­chase it for a small price, or sans cash, show var­i­ous improve­ments after 5 years. James and Mary built a house and barn and cul­ti­vat­ed oats and an orchard.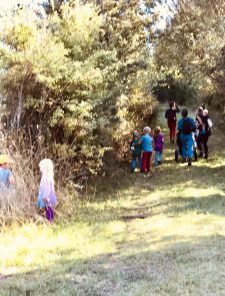 About 1/4 mile down the trail a red alder grove pro­vides a shad­ed walk­way, espe­cial­ly appre­ci­at­ed in the sum­mer. Sal­ish natives ate the slimy cam­bi­um tis­sue under the red alder bark raw, mixed with oil, or dried into cakes for win­ter. The bark is also used for smok­ing salmon, impart­ing sweet­ness to the fish.
Con­tin­ue around the bend and see if you can spot, almost hid­den by wil­low trees, a part of False Creek with rem­nants of an old trail or road.
Trav­el up the gen­tle slope and note the pre­served farm­land lake­side. Dried blos­soms of spirea nes­tle under fir, shore pine, and an occa­sion­al blue spruce. Low on the lit­tered fall floor, a mul­ti­tude of mush­rooms can be found. Mush­rooms, nei­ther plant nor ani­mal, have an impor­tant role in our forests.
As fun­gi, with no chloro­phyll, they must live on oth­er organ­ic mate­r­i­al and thus have a great role in the break­down and recy­cling of the for­est. In fact, it is said with­out fun­gi life could not exist. (Please don't pick — the one in the pho­to had already fall­en over.)
As you head down the slope and enter an open field area look up to see an active Bald Eagle's Nest. The abun­dant water fowl in the lake makes this habi­tat a rich one for many species. Lis­ten for our native tiny but loud, tree frog. More shore pine and alder line the trail. After an envi­ron­ment has been dis­turbed, alder are an impor­tant first gen­er­a­tion tree that helps set nitro­gen for future successions.
Mov­ing along the west side at approx­i­mate­ly 3/4 mile you will come clos­er to the lake for a wet­lands view of wil­lows, cat­tails and canary reed grass. Cat­tails were a use­ful plant for native tribes. Their leaves and stalks are great for weav­ing into bas­kets, mats, hats, pack sacks and bed­ding and many parts are edi­ble. I have even heard of the fluffy white tops being used for dia­per material.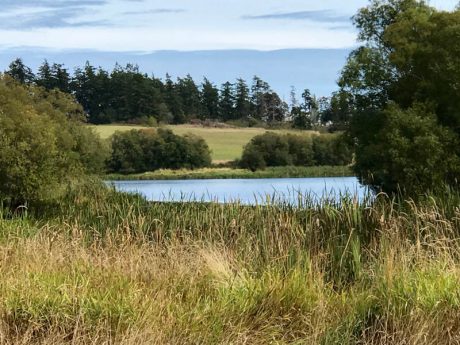 Cat­tail habi­tat has been encroached by inva­sive canary reed grass report­ed­ly encour­aged by a Corps of Engi­neers agent in the 1920s. This wet­lands area is one of the rea­sons the preser­va­tion project was able to get the much need­ed Fed­er­al Coastal Wet­lands grant. Zyl­stra Lake is part of an impor­tant water­shed, con­nect­ed upstream with False Creek and down­stream with False Bay and out to sea.
Now you have entered what was the home­steading claim of Cather­ine Ver­mouth. Begin­ning with the Home­stead Act in 1862 any head of house­hold or sin­gle indi­vid­ual, includ­ing women, over twen­ty-one years could file for 160 acres. Cather­ine was the daugh­ter of a Kana­ka (Hawai­ian), John Bull, who was a shep­herd with the Hud­son Bay's Belle Vue Sheep Farm from 1854–1860 and Fu-hue-wut Mary Skqulap, a Lummi/Clallam. Cather­ine and her 2nd Kana­ka husband's 'prov­ing up' con­sist­ed of a log house, barn, chick­en house, fenc­ing, orchard, and 40 acres in crops. (Boyd Pratt/Zylstra Lake Cul­tur­al assessment)
Over the years these home­steads were bought, sold and divid­ed many times until Fred and Rena Zyl­stra and Ernest and Dodie Gann bought up most of what had become known as San Juan Val­ley Farms, Inc.
Who the heck was Zyl­stra? Fred Zyl­stra arrived in the US from Hol­land in 1919 at sev­en­teen years old. He and his wife, Rena, whom he mar­ried in 1923, moved often around West­ern Wash­ing­ton until in 1945 they found­ed North­west Kitchen­craft and then Rena Ware, and a for­tune in stain­less steel cook­ware was made. They bought this prop­er­ty in 1960 and named the enter­prise Wood­en Shoe Farm. In 1963 they cre­at­ed this 48-acre lake to improve irri­ga­tion, espe­cial­ly need­ed dur­ing our dry sum­mers. The dam pro­vid­ed water for pure-bred Here­fords, a cash crop of hol­ly and about 400 acres of San Juan Val­ley farm­land. At the time the lake was tout­ed 'the largest pri­vate man- made lake in Wash­ing­ton.' (Boyd Pratt)
At almost 1 mile, stay on the straw cov­ered trail toward the fence des­ig­nat­ing the Agri­cul­tur­al ease­ment still used for hay­ing. Agri­cul­tur­al ease­ments are an impor­tant part of land con­ser­va­tion. Small scale agri­cul­ture, espe­cial­ly organ­ics, are now an impor­tant local indus­try for our island farmers.
In the 1900s San Juan Island grew many agri­cul­tur­al crops for ship­ping. In the 1920s and 30s the San Juan Island Can­nery near where the Port of Fri­day Har­bor offices are today processed the lucra­tive island pea crop. The Can­nery had bought up the farms of sev­er­al first fam­i­ly set­tlers, like Mary Gor­mans who had home­stead­ed just east of you. In 1939, how­ev­er, the floor of the can­nery col­lapsed and sent 10,000 cas­es of canned peas onto the Harbor's floor. Fished out and repack­aged, the next year brought the pea wee­vil and an end of the indus­try. (Boyd Pratt)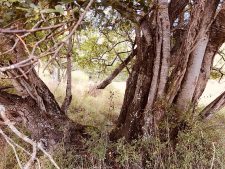 Just after a mile go west away from the lake to the small upland for­est loop of shore pine and big leafed maple. Look for Zylstra's dis­tinc­tive con­crete post fenc­ing and as you begin the grade keep an eye out for this beau­ti­ful old Scouler wil­low. Fur­ther up the grade lich­enized errat­ic rocks sport a minia­ture ecosys­tem includ­ing moss­es like Juniper hair­cap. Lichen are actu­al­ly two plants in one, a sym­bi­ot­ic com­bi­na­tion of a fun­gus and an algae; the alga pro­vides the pho­to­syn­thet­ic food, the fun­gus stor­age and sup­port. These rocks mer­it a clos­er look at a minia­ture world.
Where did the huge rocks come from? Most of you know that San Juan Val­ley was once cov­ered by sea but before that time a mile high ice sheet exist­ed as far south as Olympia. When it reced­ed it left these huge rocks called errat­ics, with a make­up usu­al­ly dif­fer­ent than our sur­round­ing strata.
Over six­ty of the hun­dred species of birds found in the Pre­serve can be seen or heard here sea­son­al­ly by the astute observ­er. Keep your eyes and ears open for our year around jun­cos, chick­adees, nuthatch­es, kinglets, wrens, Pine Siskin and wood­peck­ers. There is one wood­peck­er who spends more time feed­ing on the ground than in a tree, the North­ern Flick­er whose barbed and sticky tongue can extend two inch­es to cap­ture wig­gly insects. A white rump patch is a good iden­ti­fi­er as well as their bright salmo­ny wing feath­ers, prized by native tribes.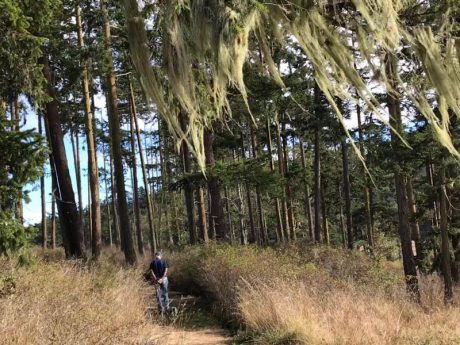 You may have also been impressed by the amount of Old Man's Beard lichen hang­ing from trees, a good sign of healthy air qual­i­ty. This loop is a good place to be look­ing high and low. You might get snagged by bur­dock, hop­ing it's seeds will trav­el with you to dis­burse, no doubt where you don't want them. Bur­dock burrs are pret­ty famous as they were the mod­el which a Swiss inven­tor, George de Mes­tral used for the hook-and-loop sys­tem lead­ing to the inven­tion of Vel­cro. As you head down the slope back toward the low­er lake your foot may brush against some apt­ly named pur­ple blos­somed skunk weed or white flow­ered stink­ing chamomile.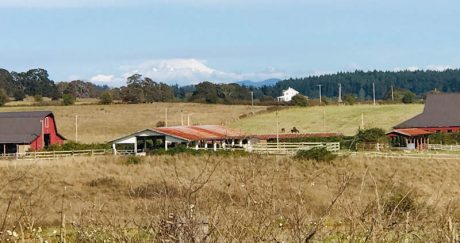 At around a 1.5 miles are great views over the val­ley and on a clear day Mt. Baker.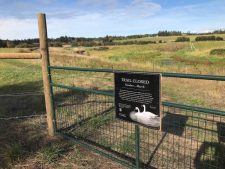 A lit­tle far­ther down the trail stop at the south­ern tip of the Pre­serve trail gate for a good look at the low­er lake, dam, and upper lake. Dur­ing win­ter up to 20 species of water­fowl, like wid­geons, mal­lards, and the ele­gant Trum­peter Swans can be seen here. Be sure to bring your binoc­u­lars! Come April when migra­to­ry birds have depart­ed for north­ern climes, you will be able to com­plete the loop, walk over the dam and up the old farm road to the park­ing lot, mak­ing a 3+ mile loop.
We are so lucky to have this new Pre­serve avail­able to the pub­lic. Work­ing togeth­er the Land Bank and Preser­va­tion Trust have an impor­tant job they do so well and also rely on our help and input. Besides pro­vid­ing a diverse habi­tat, Zyl­stra Lake is still used for irri­ga­tion, needs that have to be bal­anced with send­ing enough uncon­t­a­m­i­nat­ed water through the remain­der of the False Creek Water­shed, out into near­by False Bay and into the Haro and Juan de Fuca Straits. False Bay creek may also be a miss­ing migra­to­ry link for Cut Throat Trout and salmon, an excit­ing prospect.
Arti­cle sub­mit­ted by Robin Don­nel­ly for the Old Mil­i­tary Road Trail (OMRT) committee
It is hoped that in com­mem­o­ra­tion of the role the Old Mil­i­tary Road took in estab­lish­ing a peace­ful set­tle­ment, the Pre­serve trail you just walked will be includ­ed in our Old Mil­i­tary Road Trail (OMRT) sys­tem. For more infor­ma­tion or to join us see OldMilitaryRoadTrail.org.
You can support the San Juan Update by doing business with our loyal advertisers, and by making a one-time contribution or a recurring donation.