Freezer Burned: The Ides of October
Posted November 6, 2020 at 5:30 am by Hayley Day
"FREEZER BURNED: Tales of Inte­ri­or Alas­ka" is a reg­u­lar col­umn on the San Juan Update.
By Steve Ulvi, San Juan Island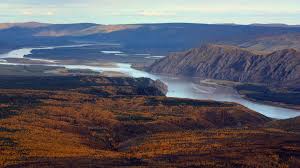 Duck­ing through the plank door, cof­fee ther­mos dan­gling in hand, I paused to take in the sky while stretch­ing my sore back and shoulders.
Breath­ing deeply, I was invig­o­rat­ed by the brisk 55 degrees tem­per­a­ture drop from the cloy­ing warmth of the cabin.
Pulling on dried cot­ton gloves, I grabbed my slime gear from a wood­en peg and heft­ed my sheathed rifle. (I learned the hard way that a firearm had to be reli­gious­ly degreased with warm diesel oil, espe­cial­ly the bolt, to pre­vent the fir­ing pin from freez­ing up. Tak­ing a cold rifle into a warm space leads to "sweat­ing" and rust). Best de-oiled and left just out­side the door in winter.
Step­ping off the pole porch, I waved to my ear­ly-ris­ing, 5‑year old daugh­ter, excit­ed to be read­ing new school books at the table. The home­school pro­gram coor­di­na­tor had recent­ly flown in to land on the riv­er, vis­it and drop off ini­tial school sup­plies. Lena's mom and her lit­tle broth­er, Eli, still slum­bered in the tiny back room. The old mul­ti-paned, wavy glass front win­dow made it a reas­sur­ing, sepia-toned scene.
A skiff of snow and cold­er weath­er ener­gized our sleek and well-furred sled dogs cir­cling on their chains. Break­ing ice on the water buck­et, I sloshed their bowls full. Per­haps they would get a boat-run lat­er. The half-dozen large work­ing dogs had gorged on cooked fish, rice and lard for weeks. It was time to build more car­dio and mus­cle for our essen­tial work­ing companions.
The dis­tinct aro­ma of fer­ment­ed high bush cran­ber­ries taint­ed the frosty air after I passed by the gar­den beds full of buried fish guts. The lone dog staked there to warn us of threats to our irre­place­able fish, greet­ed me, rump gyrat­ing. A risky job best done by a less­er dog. Step­ping down the trail to the river­bank, a pair of roughed grouse, shad­owed by about half of the young they hatched in the spring, were leap­ing up and pluck­ing shriv­eled berries. They rejoiced in their way on a frost­ed car­pet of yel­low leaves. They had plen­ty to watch for; lynx, red fox, the odd coy­ote, wolf, marten, goshawks, great horned owls and our .22 rifle. They are a sweet change of fare or "treat meat" around, tast­ing pheasant-like.
Drop­ping onto the slop­ing shore­line, by long habit I paused to look down and then up the riv­er, sliced by the cut bor­der swath, mak­ing the 141st merid­i­an vis­i­ble, and sep­a­rat­ing the US from the Social­ist Nation of Hock­ey Land, and some of our favorite bush friends. The Yukon was steadi­ly drop­ping, clear­ing like a huge moun­tain stream. Nar­row shelves of clear ice formed along the frozen silt banks and cob­ble, with the night­ly tem­per­a­tures down around 10 F. The sum­mer glacial del­uge from the head­wa­ters was shut down, stop­ping the flush­ing of mil­lions of pounds of ground-up moun­tain par­ti­cles that had passed our place hourly, cloud­ing the river.
For a moment I lost myself in the inde­scrib­able sense of sat­is­fac­tion look­ing over the neat­ly tarped A‑frame racks, where near­ly 1,300 dry­ing chum salmon"splits" and 250 whole fish were freez­ing nice­ly. At the peak Lynette and I had picked, cut and hung as many as 200 fish a day; exhaust­ed, fin­gers and hands swollen, the cuts sting­ing until salved dai­ly with fresh spruce pitch. A local raven 'karocked' to announce my pres­ence, echoes return­ing across the river.
We were near­ly done with the toil of dog­food fish­ing, had a good pile of stove wood, food treats and a fat bull moose hang­ing. That made me feel like a mil­lion bucks, look­ing into the maw of win­ter. Our young fam­i­ly didn't always have a moose and so much dog food to go along with pick­led gar­den goods, cas­es of king salmon, black bear and ducks along with dozens of bags and buck­ets of sta­ple foods. Cari­bou, Dall sheep and espe­cial­ly high­ly cyclic snow­shoe hares some­times filled the win­ter larder. This had been an unusu­al­ly healthy run of fall chum, both in num­bers and robust size.
The first slush ice was slow­ly spin­ning down the edge of the grow­ing shelf ice, in garbage can lid cir­cu­lar pans. The slow water of gill net eddies would soon ice in, as brit­tle winds rat­tled the bare hard­wood branch­es. Rapid­ly coag­u­lat­ing riv­er ice would soon iso­late us at Windy Cor­ner with no means of out­side con­tact for 5–8 weeks.
The Inte­ri­or of Alas­ka, a sub­arc­tic cli­mat­ic region, is win­ter-dom­i­nant, unfor­giv­ing. Octo­ber is the month that eras­es the glo­ry of autumn and invites the inten­si­fy­ing pen­e­tra­tion of cold as each day shrinks by over 6 min­utes, and tem­per­a­tures above the freez­ing mark dis­ap­pear until April. A very dry region, it takes weeks to accu­mu­late enough dry snow, a few inch­es at a time, to allow for effi­cient trans­porta­tion on land.
Ear­ly runs with a stur­dy wood­en tobog­gan had to be lim­it­ed to 3 or 4 dogs in har­ness, to avoid bust­ing up a more frag­ile bas­ket sled. Or hurt­ing our­selves or our dogs. Novem­ber opened fur trap­ping sea­sons, and bush res­i­dents fer­vent­ly hoped for a foot of snow and the riv­er to freeze safe­ly by Thanks­giv­ing or so. Trap­ping sea­son began by set­ting some short lines and tent camps, then extend­ing them as the snow­pack improved and side creeks froze.
Stand­ing in the bloody skiff, warm­ing up the vaporous 18 horse out­board, a large vee of black Surf Scot­ers (local­ly called "jaw ducks") flew past, wingtips on the water bor­ing south to warmer coastal waters. Near­ly all the species of birds that enlivened our woods with col­or­ful, melod­ic and deter­mined life all sum­mer, were gone. The two dozen feath­ered species that stayed around for the deep freeze-from diminu­tive Bore­al Chick­adees to huge Great Grey Owls- would strug­gle with food scarci­ty and death­ly cold.
Our best 60-foot net was still in, tan­gled and bob­bing with a night's catch, as I turned the skiff in to grab the met­al float can. Late run males could be over 10 pounds, with exot­ic dark grey-blue and red­dish-white flames on their sides. But they have nasty large teeth that tan­gled ter­ri­bly in a gill­net as they twist­ed, strug­gling to swim on. In frus­tra­tion, we cut off the jaws to untan­gle 'em later.
I picked 18 fish, with quite a few egg-squirt­ing females, while bent over the low gun­wale most of an hour. The low sun inflamed the pal­isade of leaf­less poplar trees skirt­ing the bank. We had decid­ed to pull out after the evening check and call it good. There remained the daunt­ing labor of phys­i­cal­ly haul­ing sev­er­al tons of fish up the bank, then up a lad­der into a 15-foot high cache, to be tarped over. Pole racks would have to be unlashed, dis­man­tled and stowed safe­ly with the tubs, nets, and cut­ting table. Soon, we would also haul the boat and out­board motor well up under the big spruce. But there could be one more chilly, 12-mile run to town for the last mail and fall gossip.
As I was hang­ing the last fish whole, by fives, with a stick through a slit near the tail, I heard the sur­pris­ing whine of an out­board down­riv­er. Maybe a trick of the gusty wind? My head cocked, lis­ten­ing, I final­ly saw the speck of a river­boat zing­ing along with a small roost­er tail. A fad­ed green met­al boat, funky ply­wood cab­in with house win­dows and a small tat­tered pirate flag. I'll be damned, got­ta be Archie Ferguson!
As usu­al, he came in kin­da hot and bumped hard up on the sand. I grabbed his tan­gled bow rope and smiled as he stepped out into the shal­lows, grin­ning and grip­ping the neck of a bot­tle of hootch. "Mail deliv­ery and good­ies and me"! he almost bel­lowed as we shook gloved hands. I tapped my ear to remind him of his earplugs after he grabbed his bulging, stained day­pack from the bow. "You're just in time for lunch, let's go warm up".
Archie told a cou­ple of crude jokes as we walked up the trail to the cab­in. His range of dirty sto­ries and jokes was ency­clo­pe­dic. A cou­ple was even appro­pri­ate for kids. We were laugh­ing like lock­er room teens as Lynette pushed open the door, kids cling­ing at her knees. Archie took off his snow­ma­chine suit and ski hat, tossed them on the porch and fol­lowed us in to the warmth and divine aro­ma of fresh bread. Lynette hugged Archie as the kids stood back a bit, unsure. Our sag­gy-dia­pered son stood way back timid­ly star­ing at his red­dened bare feet. With braid­ed hair falling well below her bum, my good wife poured steam­ing tea and a fin­ger of cheap whiskey into our enam­el cups as we settled.
Archie asked to wash up a bit, then returned from the enam­el basin wet fin­ger-comb­ing his wild hair, shap­ing his drip­ping beard. He wiped off on his sleeves to save from "foul­ing our good fam­i­ly tow­els". By now the kids were star­ing at his pack as he reset­tled, mor­ph­ing into the affa­ble, disheveled, off-sea­son (off-col­or) San­ta Claus that he was. He pulled out some rub­ber-band­ed mail and a cou­ple small parcels with fan­fare. With a glance, we set them aside for lat­er. Then, with the tim­ing of a plaid-shirt­ed magi­cian, he pro­duced two frozen Eski­mo Pies and oranges for the kids, los­ing pure delight.
We elbowed up to fried moose steak, thick gravy and fresh bread slathered with Archie's salt­ed but­ter, while riv­er gos­sip flowed from him between bites. He nod­ded approv­ing­ly over the pick­led beets, tak­ing anoth­er swig from his cup.
"You know that guy call­ing him­self 'Riv­er Wind'? He left after three months of talk­ing big about becom­ing a trap­per. About all he com­plet­ed at his island camp­site was to care­ful­ly carve his far­away gal's name on a slab and nail it to a tree". Anoth­er younger guy we all knew, Josh, had in the spring joined a mar­ried cou­ple, Sharon and Will, as a three­some in their 20' x 20' cab­in. "They are still at it, but Will has become increas­ing­ly frus­trat­ed, not with shar­ing, but that he could not see the elves the oth­er two claimed to see in the gar­den". A good woman we all knew had packed up and high­tailed it out the Tay­lor High­way to escape anoth­er grind­ing win­ter hud­dled in a can­vas tent with a lazy part­ner. "Sure wish she'd thought of me first" grinned Archie.
"Any­way, some dirty dog snapped sum­mer pho­tos of Charley Grun­der­son, who often gar­dens, you guys know, naked as a jay­bird near the boat land­ing. Nev­er mind that Charley is a kind­ly, old, skin­ny man with­out any mem­o­rable phys­i­cal attrib­ut­es. Of course, the col­or pho­tos were recent­ly shared around the com­mu­ni­ty, where I hear most of the pious Chris­t­ian fun­da­men­tal­ist women took a good long look and blushed".
"Did you hear that good old Max wait­ed for his chance, then locked Big Junior in the town well­house mak­ing time to gath­er up Junior's wife, Anna, and togeth­er they mushed out to his trapline? Last I heard, Junior was still venge­ful and look­ing to char­ter a plane to air­drop cement blocks on Max's main cab­in" Archie hooted.
But the best for last. "A few days back a slack-ribbed, Cana­di­an griz­zly walked down the oth­er side of the riv­er" point­ing across the riv­er, "then was seen near the vil­lage cre­at­ing instant 5‑alarm pan­ic, some­how avoid­ed being shot, to then pull fish from a rack in town, chained dogs set­ting up a hul­la­balu. This, of course, ignit­ed a con­fla­gra­tion of fear, every­one pack­ing firearms every­where. Hard to imag­ine a griz hid­ing in someone's out­house, eh?", Archie snig­gered. "Bruce Janky real­ly want­ed to kill that griz­zly, so he vol­un­teered to stake out the racks each night. The next night, with nerves jan­gling in dim­ming light he touched off his shoul­der can­non at the head-lamped shape, man­ag­ing to fatal­ly wound the maraud­ing bear. Unfor­tu­nate­ly, giv­en the snarky ten­den­cies of busy-bod­ies safe­ly locked behind doors, he also per­fo­rat­ed Mikey's 12 rental canoes that were all set neat­ly in a row". We laughed hard at that image.
Archie depart­ed after an hour, well-wish­ing all around. He hap­pi­ly accept­ed a nice three-rack of fat­ty moose ribs. As soon as the whine of his 50 horse Merc fad­ed, we set­tled into long naps smil­ing and thank­ful for Archie's friend­ship. Lat­er on, we bun­dled up, let the dogs loose and with kids in the wheel­bar­row, led them to the riv­er. We hur­ried to fire up (leav­ing lit­tle time for fight­ing), and ran them a hard mile down the wide shore­line. They strung out, going up and over Hole in the Rock, leap­ing drift logs, while we paced and spurred them on. Tongues lolling, pant­i­ng hard, they were easy to con­trol for chain up and feed­ing once back up at the cabin.
I had some chores then motored to the gill net, pulled the cement anchor, tied the web up, piled it in the bow and sped back. Cir­rus clouds had giv­en way to dark­er, gauzy skies. Hang­ing the last dozen fish of the year was deeply sat­is­fy­ing as the veil of dusk crept in.
After an evening lis­ten­ing to a few sta­t­ic-free min­utes of CBC news, some blue­grass on our cas­sette tapes, and rehash­ing Archie's vis­it, we slept sound­ly. Until after mid­night. I woke abrupt­ly to insis­tent bark­ing down at the gar­den, with those near the cab­in join­ing as a pack. It was an aggres­sive 'bear-wolf bark' that demand­ed my rapid inter­ven­tion. Throw­ing on some clothes and slip­ping into boots, bright head­lamp and flash­light both on, I stepped out into star­less dark­ness as wind raked the tow­er­ing spruce.
Cham­ber­ing a slug in my short-bar­reled pump shot­gun, I swept light across the dogs bark­ing and star­ing toward the gar­den 75 yards away in the black­ness. I walked quick­ly, direct­ing the fee­ble light to both sides of the trail look­ing for eye shine in the sur­round­ing for­est and behind me, until I could see the bark­ing watch­dog riv­et­ed on the unseen fish racks below. Step­ping quick­ly to the top of the steep ten-foot bank my light beams and gun bar­rel repeat­ed­ly swept the racks and beach where wind waves rhyth­mi­cal­ly dashed the small ice pans onshore, rock­ing our skiff. The bark­ing abrupt­ly stopped. In the Big Qui­et, I stood tin­gling, icy flakes strik­ing my cheeks, ful­ly alive in myth­ic human time.
You can support the San Juan Update by doing business with our loyal advertisers, and by making a one-time contribution or a recurring donation.