No OPALCO Rate Increase In 2021
Posted November 27, 2020 at 4:30 am by Hayley Day
Community Solar Project Coming to San Juan Island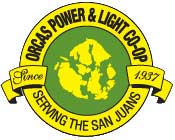 By OPALCO
The OPALCO Board of Direc­tors passed the 2021 Co-op bud­get at their Nov. 24 meet­ing and approved a 0 per­cent rate increase – that's no rate increase – in con­sid­er­a­tion of the ongo­ing pan­dem­ic and its eco­nom­ic hardships.
The approved bud­get also includes a sec­ond, self-fund­ed com­mu­ni­ty solar project, an aggres­sive Right-of-Way clear­ing for fire pre­ven­tion and a pub­lic aware­ness cam­paign to help pre­pare mem­bers for the tran­si­tion to renew­able power.
The board also approved cap­i­tal cred­it dis­tri­b­u­tion checks to peo­ple who were mem­bers in 1995–96.
Staff has delayed hir­ing and cap­i­tal projects and cut as many expens­es as pos­si­ble to get there. Due to the uncer­tain­ties of the year, the board issued a warn­ing that it may require a rate increase lat­er in the year depend­ing on the COVID-19 sit­u­a­tion and weath­er depen­dent kilo­watt-hours sales.
It also means some catch up in the com­ing years to build equi­ty for the next sub­ma­rine replace­ment project in 2030. Read the full bud­get report online at https://www.opalco.com/wp-content/uploads/2020/11/2021-Budget-Report-v2‑1.pdf.
The key projects that are fund­ed in 2021 are all relat­ed to build­ing a healthy and sus­tain­able ener­gy future in the islands. The tran­si­tion to renew­able pow­er is here and that means some major shifts in the region as util­i­ties scram­ble to meet new leg­isla­tive man­dates to get rid of fos­sil fuels.
It fore­tells ris­ing ener­gy costs and poten­tial short­ages as coal and nat­ur­al gas plants are retired. It means more pres­sure on – and com­pe­ti­tion for – our fed­er­al hydro resources to firm up the new solar gen­er­a­tors: so there is pow­er when the sun isn't shin­ing. It means solar micro­grid projects going up in our island back­yards and a decreased depen­den­cy on main­land pow­er resources – although the region­al grid will always be crit­i­cal to meet the County's ener­gy needs.
"It's an excit­ing and chal­leng­ing time," said Fos­ter Hil­dreth, gen­er­al man­ag­er. "I'm con­fi­dent in the plan the OPALCO team has devel­oped to secure a reli­able and clean pow­er sup­ply for the future. But, our suc­cess depends on the mem­ber­ship stick­ing togeth­er and help­ing each oth­er out: that's the island way–just like it was in 1937."
Stay tuned for the full sto­ry and lots of oppor­tu­ni­ties to engage with this big ener­gy tran­si­tion through OPALCO's Island Way cam­paign in 2021.
Mem­bers will have anoth­er chance to par­tic­i­pate in com­mu­ni­ty solar in late 2021: a solar and ener­gy stor­age micro­grid project on San Juan Island and, like the Decatur project, it will be fund­ed through gov­ern­ment grants and mem­ber investment.
If you're inter­est­ed in the new project, con­tact solar@opalco.com. And, for those who want to be at the table as OPALCO shapes its ener­gy future, there are three open posi­tions in the 2021 board of direc­tors elec­tion. Learn more at https://www.opalco.com/why-run/.
Orcas Pow­er & Light Coop­er­a­tive is our mem­ber-owned coop­er­a­tive elec­tric util­i­ty, serv­ing more than 11,400 mem­bers on 20 islands in San Juan Coun­ty. OPALCO pro­vides elec­tric­i­ty that is 97 per­cent green­house-gas free and is gen­er­at­ed pre­dom­i­nant­ly by hydro­elec­tric plants. OPALCO was found­ed in 1937.
You can support the San Juan Update by doing business with our loyal advertisers, and by making a one-time contribution or a recurring donation.