Freezer Burned: Snowshoe Hares
Posted December 4, 2020 at 5:30 am by Hayley Day
"FREEZER BURNED: Tales of Inte­ri­or Alas­ka" is a reg­u­lar col­umn on the San Juan Update.
By Steve Ulvi, San Juan Island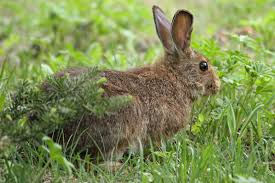 Just how much dif­fer­ence can a few bun­nies make?
Com­mon notions when hear­ing of the place called Alas­ka, are a mish-mash of life expe­ri­ences (or lack there­of), book­ish knowl­edge and an active imag­i­na­tion. That place name has rep­re­sent­ed a dream­scape for peo­ple the world over thanks to the incred­i­ble pop­u­lar­i­ty and wide­ly trans­lat­ed pro­sa­ic tales of dar­ing-do from Robert Ser­vice and Jack Lon­don. There were no pho­tos and few draw­ings. Pro­grams about Alas­ka using the incred­i­ble lens­es of drones and mod­ern cam­eras blow our minds but often under­achieve with sim­plis­tic nar­ra­tion and sil­ly wildlife sequence music.
Panoram­ic images flood and excite the brain far more than words. In my view, near­ly all of the pro­lif­er­a­tion of so-called real­i­ty TV shows set in the north, play fast and loose with com­mon pre­con­cep­tions but invari­ably become far­ci­cal with pro­duc­tion arti­fice to main­tain ratings.
Admit­ted­ly, "Sergeant Pre­ston of the Yukon" impreg­nat­ed my imag­i­na­tion from a small black and white TV (and radio show) in the late 1950s, yet was as pre­dictable and sim­plis­tic as any adven­ture show could pos­si­bly be. Even by that era's standards.
A per­son can­not pre­dict how the worm of imag­i­na­tion will turn in that part of the brain where wan­der­lust and vision quest are nurtured.
Today's spec­tac­u­lar advances in sci­ence and tech­nol­o­gy shed light on old mys­ter­ies of the north, but more often open excit­ing new threads of inquiry con­nect­ing the dots in the web of norther­ly enigmas.
Clues to Alas­ka mys­ter­ies patient­ly await sci­en­tif­ic advances locked in rocks, ice, ancient lake sed­i­ments, per­mafrost or fos­silized bones and reveal sto­ries far more intrigu­ing than fic­tion. Alas­ka itself is a jum­bled, tor­tured mess of rock from else­where weld­ed to the mar­gins of the North Amer­i­can plate. At least 12 species of dinosaurs endured dark snowy win­ters in mixed broad leaf and conif­er­ous forests on Alaska's North Slope for mil­lions of years. DNA sequenc­ing has pro­vid­ed insights and indis­putable proof of rela­tion­ships that were pure spec­u­la­tion a few decades ago (e.g. griz­zly bears and polar bears can inter­breed as the great white bears cer­tain­ly evolved from ice wan­der­ing griz­zlies not so long ago).
The most fas­ci­nat­ing "Big Sto­ry" for me is of the post-glacial land con­nec­tion, the 300-mile wide Bering Land Bridge, slow­ly exposed to sun­light and air, veg­e­tat­ed over thou­sands of years, that drew waves of wildlife and north­ern peo­ples from the Old World into a vast unpeo­pled con­ti­nent. From an ear­ly age, I was awestruck with the artis­tic ren­der­ings of the extinct mam­mals of the Pleis­tocene, read­ing fic­tion­al and infor­ma­tion­al books about exca­va­tions at the La Brea Tarpits. I also thumbed through Nation­al Geo­graph­ic arti­cles of the wild perus­ing more than the pho­tos of bare breasts in the tropics.
In those first few years out on the Yukon Riv­er in the 1970s, the most mind-bog­gling thing was the over the hori­zon size of even our lit­tle neck of the woods. But the steep­est learn­ing curve was pre­dictable as we were not expe­ri­enced hunters nor prac­ticed in butcher­ing and pre­serv­ing food off the grid. The uneven dis­tri­b­u­tion and fluc­tu­at­ing sea­son­al avail­abil­i­ty of ani­mal flesh in a win­ter-dom­i­nat­ed cli­mate was a real dope slap for me. Being hard-up against the bor­der with Cana­da didn't help. Bio­mass of har­vestable ani­mals, fish or fowl in the expans­es of the sub­arc­tic can vary from scarci­ty to rich­ness from week to week, sea­son to sea­son, year in year out.
What we couldn't have known as we began our decade of liv­ing at Windy Cor­ner was that enhanced aer­i­al mon­i­tor­ing, habi­tat stud­ies and sta­tis­ti­cal mod­el­ing was reveal­ing that the near­by Forty Mile Cari­bou Herd had dwin­dled to about 5,500 ani­mals from an esti­mat­ed high of 450,000 in the 1920s. Area moose num­bers had declined to some of the low­est in the entire State to about one moose, or less, per 4 square miles. (For ref­er­ence, that would rough­ly equate to 10 moose in a decent habi­tat area the size of San Juan Island).
To com­pli­cate things, there had been a decline (and aging) in the local human pop­u­la­tion of his­toric Eagle City and the near­by Han Atha­paskan vil­lage, which trans­lat­ed to a diminu­tion in the tra­di­tion­al expanse and efforts in trap­ping, den­ning and shoot­ing wolves and hunt­ing bears. State game laws had long pro­hib­it­ed the use of strych­nine baits but fed­er­al wildlife con­trol agents used it along with aer­i­al gun­ning in focused wolf con­trol efforts to pump up moose and cari­bou in the area until state­hood dawned in 1960).
The gap between my youth­ful tem­per­ate zone backpacker/angler expec­ta­tions and sub­arc­tic hunter real­i­ties was at first stun­ning. Gill net­ting some late run chum salmon and look­ing for small game while hop­ing for the chance at a large ani­mal (with only one rifle) was the nat­ur­al course of things right off the bat. By the time the cab­in was roofed and hold­ing heat, black bears were den­ning, water­fowl gone, fish icing-in. I remem­ber think­ing "where the heck are the snow­shoe hares and grouse" as the track­less snow began to accu­mu­late in October.
We didn't know that the high­ly vari­able snow­shoe hare (also appro­pri­ate­ly called Vary­ing Hare) pop­u­la­tion was just emerg­ing from the cel­lar of scarci­ty, the bot­tom of a vari­able 8 to 11-year cycle. Since our area was not endowed with swaths of quick­ly regen­er­at­ing wil­lows, as were dis­turbed river­ine areas with large islands and sloughs, or reveg­e­tat­ing wild­fire burns, we saw very few "rab­bits" or tracks. Dit­to for the ghost­ly lynx and traips­ing red fox. 'Hun­gry coun­try' makes for a steep learn­ing curve and eat­ing a lot of dried pin­to beans. Our "jump off" into the wild along the icon­ic Yukon Riv­er was made more dif­fi­cult by a com­plex eco­log­i­cal syn­chronic­i­ty well beyond our new­com­er understanding.
Obvi­ous­ly, indige­nous tribes across the sub­arc­tic long knew that hares and some preda­tors erupt­ed then crashed in a rough­ly pre­dictable way over 10 win­ters or so. Cer­tain­ly, this par­tic­u­lar ele­ment of deep tra­di­tion­al knowl­edge was tied to the cause and effect rela­tion­ships between cre­ation sto­ries, human behav­ior and the pow­er­ful spir­its of all the beings of the bore­al for­est. It is known that peo­ple liv­ing hard in the cold can­not sur­vive, but in fact will even­tu­al­ly weak­en and starve, when sub­sist­ing pri­mar­i­ly on abun­dant hares; dark, pro­tein-rich meat devoid of essen­tial fat calories.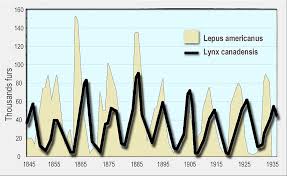 The snow­shoe hare is a dif­fer­ent sort of 'key­stone species' because they ener­gize mas­sive waves of increased bio­mass across the sub­arc­tic in North Amer­i­ca. The most extreme ampli­tude in highs and lows hap­pen in the far­ther north regions. Strange­ly, the waves of erup­tion seem to spread from Saskatchewan, like a vast flood tide, arriv­ing with a delay of a cou­ple years in Alas­ka. Hudson's Bay Com­pa­ny record-keep­ing of fur catch­es over near­ly 200 years clear­ly illus­trat­ed the cyclic spike and crash of hares, whose pelts were also sold along with far more valu­able lynx pelts. This rela­tion­ship was not lost on ear­ly biol­o­gists crav­ing data.
Female hares begin to breed after their first win­ter. Ges­ta­tion is just over a month long. A healthy doe may have 3 to 4 lit­ters aver­ag­ing 5 young "lev­erets" over a sum­mer, or about 16 to 18 off­spring per sum­mer! Hares are born ful­ly furred, eyes open and hop­ping with­in a cou­ple of days. They clus­ter qui­et­ly in heavy cov­er in a day bed, then at night use the same routes to good feed areas. The best win­ter habi­tat and browse areas serve as scat­tered "refu­gia" from which re-pop­u­la­tion spreads (not all regions are exact­ly in sync) after the numer­ous preda­tors migrate away or suc­cumb to star­va­tion. A greater per­cent­age of young hares make it through the win­ter to breed. The fuse for the even­tu­al explo­sion of bun­ny bio­mass is lit. Local pop­u­la­tions can increase from less than one hare per acre to 6 to 8 and can eas­i­ly exceed the weight of moose inhab­it­ing the same area.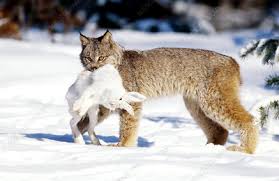 After the fuse has burned hot­ly for a cou­ple of years the var­i­ous preda­tors return through in-migra­tion and their own increased clutch­es of eggs or lit­ters born as their own repro­duc­tive nutri­tion improves and a greater per­cent­age of their off­spring are able to sur­vive the test of win­ter. Preda­tor pop­u­la­tions steadi­ly increase for a few years and trapper's catch­es of lynx, red fox, coy­ote and even marten can increase great­ly until the crash. But it is the Snow­shoe Hare-Cana­di­an Lynx pop­u­la­tion syn­chronic­i­ty that stands alone as a preda­tor-depen­dent mar­vel in wildlife ecology.
But just as hares "breed like bun­nies" they can also suf­fer might­i­ly from phys­i­o­log­i­cal stress. Just the con­stant pres­ence and chas­es by expand­ing num­bers of lynx and oth­er eaters of hares in the sum­mer cause their birthrate to decrease. Even red squir­rels, ermine and small owls can kill the young hares in sum­mer. Inter­est­ing­ly, mater­nal stress is passed on to the young. A cor­nu­copia of green foods abounds in sum­mer but the ter­mi­nal twigs and buds of woody shrubs and trees like paper birch, poplar and wil­lows (and even­tu­al­ly their bark) are win­ter sta­ples. These plants have evolved to pro­duce cer­tain com­pounds to reduce munch­ing that can dis­rupt hare diges­tion and even cel­lu­lar ener­gy trans­port. The twigs high­er in the trees do not con­tain the toxins.
A cou­ple of years lat­er we were much bet­ter equipped and steadi­ly gain­ing knowl­edge in a cold school of hard knocks. Nice to have a pot to piss in earn­ing some wages in town dur­ing the sum­mer. We learned hare snar­ing from our sis­ter-in-law in the vil­lage, a hard-work­ing and hard-liv­ing Han Atha­paskan woman who was adept at a woman's tra­di­tion­al skills. Braid­ed pic­ture wire with a slid­ing loop, and about 2 feet of extra wire was tied to shrubs on a reg­u­lar­ly used feed trail that inter­sect­ed our woods trails. As with all snares, sticks were poked into the snow to guide the head into a 5‑inch loop a few inch­es off the snow.
As the hare num­bers increased steadi­ly and either because of poor moose hunt­ing luck or tem­porar­i­ly relo­cat­ing our fam­i­ly to a dis­tant area for ear­ly win­ter trap­ping, we mod­i­fied the tech­nique some and shared in snare line duties near our home base. We cut dry 3‑foot sticks and attached the pic­ture wire loops ahead of time along with bal­ing wire tie-downs. Easy to stick in a day­pack like arrows in a quiver to quick­ly make new sets. We could eas­i­ly car­ry in sev­er­al dead hares with the sticks over a shoul­der. We quick­ly real­ized that felling birch for fire­wood cre­at­ed a feed pile of tox­in-free twigs around which we con­cen­trat­ed our snares.
First-year hares were a bit small­er and more ten­der while mature bun­nies attained 3–4 pounds. Two cut up and fried in a big cast-iron skil­let of ren­dered fat with hearts and liv­ers was a good meal. Tularemia was sup­pos­ed­ly a poten­tial prob­lem but we exam­ined liv­ers and if splotched they were tossed and the meat always cooked medi­um-well. I have nev­er worn gloves to butch­er any­thing includ­ing rab­bits. If we had moose or cari­bou in the larder we usu­al­ly held off on snar­ing bunnies.
Ear­ly win­ter hares were best but by late win­ter they were eat­ing more bark and conifer nee­dles (if the snow­pack was deep enough) and became much more gamey. No win­ter hare of the hun­dreds we har­vest­ed ever had a scin­til­la of fat. Hides were not sold due to the both­er and scant price but were some­times dried and used in our native-style foot­gear. Oth­er peo­ple made rab­bit skin blan­kets and win­ter socks.
The even­tu­al abun­dance of bun­nies ener­gized us and the entire bore­al for­est ecosys­tem. My inter­est in rap­tors was great­ly reward­ed with hear­ing and see­ing many great horned owls, goshawks and hawk owls. Trap­ping lynx improved, but of course, pelt prices dropped (from $350 down to less than $100) with the increas­ing mar­ket glut of pelts. We enjoyed eat­ing lynx hindquar­ters as a sweet treat meat. Red fox and marten were depen­dent upon small rodents but also increased with the bun­ny explo­sion. Wolves did not seem capa­ble of catch­ing a healthy zig-zag­ging hare except in the open.
In odd years with late or patchy snow­fall, we ben­e­fit­ed from .22 hunt­ing the stark white bun­nies against a dark back­ground. Con­tin­u­ing cli­mate change is caus­ing belat­ed first snow and ear­li­er melt in spring work­ing nat­ur­al selec­tion against bun­nies that turn white ear­li­er, espe­cial­ly in the south­ern bore­al for­est. Win­ter rain show­ers and thaws, once very rare, but more com­mon now can cre­ate a crust on the snow­pack that gen­er­al­ly ben­e­fits the scam­per­ing hares. To a point.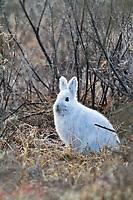 After the crash lynx were abun­dant, eas­i­er to catch and more often seen but then either migrat­ed (radio col­lar stud­ies revealed treks of near­ly 1,000 miles) or starved. I found lynx curled up on our trails, skin and bones, starved to death, espe­cial­ly dur­ing the stress of deep cold spells of minus 50F or low­er. Sad­ly, for me woods that had been so full of life and inter­ac­tion for us, would again be qui­et for a few years. An ancient and pro­found­ly impact­ful eco­log­i­cal cycle was to begin anew. In an odd way, it has to be one of the most amaz­ing cyclic wildlife spec­ta­cles on the planet.
You can support the San Juan Update by doing business with our loyal advertisers, and by making a one-time contribution or a recurring donation.