History Column: 'We Can't Build Up Our Beautiful City By Scrapping All The Time.'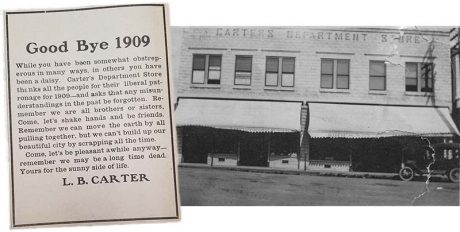 From the San Juan Historical Society and Museum
"We can't build up our beautiful city by scrapping all the time."
These words were written by Launor Benjamin Carter in 1909, as seen in the ad above and published in the Friday Harbor Journal the last week in December that year.
The entire ad is worth reading.
It reminds us that 2020 was not the first time some citizens of Friday Harbor have "scrapped" with each other and had some "misunderstandings."
This ad prompted curiosity about why L. B. Carter had it published when he did. What was going on in 1909? These are things volunteers at the San Juan Historical Society and Museum think about.
When the Town of Friday Harbor incorporated in February of 1909, Carter was elected to serve on the first town council. He had broken ground for Carter's Department Store the year before and construction of the two-story concrete block (also known as cast stone) store was still ongoing.
The undated photo above shows the store in its earliest years. You will recognize it today if you stand in front of Kings Market on Spring Street and look up at its middle section. If you go upstairs to Kings Sportswear, you will be standing where Carter's Department Store customers once shopped. This new 1909 store replaced Carter's Blue Front Store, established in 1892 on roughly the same spot. The Blue Front had sold essential supplies such as groceries, hardware, and clothing.
Something else was going on in 1909, related to commercial construction on Spring Street. In an article published in the original San Juan Islander newspaper on March 26, we learned that L.B. Carter was arrested on a complaint of P.A. Jensen who owned the neighboring Jensen's Store in the same block, on the corner of Second and Spring. The charge was "having cast noxious refuse upon the street in violation of section .46 of the penal code…" It was apparently easier to get arrested in Friday Harbor in 1909 than it is today.
A hearing was held that afternoon, a judge found Carter technically guilty but not by intention, and imposed a fine of $10. Construction of the department store continued and it opened that summer. Its construction cost was about $12,000. The business community praised it as "the most notable improvement to the business district of the town" that year. It was the type of department store that offered everything from groceries and hardware to sewing goods, clothing and appliances. Jackie Douglas Hubbard has memories of it being a beautiful store, with an open staircase to the second floor where she and her friends as young girls in the 1930s would look down upon the activity below.
L.B. Carter died suddenly from a heart attack in 1937. At 79, he had previously turned over much of the daily operations of the store to his son-in-law William Roark, who was married to L. B.'s daughter Lettie. In January of 1939 two large ads were published in the Friday Harbor Journal, announcing the transition of Carter's Department Store into two distinct businesses. Lettie and William Roark purchased the dry goods and clothing departments of the store. The new name was Roark's Dry Goods. The grocery and hardware departments were sold to Kings Market. And a new era began.
As L.B. Carter wisely noted in his 1909 ad, "Remember we can move the earth by all pulling together." We wish you all the best in the coming year "on the sunny side of life."