History Column: 'We Can't Build Up Our Beautiful City By Scrapping All The Time.'
Posted January 6, 2021 at 5:30 am by Hayley Day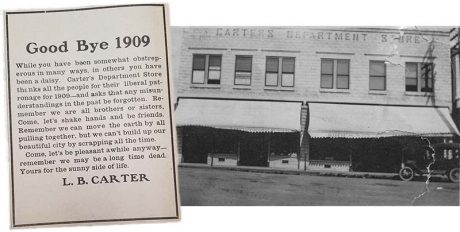 From the San Juan His­tor­i­cal Soci­ety and Museum
"We can't build up our beau­ti­ful city by scrap­ping all the time."
These words were writ­ten by Launor Ben­jamin Carter in 1909, as seen in the ad above and pub­lished in the Fri­day Har­bor Jour­nal the last week in Decem­ber that year.
The entire ad is worth reading.
It reminds us that 2020 was not the first time some cit­i­zens of Fri­day Har­bor have "scrapped" with each oth­er and had some "mis­un­der­stand­ings."
This ad prompt­ed curios­i­ty about why L. B. Carter had it pub­lished when he did. What was going on in 1909? These are things vol­un­teers at the San Juan His­tor­i­cal Soci­ety and Muse­um think about.
When the Town of Fri­day Har­bor incor­po­rat­ed in Feb­ru­ary of 1909, Carter was elect­ed to serve on the first town coun­cil. He had bro­ken ground for Carter's Depart­ment Store the year before and con­struc­tion of the two-sto­ry con­crete block (also known as cast stone) store was still ongoing.
The undat­ed pho­to above shows the store in its ear­li­est years. You will rec­og­nize it today if you stand in front of Kings Mar­ket on Spring Street and look up at its mid­dle sec­tion. If you go upstairs to Kings Sports­wear, you will be stand­ing where Carter's Depart­ment Store cus­tomers once shopped. This new 1909 store replaced Carter's Blue Front Store, estab­lished in 1892 on rough­ly the same spot. The Blue Front had sold essen­tial sup­plies such as gro­ceries, hard­ware, and clothing.
Some­thing else was going on in 1909, relat­ed to com­mer­cial con­struc­tion on Spring Street. In an arti­cle pub­lished in the orig­i­nal San Juan Islander news­pa­per on March 26, we learned that L.B. Carter was arrest­ed on a com­plaint of P.A. Jensen who owned the neigh­bor­ing Jensen's Store in the same block, on the cor­ner of Sec­ond and Spring. The charge was "hav­ing cast nox­ious refuse upon the street in vio­la­tion of sec­tion .46 of the penal code…" It was appar­ent­ly eas­i­er to get arrest­ed in Fri­day Har­bor in 1909 than it is today.
A hear­ing was held that after­noon, a judge found Carter tech­ni­cal­ly guilty but not by inten­tion, and imposed a fine of $10. Con­struc­tion of the depart­ment store con­tin­ued and it opened that sum­mer. Its con­struc­tion cost was about $12,000. The busi­ness com­mu­ni­ty praised it as "the most notable improve­ment to the busi­ness dis­trict of the town" that year. It was the type of depart­ment store that offered every­thing from gro­ceries and hard­ware to sewing goods, cloth­ing and appli­ances. Jack­ie Dou­glas Hub­bard has mem­o­ries of it being a beau­ti­ful store, with an open stair­case to the sec­ond floor where she and her friends as young girls in the 1930s would look down upon the activ­i­ty below.
L.B. Carter died sud­den­ly from a heart attack in 1937. At 79, he had pre­vi­ous­ly turned over much of the dai­ly oper­a­tions of the store to his son-in-law William Roark, who was mar­ried to L. B.'s daugh­ter Let­tie. In Jan­u­ary of 1939 two large ads were pub­lished in the Fri­day Har­bor Jour­nal, announc­ing the tran­si­tion of Carter's Depart­ment Store into two dis­tinct busi­ness­es. Let­tie and William Roark pur­chased the dry goods and cloth­ing depart­ments of the store. The new name was Roark's Dry Goods. The gro­cery and hard­ware depart­ments were sold to Kings Mar­ket. And a new era began.
As L.B. Carter wise­ly not­ed in his 1909 ad, "Remem­ber we can move the earth by all pulling togeth­er." We wish you all the best in the com­ing year "on the sun­ny side of life."
You can support the San Juan Update by doing business with our loyal advertisers, and by making a one-time contribution or a recurring donation.