OPALCO Restores Power After 18-Hour Outage
Posted January 16, 2021 at 5:00 am by Hayley Day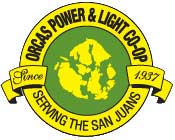 From OPALCO
In the ear­ly morn­ing hours of Wednes­day, Jan. 13, a big storm hit the North­west region of Wash­ing­ton state with wind gusts of 50–65 mph in the San Juan Island area.
By 1 a.m., all of San Juan Coun­ty was with­out pow­er after large trees fell onto the Puget Sound Ener­gy lines feed­ing the Bon­neville Pow­er Admin­is­tra­tion sub­sta­tion in Ana­cortes – the last stop before pow­er flows in sub­ma­rine cables to pow­er the San Juan Islands.
As the winds died down around day­light, hun­dreds of thou­sands in the region were with­out power.
While main­land crews went to work on their ter­ri­to­ry, our OPALCO crews cleared trees that had fall­en in the trans­mis­sion lines on Lopez, Shaw and Decatur islands and repaired the dam­age done. They sur­veyed the pow­er lines through­out the sys­tem, trou­bleshoot­ing along the way, to pre­pare for bring­ing the pow­er back up once the main­land was ready.
By ear­ly after­noon, OPALCO's sys­tem was ready to be ener­gized but San Juan Coun­ty had to con­tin­ue to wait for the main­land pow­er source to be restored. OPALCO's engi­neer­ing team was in con­stant com­mu­ni­ca­tion with BPA and PSE to coor­di­nate the out­age work.
Around 7:30 pm, the main­land pow­er to the islands was re-ener­gized and OPALCO began to bring the pow­er up in phas­es, to pro­tect the sys­tem. As expect­ed, there were a smat­ter­ing of small out­ages that went lat­er into the night due to equip­ment issues com­mon with switch­ing after a big outage.
By 11 p.m., all pow­er was restored, and the crew was final­ly able to head home to their fam­i­lies and warm beds.
This extend­ed out­age is a good reminder we need to be pre­pared for emer­gency events. Please vis­it the Depart­ment of Emer­gency Man­age­ment (http://joomla.sanjuandem.net) for some great tips on being pre­pared for a vari­ety of sit­u­a­tions. For pow­er out­ages, make sure you have back­up bat­ter­ies espe­cial­ly for crit­i­cal med­ical equip­ment and cell phones, flash­lights, and non­per­ish­able food (see the full out­age prep check­list: https://www.opalco.com/outages/outage-preparation-and-safety).
With cli­mate change and the chang­ing ener­gy mar­ket, San Juan Coun­ty could expe­ri­ence more out­ages due to main­land issues. OPALCO is work­ing on a plan for a big­ger local pow­er sup­ply – stay tuned for more about our Island Way cam­paign – and, in the mean­time, stock up on your out­age supplies.
The best way to report an out­age is through OPALCO's SmartHub app. With just a cou­ple of clicks (click on report issue/inquiry) OPALCO has your address in the sys­tem and the crews can respond accordingly.
You can also call(360–376-3599. Mem­bers are not able to report out­ages from social media at this time. If you want more detailed infor­ma­tion and don't have a smart­phone (access to the inter­net dur­ing an out­age), make plans with an "out­age bud­dy" who does for more detailed updates and information.
Once an out­age is under­way, OPALCO staff update our Social Media accounts (Face­book and Twit­ter @orcaspower) which feed to our web­site (www.opalco.com/outage) and record phone mes­sages. Depend­ing on the size and dura­tion of the out­age, updates will come at reg­u­lar inter­vals with as much infor­ma­tion as we have. Restora­tion times are always dif­fi­cult to pre­dict, but we try to let mem­bers know if the out­age will be for an extend­ed time peri­od (longer than 4 hours).
The line crew works hard on repairs in chal­leng­ing con­di­tions and often can't pre­dict the extent of dam­age done until they are in the mid­dle of fix­ing it — and addi­tion­al issues can arise when pow­er is brought back up after an outage.
Check out this video that explains what hap­pens dur­ing an outage.
OPALCO appre­ci­ates mem­bers' patience dur­ing these dif­fi­cult times. Please take the time to check on your neigh­bors: we are islanders — we are in this together.
If you have any ques­tions or wish to know about out­age sup­plies or report­ing an out­age, email communications@opalco.com.
Orcas Pow­er & Light Coop­er­a­tive (OPALCO) is our mem­ber-owned coop­er­a­tive elec­tric util­i­ty, serv­ing more than 11,400 mem­bers on 20 islands in San Juan Coun­ty. OPALCO pro­vides elec­tric­i­ty that is 97% green­house-gas free and is gen­er­at­ed pre­dom­i­nant­ly by hydro­elec­tric plants. OPALCO was found­ed in 1937. Fol­low OPALCO @OrcasPower on Face­book and Twitter.
You can support the San Juan Update by doing business with our loyal advertisers, and by making a one-time contribution or a recurring donation.