Town To Begin Two-Month Utility Work On Spring Street
Posted February 24, 2021 at 5:30 am by Hayley Day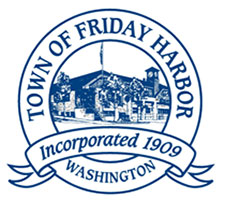 From the Town of Fri­day Harbor
The Town of Fri­day Har­bor has final­ized engi­neer­ing plans for the replace­ment of sew­er and stormwa­ter lines locat­ed in Spring Street between First and Sec­ond Streets in the down­town core.
The work is planned to begin mid-March with com­ple­tion in late May. The high vol­ume of traf­fic and num­ber of busi­ness­es in this area mean there will nev­er be an ide­al time for repairs of this nature.
Win­ter months are not an option due to adverse weath­er and the inabil­i­ty to resur­face with asphalt until the ground tem­per­a­tures have risen suf­fi­cient­ly. The town will com­plete this work over the next sev­er­al months to fin­ish the project before our sum­mer season.
To alle­vi­ate the traf­fic prob­lems, work will take place dur­ing evening hours between 11:15 p.m. and 7:30 a.m. Spring Street will reopen dur­ing the day with a most­ly grav­el sur­face dur­ing construction.
The work will con­sist of replac­ing an aging sew­er line and upsiz­ing the stormwa­ter line. This sec­tion will be the last major repair on Spring Street. The stormwa­ter lines have already been upsized from Front Street to First Street and from Sec­ond Street to Argyle Avenue.
A new 30-inch diam­e­ter pipe will replace the exist­ing 15-inch pipe, alle­vi­at­ing the stormwa­ter con­stric­tion between First and Sec­ond Streets that has result­ed in sev­er­al flood events in the last six years. Both the sew­er and storm lines are near the cen­ter of Spring Street mak­ing the rout­ing of traf­fic much more difficult.
Upon com­ple­tion of the line replace­ments, the town will repave Spring Street from gut­ter to gut­ter. Some of the more com­pli­cat­ed work will involve the replace­ment of side sew­er lines to indi­vid­ual busi­ness­es as the new sew­er line is con­struct­ed. Bypass lines will be used to keep busi­ness­es open dur­ing construction.
Any­one with ques­tions or con­cerns regard­ing this project please con­tact admin­is­tra­tor Dun­can Wil­son at 360–378-2810 or by email at duncanw@fridayharbor.org.
The town apol­o­gizes for the unavoid­able incon­ve­nience and inevitable frus­tra­tion this may cre­ate and trusts the com­mu­ni­ty will rec­og­nize there is no bet­ter, fea­si­ble time for this crit­i­cal project.
You can support the San Juan Update by doing business with our loyal advertisers, and by making a one-time contribution or a recurring donation.