Freezer-Burned: Tales of Interior Alaska
Posted March 7, 2021 at 5:00 am by Hayley Day
"Freez­er-Burned: Tales of Inte­ri­or Alas­ka" is a reg­u­lar col­umn on the San Juan Update writ­ten by Steve Ulvi.
The Confines of Heaven
The Ala­pah carves sin­u­ous bends in a spa­cious val­ley side to side, flow­ing into the upper Kuuk Riv­er, a large trib­u­tary of the Yukon Riv­er whose milky waters bend west across the Inte­ri­or of Alas­ka well to the south. Forty miles up the Ala­pah Riv­er (mean­ing 'cold' in Inu­pi­aq) the cloak of bore­al for­est slow­ly gives out to a few dwarf spruce and poplar, wracked by decades of eco­log­i­cal strug­gle, mark­ing the cir­cum­po­lar north­ern tree-line. From there the riv­er land­scape is raw and angu­lar, large boul­ders and gray talus slopes drap­ing dark peaks, ripar­i­an wil­low and tun­dra margins.
The Ala­pah forks again and again, becom­ing a creek, small­er and steep­er, falling from the rocky clefts of the Brooks Range that arcs across north­ern Alas­ka. His­to­ri­an Bill Brown pro­saical­ly referred to this north­ern-most major moun­tain range on earth as a place of "gaunt beau­ty, ten­u­ous life".
Sit­ting at his rough table, strewn with maps and books, eased by the muf­fled song of rush­ing water as the Ala­pah mixed with the larg­er Kuuk, the last thing that Nathan Cut­ler fan­cied, as his ardu­ous prepa­ra­tions for the onset of win­ter slowed, was to endure being alone at his remote cab­in for sev­er­al more months. But there was no way to change that sit­u­a­tion now.
He was in a famil­iar state of lim­bo, cloud watch­ing, await­ing win­ter storms to trans­form his world. Ice-build­ing tem­per­a­tures and espe­cial­ly blan­ket­ing snow, would enable him to expand his activ­i­ties; there were loads of dry wood to drag in, water to haul and open­ing his estab­lished trapline trails in readi­ness for furbear­er sea­son open­ings. For now, he had time on his hands to tend to small tasks, rethink new marten lines and stew over the heart-wrench­ing lone­li­ness to come. Look­ing up into the immense empti­ness of the uncount­able stars, sep­a­rat­ed by unimag­in­able emp­ty dis­tance, said to be expand­ing end­less­ly out­ward, fed his aloneness.
The solace of his win­ter occu­pa­tion was always a wel­come change from the fre­net­ic, bug­gy, almost tir­ing light of sum­mer. The down-shift­ing from "the sweet lie of sum­mer" to the iso­la­tion of win­ter was rapid and unfor­giv­ing. Now his efforts and deci­sions, along with lady luck, were the sole arbiters of his suc­cess. Soon after arriv­ing back at the Ala­pah, shoul­der­ing a 75-pound pack from Hendersen's, he hap­pi­ly launched into cab­in repairs, cut­ting dry wood and hunt­ing cari­bou and bears, meat and fat, in his home country.
The boul­der maze at the canyon just above Hendersen's Bend, pre­vent­ed the com­par­a­tive ease and flex­i­bil­i­ty of riv­er boat resup­ply and access to his cab­in dur­ing sum­mer. Rivers are the high­ways of the vast Inte­ri­or. It also kept oth­ers out until the late win­ter when rivers were acces­si­ble to those capa­ble of break­ing trail in the deep snow laced with treach­er­ous over­flow under the frozen insu­lat­ing cov­er. Some of the rough crew that worked for the Lucky Strike mine on the Yukon made spring trips rid­ing pow­er­ful snow machines in order to camp, guz­zle cheap liquor and poach game on the upper Kuuk. There had been sev­er­al trou­bling inci­dents over the years. Lars Hen­der­sen, stand­ing up for his old­est daugh­ter, had forced a con­fronta­tion that quick­ly turned ugly last spring.
As a hazy fog lift­ed a day after sched­uled air­drops, a plane buzzed the cab­in with a high deci­bel growl that would star­tle any­one but the dead. Grin­ning, Nate hur­ried­ly threw on a coat and watch cap to trot the well-worn path to the mar­gin of Swan Lake, where a near­ly tree­less tus­sock flat, of foot­ball field length, had approach­es that allowed a small plane to slow, pull flaps, hang on the prop and air­drop his win­ter sup­plies in sev­er­al roar­ing pass­es. His old Kel­ty pack frame and cordage was already there.
Wav­ing his arms, glad that he had not missed watch­ing the first pass, his friend and no-non­sense men­tor, Lars, flew the Cess­na 185 with the car­go door off, while one of his teenagers, heav­i­ly dressed for the wind­chill, worked in back as the "kick­er". The smoothest area with­in the dry sedge tus­socks was marked by sur­vey tape, but the slight­est wind and vagaries of roar­ing by at 75 mph a cou­ple hun­dred feet off the deck, always result­ed in some burst­ing grain sacks (even triple bagged) and dam­age to more frag­ile sup­plies. A bomb­ing run, real­ly. There would be a sweet note and a treat from Lars' wife Trudy.
Inex­plic­a­bly, he had nev­er locat­ed some bun­dled stovepipe he had watched fall a few years back. They had all heard the hor­ror sto­ries of attach­ing para­chutes of some kind to damp­en the veloc­i­ty of sup­plies, but such finarky rig­gings could tan­gle on the plane's tail feath­ers or tail wheel and cause a dev­as­tat­ing crash.
Neck and back stiff after a day of pack­ing the 800 pounds of scat­tered sup­plies, Nate awoke in the predawn hours, bur­ri­toed in a sleep­ing bag star­ing into the black void. There was lit­tle to hear oth­er than his own breath­ing. His first feel­ings in cog­ni­tive sur­fac­ing were feel­ings of secu­ri­ty and com­fort, replen­ished food. His was a stur­dy log cab­in, grassy roofed, set in a forest­ed penin­su­la between the rivers and the shal­low lake, built by shared dreams and the bound­less ener­gy of young love, hard­ly ten years before.
But once his wak­ing mind stirred, his con­flict­ed mem­o­ries flared to replay many trag­ic moments and fail­ures of char­ac­ter. Cer­tain­ly, hap­pi­ness and sat­is­fac­tion reg­is­tered often in the dai­ly course of things, but in a flashy, ephemer­al way, dilut­ed by the pas­sage of time. Nate was plagued by a sad­ness and anger, fos­tered by cor­ro­sive fam­i­ly inci­dents dur­ing a trou­bled upbring­ing on the Yukon Riv­er out­side of Eagle City.
He strug­gled with a brit­tle tem­per and his per­son­al­i­ty 'quirks' seemed to dis­till to greater poten­cy as his years accu­mu­lat­ed. His love for his long-suf­fer­ing moth­er, now dead sev­er­al years, was over­shad­owed by his con­tempt for his lying, fun­da­men­tal­ist father who had poi­soned the young soul of his old­est son, with years of stress and anx­i­ety. His youngest sis­ter, Han­nah had recent­ly implied oth­er psy­cho­log­i­cal­ly destruc­tive, unfor­give­able dis­tor­tions of parental nur­tur­ing in the years after Nate left for college.
Before decid­ing to take some col­lege cours­es, he and a young friend had lived off the land for the bet­ter part of two years, chan­nel­ing the life­ways of Rocky Moun­tain fur trap­pers, on a small trib­u­tary of the upper Yukon. He rarely vis­it­ed his home and fam­i­ly. At the time he thought such a foot­loose, scoff-law life in the woods to be the ulti­mate out­door expe­ri­ence, but now he thought differently.
The Alas­ka Nation­al Inter­est Lands Con­ser­va­tion Act of 1980, had been like a slow-motion mete­or impact in alter­ing much that was left of "Old Alas­ka", cre­at­ing strife and tur­moil among Alaskans. Sto­ries of motor­ized use clo­sures, pro­hi­bi­tion of long-stand­ing sport hunt­ing and guid­ing activ­i­ties and restric­tive cab­in reg­u­la­tions were run­ning hot and spark­ing like dry light­ning across the huge state. In his eager­ness to see more of the vast region of the upper Kuuk, recent­ly des­ig­nat­ed in a Nation­al Park, and earn sum­mer wages as a uni­formed sea­son­al ranger, he rec­og­nized that it was a pact with the dev­il. Local­ly he was viewed con­temp­tu­ous­ly as a frig­gin' turncoat.
His cab­in (on a native allot­ment claimed by his ex-wife's par­ents) as well as much of his win­ter trapline, along with the life­ways of many peo­ple he respect­ed, were now in the slow­ly focus­ing, unpre­dictable pol­i­cy crosshairs of the fed­er­al gov­ern­ment. He had lost sleep for weeks while con­sid­er­ing send­ing an appli­ca­tion for a sea­son­al posi­tion. Even­tu­al­ly the scale of weight­ed val­ues (and few oth­er out­doorsy ways to make mon­ey) even­tu­al­ly tipped toward his con­cerns for the wider preser­va­tion issues of threat­ened landscapes.
When enjoy­ing sum­mer time off and unwind­ing at camp­fire gath­er­ings in the bush enclave of Bet­tles, or even the out­skirts of Fair­banks, he tried to avoid the inevitable vent­ing and rumor-mon­ger­ing that flared as the booze flowed. He was paid to deal with plen­ty of that when on duty. He couldn't win, even efforts to be help­ful by dis­sem­bling false rumors often result­ed in angry words or worse. Many casu­al friend­ships implod­ed and per­son­al threats were voiced. But he had cho­sen to put a tar­get on his own back.
Like most men his age he took every oppor­tu­ni­ty to meet unat­tached women. When he did, he care­ful­ly shift­ed from the 'who do you know, what do you do' slow dance to casu­al­ly describe his win­ter life­way with boy­ish enthu­si­asm. Their reac­tions were cau­tious­ly set aside for future con­ver­sa­tions. He knew bet­ter, as a result of con­fus­ing and painful expe­ri­ences, than to even sug­gest a win­ter invite until there was a deep­er emo­tion­al con­nec­tion. Of course, a robust sex­u­al rela­tion­ship was a pre­req­ui­site to spend­ing months togeth­er in a small cab­in in the bush. Only then did he share his enve­lope of pho­tos and a tat­tered, marked-up topo map of his beloved Ala­pah country
To Nate's dis­may, his efforts to attract a capa­ble female part­ner failed in ear­ly Sep­tem­ber, with the dead­lines for com­mit­ment loom­ing. The two out­doorsy gals he had been court­ing all sum­mer, declined his earnest invites to join him. He had been as hon­est as he dared. He knew well that it was a real­ly big ask with unan­tic­i­pat­ed strains like­ly and mutu­al regret pos­si­ble. Unre­solved con­tention would cre­ate a kind of pur­ga­to­ry togeth­er for long hours in the cab­in, while sur­round­ed by a wild heaven.
Anna's old boyfriend had returned unex­pect­ed­ly, so that was that. He tried to keep him­self from falling any fur­ther than he already had for Susan's earthy charms and obvi­ous abil­i­ties. Once emo­tion­al­ly attached it was always tough for him to dis­en­gage. As a sum­mer riv­er guide in the Brooks Range, she had long been inter­est­ed in liv­ing out in the bush, seemed enthralled with the idea, but final­ly said tear­ful­ly that the com­mit­ment was just too steep and irrev­o­ca­ble. Per­haps next win­ter? She may have sensed that ghosts lin­gered. Per­haps some­one had told her the sto­ry of his infant son's trag­ic death on the trail that caused his wife to leave him and nev­er return to the Ala­pah, as their joy­ous mar­riage shat­tered like a mir­ror of the past.
Nate was unable to rid him­self of that intense sad­ness and guilt, that was always a dark shad­ow fol­low­ing his nor­mal­ly bright and ener­getic per­son­al­i­ty and con­fi­dent ways. Some women could sense his con­flict­ed emo­tions right away and it gave them pause when con­sid­er­ing at least two months iso­lat­ed at the Ala­pah cab­in before the frozen riv­er would even allow a retreat, or the usu­al hol­i­day trek down to Hendersen's.
Dai­ly rou­tines and out­door work were essen­tial in tamp­ing melan­cho­lia. Same motions every morn­ing this time of year; about six a.m. by the con­sen­sus of the two mechan­i­cal clocks he kept, the wood­stove was rekin­dled, lamps lit and water on for cof­fee and wash­ing up. Irreg­u­lar AM radio recep­tion allowed him to reset his wall cal­en­dar and clocks. There were still sev­er­al hours until the first nat­ur­al light of the day at the turn of the new year, a shade less than four hours of dim light if the skies were cerulean clear. The heav­i­ly forest­ed val­ley floor would remain in indi­rect light and gloam for many weeks yet.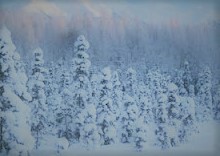 Reach­ing under the low­er kitchen shelf, the cold stor­age spot, he pulled out a fat-encrust­ed cari­bou hind quar­ter from which to slice fry meat on a blood-stained piece of card­board. Prac­ticed knife strokes cut steaks and ham­mer blows to the leg bone revealed the suc­cu­lent mar­row. Nate paused to exam­ine a flick­er­ing win­dow reflec­tion of him­self looked back, beard­ed and unsmiling
He could nev­er be sure that the bat­ter­ies or the old radio itself might not crap out. Heavy wind events some­times pruned branch­es that broke his cop­per wire anten­na. Day­dream­ing over cof­fee, near­ing sev­en am he leaned across the table to the radio to try to tune in the morn­ing news out of Fair­banks. There was lit­tle in the way of good news anymore.
The announc­er spoke with an easy cadence and south­ern drawl, a com­fort­ing voice despite pros­e­ly­tiz­ing and fun­da­men­tal­ist Chris­t­ian pro­gram­ming that only allowed short seg­ments of reg­u­lar news pro­gram­ming. Regard­less it was a wel­come con­nec­tion to the world and a famil­iar voice in the dark­ness and dis­tance. King Jesus North Pole (the shab­by berg just south of Fair­banks, not the geo­graph­ic pole) was broad­cast on 50,000 watts and had a lot of reach. The favorite hour was Trapline Chat­ter in the ear­ly evening with mes­sages to and from far flung peo­ple that was like lis­ten­ing in to a busy par­ty line.
Occa­sion­al­ly aid­ed in an 'atmos­pher­ic skip' dur­ing high pres­sure cold lay­ers, radio pro­grams arrived from a great dis­tance. Talk radio pro­grams often informed Nate of fas­ci­nat­ing top­ics and strange events that he would not nor­mal­ly hear of. Recep­tion was decent but in and out on this morn­ing, with the drop­ping barom­e­ter and impend­ing storm. Nate refilled his stained enam­el cup, treat­ed him­self to a spoon of sug­ar, set the meat and mar­row but­tons into the fry­pan to a sharp splat­ter, and set­tled back. Fried cari­bou on wheat-corn bread with gravy was favorite break­fast fare.
Gath­er­ing his lighter cloth­ing and gear, a bat­tered ther­mos of tea and some pilot bread slathered with jam, he donned a head­lamp, blew out the kerosene lamps and stepped out into the dark morn­ing. As always, he paused a moment to look toward the rock cairn that recalled the short life of his son, Jacob and the end of his mar­riage to sweet Angela.
Always hope­ful that he would run across a cari­bou, wary of the ter­ri­ble pos­si­bil­i­ty of run­ning across a starv­ing 'win­ter bear', he slung his rifle across his back. His oak mil­i­tary snow­shoes clacked as he shuf­fled down the bank onto the lake to fol­low the near­ly invis­i­ble curv­ing trail skirt­ing bank wil­lows in the lee of the pre­vail­ing win­ter winds. There had been sev­er­al days now since the cold-snap and he expect­ed to see promis­ing fresh sign of mov­ing ani­mals. Nate eased into a steady stride that would get him to the small inlet creek at the base of the ridge in a half hour or so. Squint­ing toward the out­line of the ridge gauzed by clouds, and the first small danc­ing flakes touch­ing his cheeks, com­fort­ed him.
After clear­ing and re-scent­ing blown-in lynx cub­bies along the lake flats with no catch­es or fresh sign, Nate labored up the trail angling up toward the crest of the ridge, adding three frozen marten from pole sets to his pack. The immense qui­et of the late morn­ing swal­lowed up his heavy exha­la­tions, occa­sion­al chop of his trail axe and dis­tant graawk of ravens below as he crest­ed the ridge. Despite the expand­ing clouds, there were moments of lift­ing and part­ing that allowed an expan­sive view of the Kuuk bend­ing southward.
Sip­ping cold water to rehy­drate him­self and the cari­bou pem­mi­can he was chew­ing, Nate antic­i­pat­ed the descent down a creek val­ley and back onto the Kuuk, a bend above his place. Feel­ing the chill of sweat­ed cloth­ing he casu­al­ly scanned, then quick­ly lift­ed his binocs from under his par­ka, to relo­cate and focus on a dark fleck on the gray­ing expanse of down­riv­er snow as dusk crept in.
A lone cari­bou or wolf. No, the approach was slow, direct and his heart lift­ed as he began to think it might just be a lone trav­el­er. After a few min­utes, a per­son with a large pack on snow­shoes took form in moments of bet­ter light. Nate could not imag­ine who it might be as the Hen­der­son teens always ran a few dogs with a tobog­gan to break out the first trail con­nec­tion of the win­ter. Set­tling clouds erased the moment. Nate dropped down the ridge, his pack already heavy with sev­en frozen marten and his heart soar­ing with the antic­i­pa­tion of unex­pect­ed company.
You can support the San Juan Update by doing business with our loyal advertisers, and by making a one-time contribution or a recurring donation.